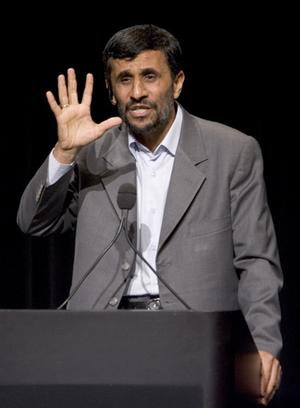 ---
TEHRAN: Foreign Minister Manouchehr Mottaki on Saturday warned Washington against taking the United Nations "hostage" by rejecting visas to the Iranian delegates headed for a nuclear conference in New York.

"The issuing of visas to the delegation and officials of any country coming to participate at the UN in the United States is obligatory on the part of American officials," he told reporters. "The US government has no right to use the issuance of visas as a tool against other countries. The US government ... should not take the UN and the UNSC (UN Security Council) hostage."

The United States said on Friday it has begun approving visas for Iranian applicants for next week's nuclear Non- Proliferation Treaty (NPT) review conference. "We're working through them," US State Department spokesman Philip Crowley said asked on the status of visa applications for a team headed by Iranian President Mahmoud Ahmadinejad. "Some of them have been issued. Not all," Crowley said, adding he did not know whether Ahmadinejad's was among those approved.

Ahmadinejad and East Timor President Jose Ramos-Horta will be the only two heads of state at the NPT conference, Crowley added. A senior US official told reporters on condition of anonymity that Iran had asked for no less than 70 visas for its delegation. Mottaki, meanwhile, criticised Washington for "undermining" the NPT treaty.

The conference must take place in a "transparent atmosphere ... and the conference must concentrate ... on the issue of (nuclear) disarmament," he said at a press conference. Animosity between the United States and Iran has grown as Washington has stepped up efforts to levy new sanctions against the Islamic republic for pursuing its nuclear programme which Washington suspects masks a weapons drive.
COMMENTS
Comments are moderated and generally will be posted if they are on-topic and not abusive.
For more information, please see our Comments FAQ