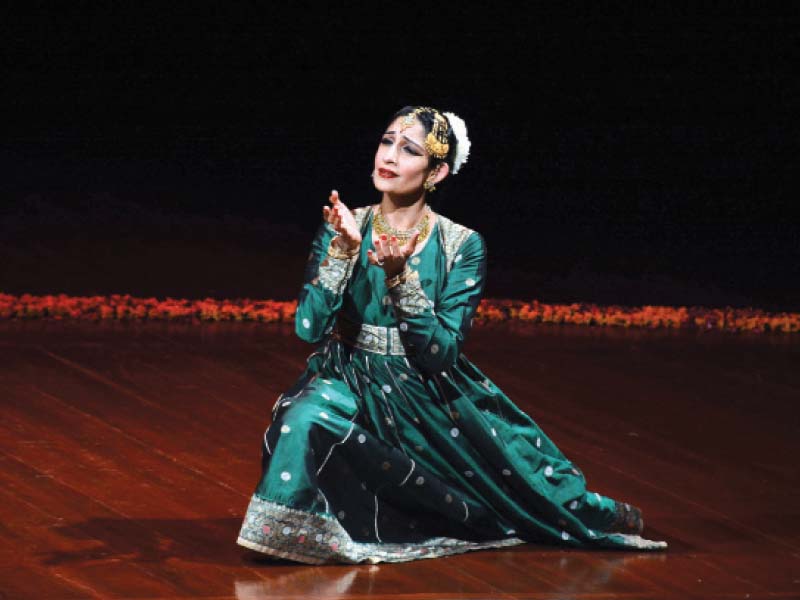 ---
ISLAMABAD: Some 2,000 years ago, nomadic groups in ancient northern India, known as kathakars or storytellers, performed in temple courtyards in praise of the gods. With the advent of the Mughal rule, Persian culture influenced kathak and the dance evolved into a complicated series of abstractions through brilliant improvisations and flawless timing.

To give the capital a taste of contemporary kathak, Farah Yasmeen Shaikh, a performer trained under kathak icon the late Pandit Chitresh Das, performed a series of pieces at Pakistan National Council of the Arts on Sunday evening.

Trained for two decades, Shaikh was the lead dancer at Chitresh Dance Company in California and is now an internationally touring soloist.

She started her performance by a piece called "Muhabbat – No Agony, No Ecstasy" moving to an innovative technique she called kathak yoga, where she sang, played the harmonium and tapped her feet using the basic set of eight steps used in the dance form.

The next piece, titled "Tarana" was a fusion of kathak and Bollywood dance. It was choreographed in Karachi with local musicians Ustad Mehmood Ali Khan and Yousaf Hussain which she performed at Indus Valley School of Art and Architecture earlier this week.

The final piece was excerpts put together from a project titled The Twentieth Wife. "This is a two hour long project which is a celebration of Mughal Empress Nur Jahan's life; showcasing the trials, tribulations, victories and losses" Shaikh said.

Farah played off eleven different characters in her final piece, starting from the first time Nur Jahan saw Jahangir outside the "zanan-khana" and how unhappy she was with Ali Quli (Nur Jahan's first husband), narrating her story till she became Jahangir's twentieth wife.

Shaikh twirled to the beat of her ghungroo while she narrated the story beautifully through her fast rhythmic footwork and flawless facial expressions, leaving the audience mesmerized.

"Kathak is about timing, grace and improvisation. Being a kathak student myself, I absolutely loved Shaikh's evocative storytelling skills and technical precision" said Asma Tahir, an audience member.

The event was organized by Asian Study Group (ASG) in collaboration with Islamabad Industrial Area Association. "Shaikh through her interpretations of kathak, traditional yet contemporary, kept the audience enthralled throughout her performance" said Parveen Malik, who is president of the ASG.

Published in The Express Tribune, January 19th, 2016.