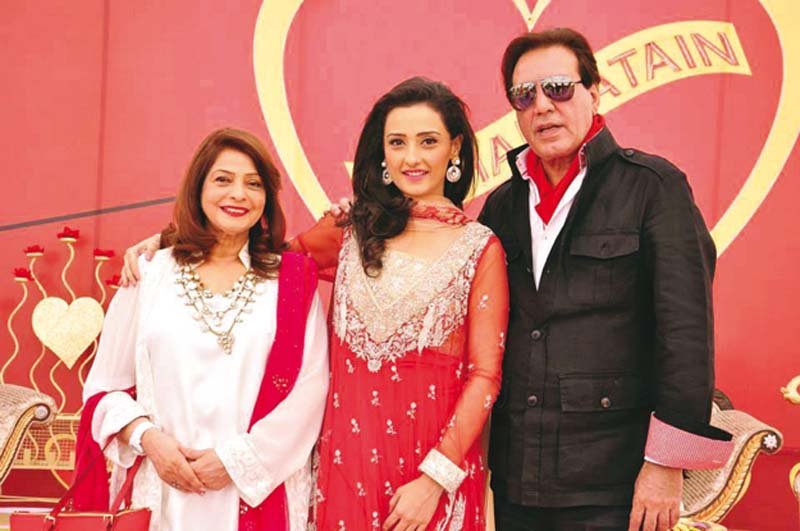 ---
LAHORE:
In the entertainment industry, blood is a lot thicker than water. Having an established relative in the industry can pave the way for interested family members, sometimes even giving them an undue advantage. But the preference comes with a caveat. Filling in famous shoes is no easy feat. And kin does not always serve as a catalyst to boost careers.
Son of singer Adnan Sami and actor Zeba Bakhtiar, Azaan recently produced
Operation 021
. He says a film set seems like natural habitat for him. "Spending two days away from a set makes me uncomfortable because the environment feels like home," shares Shah. He adds being the son of two famous celebrities enabled him to get through doors faster than most others, but once he was through, he was treated like any other professional. "The moment you take on the reins yourself, it's your own work. The tricky part is that you're constantly compared to someone who's a legend. Some of us get past it, but others aren't as lucky. I'd like to say I got over it," says Azaan, who is currently working on his new film.
10 people Pakistanis were 'most obsessed' with in 2015
Overload frontman Farhad Humayun concurs. Being the son of Navid Shahzad, who helmed the golden era of PTV, and award-winning cricket commentator Shahzad Humayun, the drummer says he grew up surrounded by people from the industry. Since his parents were never a direct part of the music industry, Humayun attributes his success to his own hard work. But he does not deny the role his parentage played.

"Showbiz is all about the contacts you make and the conversations you have with directors, producers, musicians and designers. If you already have a credible relative on the inside, you can be introduced to these people. However, I believe it's always the strength of your work that determines your lasting power," says Humayun. "Their [his parents'] name did make people want to hear what I was up to, but it has always been the quality of my work that's defined me."




Momal Sheikh's parents Javed Sheikh and Zinat Mangi, and uncle Saleem Sheikh, are veterans of the film and TV industry. Her brother Shehzad Sheikh and cousin Shahroz Sabzwari are also a part of it. "While it was understood that the boys would join the industry, I only joined after I got married," she shares, adding that her audition was not unlike any other's but the only difference was that she was respected by people around her and that they knew at least one of her family members. "I even joined a talent agency at one time," says Momal. She is now slated to star in her Bollywood debut Happy Bhaag Jayegi opposite Abhay Deol.

Momal's cousin and son of Behroz Sabzwari, Shahroz is currently working on two drama serials and a film which is expected to hit the floor next month. He says, "I grew up on sets and always wanted to be an actor myself, even though my father and I don't even talk about work much." But it was not all smooth sailing. Some respected him for being Behroz Sabzwari's son, while others assumed he came with baggage. "I don't blame anyone because I have cashed in a lot on my surname. That is how I got recognized, got my first job and sat between the right people," he says candidly.




However, he does agree with Humayun and Azaan that lineage can only get you so far. "It's easier to get the job done, but once I'm there it's all me. A drama is an investment and they won't think twice about kicking me out if I'm a bad actor," stresses Shahroz. He admits it helped that his father was never a hero, and rather a character actor. "The kind of pressure that fell on Shahzad Sheikh never came on me as his father (Javed Sheikh) was a hero. I try to make my own niche so I don't feel pressured until I play comedic roles."

Initially, Shahzad did not know how to handle the conundrum. The Karachi Se Lahore actor says, "I gave my own auditions and when I'd get rejected people would ask why I didn't tell them about my family. It was confusing to deal with being compared to someone who's been in the industry for 25 years, but I think I've got it now."

Like Shahroz and Shahzad, actor and rapper Ahmad Ali Butt also has a legacy of celebrities in the family. He is not only the grandson of Pakistan's most famous diva Noor Jehan, but also the son of Noor's torchbearer and daughter Zille Huma. Butt's cousins Sonya Jehan and Sikandar Rizvi, too, have become household names. Making his film debut with Jawani Phir Nahi Aani (JPNA) last year, Butt started his career with the band Entity Paradigm (EP) and then went on to do television serial Jutt and Bond in 2000. "There wasn't any pressure because no one knew who I was and I kept it that way. When EP and Jutt and Bond started gaining popularity, people found out and said 'Usko toh hona hi tha'. If one does well, people act surprised. It's unfortunate, but people wait for you to mess up," he says.




Butt has his hands full these days. He recently voiced a character in Pakistan's first animated film, 3 Bahadur, and is working on two projects with Humayun Saeed and Vasay Chaudhry, respectively. "It's always difficult. One can never predict what will happen at the box office. We knew when we were doing JPNA that the script was good, but there were many other factors [to consider]. It's an insecure place to be in for everyone acting," he says of the uncertainty that plagues the industry.

Danish Nawaz, whose brother Yasir Nawaz is a well-known actor and director, says he struggled to find his place in the industry, but not the way relatively unknown people might have to. "My brother had an image that I couldn't taint," he explains. "Besides, if people didn't get along with Yasir, I wouldn't get along with them either. Another issue was that he started as a lead so I couldn't start at a lower level. It's still a struggle, but an entirely different kind."

Danish drives his point home by giving the example of Abishek Bachan and Sonam Kapoor, whose fathers ruled Bollywood but their offspring did not get the same taste of stratospheric fame. "The public won't accept you if you can't act. This isn't a profession where one can hide behind papers in their office; it's all in front of the cameras for the world to see," he says.

Model and actor Humaima Malick's younger brother Feroze Khan, who rose to fame with TV drama Chup Raho and is currently filming for Zindagi Kitni Haseen Hai, remains nonchalant. "It doesn't matter who's doing what behind you. Humaima is a teacher to me at home, but besides that, she would never ask for favours. I've been rejected from auditions a number of times and people said I couldn't act."




Actor Hira Khan is almost always mentioned along with her husband Salman Saquib, who goes by the name of Mani in the entertainment industry. The dynamic duo do most of their work together, but that doesn't bother Hira. "I am sure I would not have joined the field if it wasn't for Mani. I used to go to shows with him and was introduced as his wife. Eventually, I realized along with the people around me that I have an aptitude for this work," she says.




However one looks at it, the influence of family over one's career in the entertainment industry is irrefutable. But the affiliation is not always favourable and, unlike a film or TV sequence, there are no second takes with family.

Published in The Express Tribune, January 18th, 2016.

Like Life & Style on Facebook, follow @ETLifeandStyle on Twitter for the latest in fashion, gossip and entertainment.