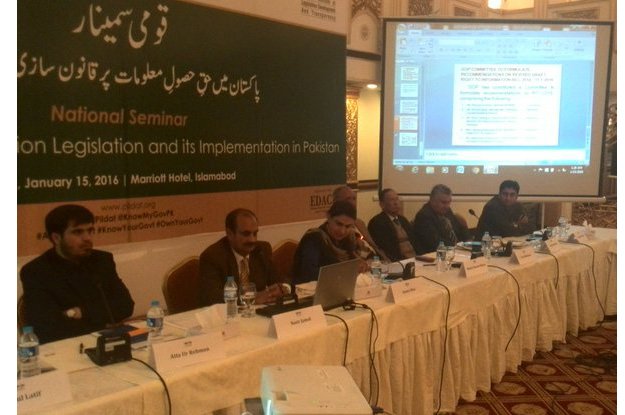 ---
ISLAMABAD: Panellists called for collective efforts to attain the right to information (RTI), including building a sense of ownership, the need for recordkeeping, motivating public information officers, and creating general awareness about the matter.

A discussion on "The State of Right to Information Legislation and its Implementation in Pakistan" was organised by Pakistan Institute of Legislative Development and Transparency (PILDAT) at a local hotel.

The seminar focused on issues of cooperation and coordination between RTI implementation agencies and the provincial bureaucracies.

PILDAT Director Aasiya Riaz clarified that the institute's focus is to ensure that RTI has an open and reformed law in Pakistan, so there is transparency at an international level. "There is a need to change the existing model, and ensure that the government and state becomes accountable," she said.

Prof Kalimullah, information commissioner at Khyber-Pakhtunkhwa's (K-P) RTI commission, said that as a society, collective work towards attaining a right to information was needed. "We also need to check if our offices and organisations have the capacity to do so; for that, we need capacity building for various departments," he said.

He further highlighted the need for record keeping, motivating public information officers, and creating general awareness about RTI, and enhancing a sense of ownership among society and information officers.

Shehryar Memon, K-P reform cell deputy coordinator, spoke from a practitioner's point of view. "We live in a society where people don't know about their rights and laws; the biggest issue is to educate people about what the laws are, and how strong they are," he said.

Punjab Chief Information Commissioner Mazhar Hussain Minhas said that public education was the way forward in creating right to information in the country.

Nasir Jamal, director-general internal publicity wing at the Ministry of Information, Broadcasting and National Heritage, said the government had constituted a special committee to formulate recommendations on the Right to Information Bill, 2014. This committee will include senior parliamentarians such as Pervaiz Rashid, Ahsan Iqbal, Anusha Rahman Khan, Irfan Siddiqui and Marriyum Aurangzeb, Jamal said. "The committee has been tasked with re-evaluating whether issues such as national security, foreign relations and law enforcement are sufficiently protected under the draft law, given the changing security situation," he said.

In addition, he said the committee is expected to have its first meeting within the coming week, and will invite input from stakeholders including civil society organizations such as PILDAT.

An interesting revelation at the seminar was made by Zeenat Jahan, Sindh's director information, information and archives, who read out clauses of the Sindh Right to Information Bill 2015. The clauses pertained to whistleblower protection and the powers and composition of the Sindh Information Commission, which were drafted in line with the powers and responsibilities of the Information Commissions in Punjab and K-P.

She said the bill has been vetted by the law department, and is ready to be tabled in Sindh's provincial assembly.

Published in The Express Tribune, January 17th, 2016.
COMMENTS
Comments are moderated and generally will be posted if they are on-topic and not abusive.
For more information, please see our Comments FAQ