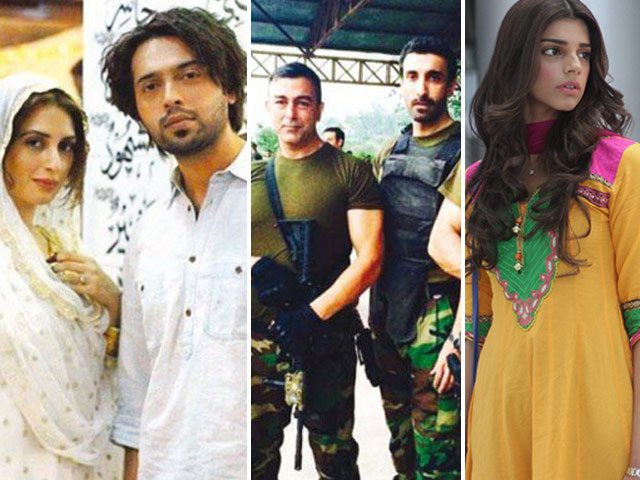 ---
2015 saw an influx of Pakistani films and the coming year holds the same promise. With some great releases lined up, we bring to you the top 10 films expected to release in 2016.

1. Ho Mann Jahaan

The film which kick started the New Year has created quite a buzz among fans and celebs, all eager to hit cinemas to watch Asim Raza's debut film. Starring Mahira Khan, Sheheryar Munawar and Adeel Hussain, Ho Mann Jahaan is a story of three friends who struggle to break free from stereotypes often found in Pakistan. It touches upon the relationship dynamics the trio share after they graduate and face the realities of life.

While the film has received mixed reviews, there's no doubt that the music has won crowds over. Leading musicians Atif Aslam, Asrar, Mai Dhai of Coke Studio fame, Abu Muhammed & Farid Ayaz, Tina Sani, Zoheb Hassan, Zebunnisa Bangash and Jimmy Khan have lent vocals for the film.




2. Mahe-eMeer

The movie, which is based on the life and work of poet Mir Taqi Mir, will follow the struggle of a contemporary poet and how his own journey parallels that of the legendary poet. Mah-e-Meer features an ensemble cast with actors Fahad Mustafa, Sanam Saeed, Iman Ali, Manzar Sehbai and Alyy Khan.

Though it was scheduled for release November 2015, it is expected to release in the first half of 2016.




3. Yalghaar

Waar screenwriter Hassan Waqas Rana has been working on his upcoming directorial Yalghaar for quite some time now. The movie, which is based on Pakistani army's Swat Operation, features Shaan, Humayun Saeed, Adnan Siddiqui, Ayub Khosa and Ayesha Omer, along with singer Umair Jaswal and actor Bilal Ashraf.

The soundtrack for the movie will include eight songs by renowned artists, including Rahat Fateh Ali Khan, Shafqat Amanat Ali and Abida Parveen.

The film was initially set for release last year, but it is now expected to be released in the first half of this year.




4. Revenge of the Worthless

Based on the mayhem that swept Swat Valley nearly four decades ago, veteran actor Jamal Shah's directorial debut focuses on the impact of the insurgency in 2009 and how some people decided to retaliate.

The film depicts the way lives were affected by militancy and how cultural narrative and values changed with the rise of an 'unreasonable' power, creating a sense of fear and insecurity. In essence, it is a story of the ensuing monstrosity, struggle and resilience.




The star cast comprises a mix of established artists and fresh faces, including Firdous Jamal, Ayub Khoso, Myra Khan, Iftikhar Qaiser, Najeebullah Anjum, Iram Rehman, Tariq Jamal, Qazi Zubair and Imran Tareen. It also stars Turkish actor Emil Karakose.

The film is expected to release in the first half of this year.

5. Bachaana

Nasir Khan's romantic thriller is a journey of a sweet and bubbly Indian girl Aalia, played by Sanam Saeed, who undergoes a series of unfortunate events and is forced to place her faith in a man she hardly knows. That man, Vicky (Mohib Mirza), is a Pakistani driving a taxi in Mauritius. The film follows the couple's adventurous journey of love.




Bachaana will be released in India and Pakistan. With cast and crew from both countries, the film is said to have captured cross-border relations on and off screen and through this project Sanam hopes to bridge the gap between both the countries. Produced by Rizwan Saeed, the film is expected to release early this year.

6. 3 Bahadur 2

The widely popular and successful animated feature film 3 Bahadur is now coming back with a sequel.

Returning as voice actors in the sequel 3Bahadur Part 2 are Zuhab Khan as Saadi, Hanzala Shahid as Kamil, Bahroze Sabzwari as Deenu, Bassam Shazli as Pateeli and Chatpa, and Hammad Siddiq as Ghutka and Shikra.




The sequel will also boast a start-studded cast as more actors will be lending voices to some new characters including actor Ahmed Ali Butt as Gola, comedian Ali Gul Pir as Teeli and Lolly, Sarwat Gilani as Saadi's mother, Fahad Mustafa as Imran, Salman Shahid as Baba Balaam, Arisha Razi as Amna, Mustafa Changezi as Tony, and Zeba Shanaz as Parrot.

3 Bahadur is an epic journey of friendship, teamwork and courage. Indeed, the first tale of three unlikely super heroes was the beginning of a larger movement of making Pakistani children a part of the nationwide phenomenon that is 'Team3Bahadur'.

3Bahadur Part 2 upholds this legacy with an endeavor to further inspire the children of Pakistan, with the film set to release in December 2016.

7. Maalik

Ashir Azeem's upcoming movie Maalik, aims at inculcating in people a "sense of ownership" of their country.

The writer and actor of 1992 drama serial Dhuwan has described Maalik as a "bit of a vigilante film" that shares its premise with Bollywood political thriller Sarkar. Maalik is a film that draws heavily from Azeem's TV serial about a retired commando setting up his own security agency to set things right in his country.




The film builds up on Dhuwan's plot setting. "The canvas of Maalik is much bigger than that of Dhuwan. In the TV series, we explored the world of drug trafficking. Here, we're talking about politics, mafias and corruption."

Featuring an ensemble cast, Maalik includes Ashir Azeem, Adnan Shah Tipu, Hassan Niazi, Farhan Ali Agha and Azeem himself, the film is expected to be out by February 2016.

8. Dobara Phir Se

Acclaimed Pakistani director Mehreen Jabbar is all set to start shooting her upcoming venture — Dobara Phir Se, a feature film set in New York.

The talented filmmaker who brought us Ramchand Pakistani is excited to work on her dream project after several years. It stars Adeel Husain, Hareem Farooq, Sanam Saeed, Tooba Siddiqui, Ali Kazmi, Atiqa Odho, Shaz Khan, and child actor Moosa, and has been penned by Bilal Sami.




The story will revolve around love, friendships and growing up. Mehreen is known for bringing present-day issues to light through her films, and her second film will be no different. The release date is yet to be announced. However, it is expected to be released sometime this year.

9. Quetta

Quetta's storyline is shouldered by non-actors: those who have lived and breathed the characters they are essaying. Filmmakers Faysal Chaudary and Murtaza Chaudary disclose that Quetta does not entail any commercial elements, "It's a story that we owed to the hilly streets on which we used to pace our tricycles," they say.




The film hints at putting up a fight against adversity. Penned by Faysal, Quetta's story revolves around three children who juggle between career prospects as diverse as coal mining and football, to keep both their inner flame and the stove burning.

10. Janaan

The film revolves around a Pakhtun girl who returns from Britain after her education. "The story comically defies stereotypes about Pakhtun families," says co-producer model-turned-actress Hareem Farooq.




The romantic comedy, which is being co-produced by Reham Khan, will star Armeena Khan as the female lead. Janaan has been written by Osman Khalid Butt and has been directed by Azhar Jafferi who had also directed Hareem's debut film Siyah in 2013. It is also Hareem and Reham's debut production venture. The film is expected to release in April this year.
COMMENTS (7)
Comments are moderated and generally will be posted if they are on-topic and not abusive.
For more information, please see our Comments FAQ