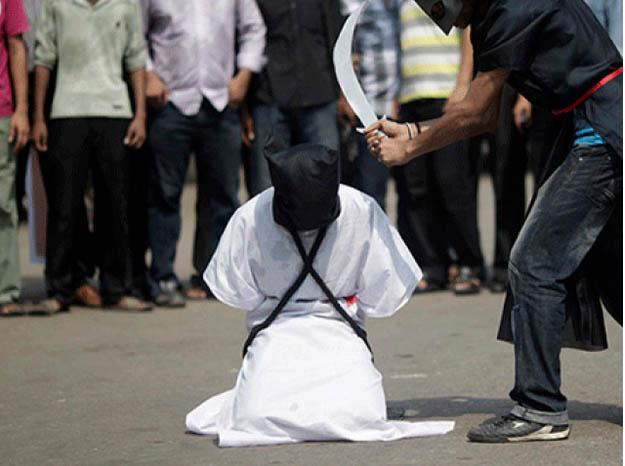 ---
RIYADH:



Saudi Arabia executed 47 people on Saturday for terrorism, mostly suspected al Qaeda members but also a prominent Shia cleric, signalling it would not tolerate attacks by either Sunni extremists or minority Shias seeking equality in the kingdom, but stirring sectarian anger across the region.




Most of the 47 executed in the kingdom's biggest mass execution for decades were Sunnis convicted of al Qaeda attacks in Saudi Arabia a decade ago. Only four, including prominent cleric Nimr al Nimr, were Shias accused of shooting policemen. The executions took place in 12 cities in Saudi Arabia, four prisons using firing squads and the others beheading.

Riyadh's main regional rival Iran and its allies immediately reacted with vigorous condemnation of the execution of Nimr, and Saudi police raised security in a district where the sect is a majority in case of protests, residents said.

However, the executions seemed mostly aimed at discouraging Saudis from terrorism after bombings and shootings by Sunni militants in Saudi Arabia over the past year killed dozens and the Islamic State called on followers there to stage attacks.

Saudi Arabia's ruling Al Saud family has grown increasingly nervous in recent years as turmoil across the Middle East, especially Syria and Iraq, has empowered groups that seek to bring it down and given opportunities to Iran to spread its influence.

The simultaneous execution of 47 people – 45 Saudis, one Egyptian and a man from Chad – was the biggest mass execution for security offences in Saudi Arabia since the 1980 killing of 63 rebels who seized Makkah's Grand Mosque in 1979.

The 43 Sunnis executed on Saturday included several prominent al Qaeda figures, including those convicted for attacks on Western compounds, government buildings and diplomatic missions that killed hundreds from 2003 to 2006. The four Shias were convicted of involvement in shootings and petrol bomb attacks that killed several police during anti-government protests from 2011 to 2013 in which over 20 members of the minority sect were also shot dead by the authorities

Analysts have speculated that the execution of the four Shias was partly to demonstrate to Saudi Arabia's majority Sunni Muslims that the government did not differentiate between political violence committed by members of the two sects.

But top Iranian cleric Ayatollah Ahmad Khatami said the Al Saud ruling family would be "wiped from the pages of history," Yemen's Houthi group described Nimr as a 'holy warrior' and Lebanese militia Hezbollah said Riyadh had made 'a grave mistake'.

Iran summoned Saudi Arabia's charge d'affaires in Tehran to protest the execution as seminary students marched through the Iranian holy city of Qom on Saturday to register their anger.

Iraq's former prime minister Nuri al Maliki, who is known for his ties to Iran, said Nimr's execution will topple the Saudi government and prominent Iraqi Shia cleric Moqtada al Sadr called for demonstrations in Gulf countries and in Iraq to "deter injustice and government terrorism in the future."

The Saudi Interior Ministry statement began with Qurranic verses justifying the use of execution and state television showed footage of the aftermath of al Qaeda attacks in the last decade.

Saudi Grand Mufti Sheikh Abdulaziz al Sheikh appeared on television soon after to describe the executions as just.

Justice Ministry spokesman Mansour Kafari said on television another four prisoners remained on death row for acts of terrorism.


Published in The Express Tribune, January 3rd, 2016.
COMMENTS
Comments are moderated and generally will be posted if they are on-topic and not abusive.
For more information, please see our Comments FAQ