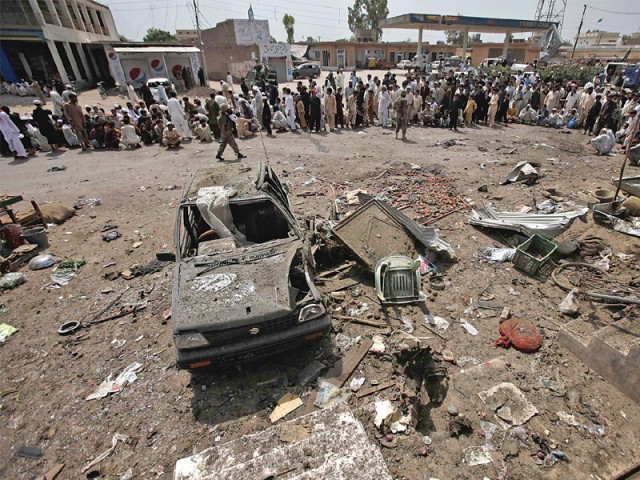 ---
ISLAMABAD:



Violence in Pakistan significantly declined during 2015, show reports issued at the end of the year by two different Pakistani think tanks – Pakistan Institute for Conflict and Security Studies (PICSS) and Centre for Research and Security Studies (CRSS).




According to the CRSS report, a total of 4,612 people died in 2015 as a direct result of violence, which is an average decrease of roughly 40% when compared to 7,622 violence related deaths in 2014.

New Year resolve: Terrorism will be eliminated in 2016, vows Gen Raheel




It says the rate of fatalities in Fata fell from 3,371 in 2014 to 1,917 in 2015. The same figures for Sindh declined from 2,186 in 2014 to 1,221 in 2015. The most remarkable percentage decrease was observed in Khyber Pakhtunkhwa (K-P), where violence-related fatalities fell from 952 in 2014 to 441 in 2015 (53% decline). Balochistan also observed a slight decrease, whereas Punjab saw a slight increase.

The PICSS, which claims to have compiled digital data of incidents of violence in the country since 2001, released statistics for the last year on Friday. According to PICSS report, anti-state violence in the country during 2015 dropped even below 2008, when incidents of terrorism started escalating.

During 2015, the K-P witnessed 75% decline in militant attacks. In the K-P, 139 attacks were carried out last year in which 224 people were killed and 253 injured. Overall militant attacks witnessed 56 per cent decline compared to the year 2014, while there was 48 per cent decline in resultant deaths and 57 per cent reduction in injured persons during this period.

Situationer (Part II): 2015 - Year of triumph against terrorism

The PICSS data shows that in 2015, 706 militant attacks took place in which 1,325 people were killed including 619 civilians, 348 security forces personnel, 325 militants and 33 pro-government Razakars. The number of injured persons was 1,464 which included 988 militants, 417 security forces personnel, 45 militants and 14 pro-government razakars.

The PICSS report says Balochistan remained the most violent province in the year 2015 in which 280 militant activities occurred with 355 people killed and 335 injured. Though Balochistan observed highest number of militant attacks as compared to other provinces there was 41 per cent decline in militant activities as compared to the year 2014, however resultant deaths were more than previous year.




Fata, trailing second in terms of in anti-state violence, witnessed 170 attacks in the year 2015. In these attacks 396 people were killed and 431 injured. Fata witnessed 55 per cent and 56 per cent decline in attacks and deaths, respectively.

In Sindh, 89 militant activities were recorded with 240 killed and 203 injured. After the K-P, Sindh came up as much better province in terms of security situation where 64 per cent decline in violence was recorded; however, only 22 per cent reduction in deaths was observed.

In Punjab, the PICSS recorded 25 militant activities with 110 casualties and 243 injured. There was 39 per cent reduction in violence in Punjab but no downfall recorded in resultant deaths. This province remained bull's eye for high profile attacks and suicide attacks were recorded mostly in Punjab than other provinces.

2015 - Year of triumph against terrorism

In year 2015, security forces carried out 1,193 actions against militants in which 2,043 casualties were recorded by the PICSS. In these 1,193 actions, 1,987 militants were killed while 22 civilians and 34 security forces personnel also lost their lives during these actions. 6,347 suspected militant arrests were made by security forces in previous year.

"Sectarian fatalities also saw a decline in 2015, with 272 fatalities, compared with 2014's 420, which is a 35% decrease. However, the vast majority of these fatalities were Shia Pakistanis, who accounted for 208 of the 272 fatalities (76%)," the CRSS report said.

Published in The Express Tribune, January 2nd, 2016.