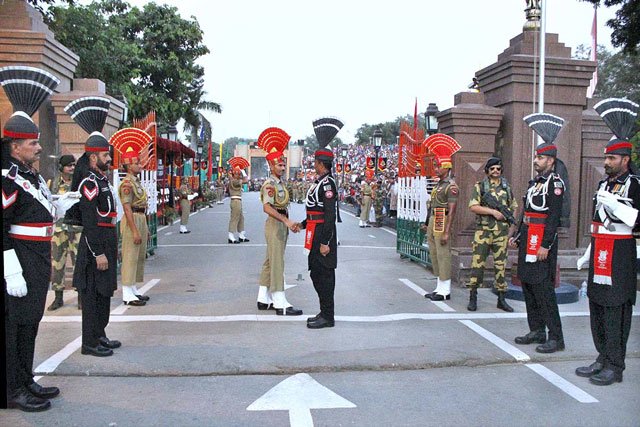 ---
Ties between Pakistan and India have been thorny for decades over a number of contentious issues between the two neighbouring countries. The year 2015 was no exception.

A number of events, which occurred on either sides of the border, stirred controversies besides inducing a small, but significant, ray of hope for an improvement in the otherwise icy relations between the arch rivals.

Let's take a look at what happened between Pakistan and India during 2015.

Border skirmishes

A ceasefire between Pakistani and Indian security forces has nominally been in effect since 2003 but over the past two years, sudden spikes in violence along the border have become more frequent. According to the Ministry of Defence, as many as 247 ceasefire violations, including 163 along the LoC and 84 along the WB were committed by Indian forces during 2015. As a result, at least 39 Pakistani civilians were killed and 150 others were injured.




The border skirmishes between the two nuclear-armed arch rivals reached their peak in July and August 2015 when scores of people, civilian and army personnel, were killed during a number of ceasefire violations alongside the Line of Control and the Working Boundary.




Violations were so intense that the United Nations Military Observes Group of India and Pakistan visited at least thrice the border region between the two nations in just two months. Hundreds of villagers living in Chaprar and Bajwat sectors near the Sialkot Working Boundary were also forced to relocate to safer places due to the heavy shelling on either sides of the border.

Trumped up

As many as seven people were killed as three men carrying assault rifles, bombs and a rocket launcher went on a murderous rampage in the Indian Punjab town of Gurdaspur on July 27, 2015. Police managed to kill the attackers who had holed up in a police station. The attackers had pulled up at the police complex in a stolen white car, automatic weapons blazing, at about 5am.




India alleged the attackers entered the country from Pakistan, two days before the attack in the troubled state of Jammu and Kashmir. Jitendra Singh, a junior minister in the Indian cabinet, said he did not rule out Pakistan's involvement. "There have also been earlier reports of Pakistan infiltration and cross-border mischief in this area," he said.

Pakistan, however, strongly condemned the terrorist attack in Gurdaspur, expressing sympathies with the bereaved families. "We condemn in the strongest terms the terrorist incident in Gurdaspur, India, today, in which a number of precious lives have been lost. There are reports of others having suffered injuries. Our thoughts are with the bereaved families," the foreign office said in a statement.




Following Pakistan's condemnation of the terror incident, a top US diplomat welcomed the move and hoped relations between the two hyphenated but hostile neighbours would improve. While the attack was seen as a provocation, Modi did not react with any of the nationalistic rhetoric for which he is known.

The Indian allegation of Pakistan's involvement proved to be fabricated as the former failed to provide any material evidence to substantiate its claims.

The link up

On October 26, 2015, with the help of Interpol, Indonesian authorities claimed to have arrested one of India's most wanted gangsters, sought in more than two dozen murder cases, on the resort island of Bali.

Rajendra Sadashiv Nikalje alias Chhota Rajan, was brought to New Delhi on November 6. Rajan is the alleged former right-hand man of Mumbai crime kingpin Dawood Ibrahim, who is suspected of being behind the 1993 bomb blasts in the city, which killed more than 250 people. He later became Ibrahim's rival, accused of running one of several underworld outfits that had a grip on India's financial and entertainment capital in the 1980s and 1990s until a police crackdown.




Rajan portrayed himself as a "Hindu don" and began targeting those he considered to be "anti-India", including Ibrahim's men, becoming a major thorn in the side of his former boss. Many speculated that Rajan's arrest could help lead authorities to Ibrahim.

The Indian government officials constantly accuse Pakistan of hiding Ibrahim and using him to launch terror attacks inside their country. However, Pakistan has repeatedly denied allowing Ibrahim to operate from its soil. In June 2015, a top official in the Indian home ministry claimed India's most wanted criminal was shifted somewhere near the Afghanistan-Pakistan border.

The breakthrough

Over a year after the their first meeting at Indian Prime Minister Narendra Modi's oath-taking ceremony in May 2014, a formal meeting between the two premiers was held in Ufa, Russia in July 2015 on the sidelines of the Shanghai Cooperation Organisation (SCO) summit.




The meeting drew mixed reactions as parties criticised the omission of Kashmir issue in the joint communiqué issued after the meeting. While Pakistan Peoples Party vice president Sherry Rehman termed the talks "one-sided", Pakistan Tehreek-e-Insaf's Shireen Mazari said although "Modi raised Mumbai [attacks] and Sharif agreed to 'fast track' the investigations, [there was]not [even] a word on Samjhota Express was uttered by PM Sharif."

There was similar reaction across the border where the main opposition party accused Modi of a 'knee-jerk' reaction in diplomacy with Pakistan, saying the establishment clearly did not want to investigate the November attacks in Mumbai. However, there were developments appreciated by all. Both arch-rivals were accepted as full members of the SCO – a powerful regional security and development bloc. Described as a "turning point" in the history of the organisation, full membership of the group offers Pakistan more access to the energy resources of Central Asia.

The criticism did not shut down until the surprise Nawaz-Modi tête-à-tête in Paris COP 21 summit, which paved a way for the resumption of composite dialogue between the neighbouring countries after a National Security Advisers (NSA) meeting in Thailand's capital, Bangkok early December. Following the assembly, Indian External Affairs Minister Sushma Swaraj visited Islamabad to attend the Heart of Asia Conference, and announced resuming "comprehensive dialogue on all outstanding issues, including Kashmir, Siachen and Sir Creek".

The year came to an end with yet another surprise as Modi made a stopover in Lahore as he was headed back to New Delhi after an official visit to Kabul on December 25. Nawaz reached Lahore airport to personally receive his Indian counterpart. The Indian prime minister took everyone by surprise as he continued on an unofficial and unannounced visit to Sharif's residence in Raiwind. It was the first time an Indian premier had stepped foot on Pakistani soil in more than 10 years and was seen by analysts as a step towards normalising ties between the two neighbours which have fought three wars. The Bharatya Janta Party was apt in its statement just after the Ufa meeting: [the] "game-changing" achievement of Modi "will bear fruit on the ground soon". It really has.

Tidal wave of intolerance

Pakistan, which has over the years continued to witness rising religious bigotry and intolerance continued the practices in 2015 as well, as violence against the minority Christians and Ahmadis did not abate. However, there were similar developments across the border, where extremists pushed a Hindu nationalist agenda.




When Modi was voted into power in 2014, there were many who had reservations about the extreme right-wing credentials of his party and its allies. Under the same leadership in 2015, the world was witness to some very intolerant acts on the part of the BJP and its allies.

Every day brought more evidence of intolerance and bigotry going mainstream — a man lynched allegedly for eating beef; an atheist critic of Hindu idol worship gunned down; Shiv Sena protesters angry at the launch of a former foreign minister Khursheed Kasuri's book doused the event organiser Sudheendra Kulkarni with black ink; cancellation of Pakistani ghazal maestro Ghulam Ali's concert in Mumbai— all met by a deafening silence from the Modi government.

To protest what they called a growing climate of intolerance under Modi's government, as many as 50 novelists, essayists, playwrights and poets returned the awards they received from India's prestigious literary academy. The concern was not only limited to writers but Bollywood stars, including Shah Rukh Khan, Shabana Azmi and Aamir Khan also voiced their concerns, with the latter disclosing his wife "suggested leaving India".

With unabated incidents of communal violence, and Hindu hardliners responding to concerns with "go to Pakistan" rhetoric; the situation has not only put a question mark on Modi's ability to lead a secular, democratic India but also improving ties with Pakistan, and achieve the idea he floated at his oath-taking of trade between all South Asians. All seems a far-off dream.

A fairy-tail like twist

Imagine an 11-year-old child accidentally crosses the border from India into Pakistan, and remains stranded in that country for 13 long years. This is what happened to Geeta, who was found wandering by the Punjab Rangers in Pakistan.




Lost and alone, unable to identify her family or where she came from, she remained in Pakistan under the care of the Edhi Foundation, living in a shelter in Karachi. But in a fairytale-like twist to her tale, Geeta caught media attention, and finally returned to India. She was hopeful of reuniting with people she believed were her long-lost family after identifying them in photographs.

But in a tragic twist just hours after arriving in Delhi, Geeta told officials she did not know the Mahato family from India's eastern state of Bihar. The goodwill gesture by Pakistan has given hope to a number of stranded children in both the countries to get along with their loved. The case highlighted the problem of accidental border-crossing, reminding both countries to stand by agreements to swiftly restore people, especially juveniles, who wander across it by mistake.

As a 'return gift' India decided to send Karachi's 'runaway boy' Mohammad Ramzan back to Pakistan. Fifteen-year-old Ramzan was separated from his mother at the age of 10 when his father Mohammad took him to Bangladesh and remarried. After being tortured by his stepmother, the boy crossed the border alone in 2011.

Sweet diplomacy

Pakistan and India have had a long history of uneasy and tense relations since Partition, leading to unabated ceasefire violations in the present age. The situation also fuels the fear that India would resort to Cold Start; a limited war option designed largely to deter Islamabad from sponsoring irregular attacks against New Delhi. This has prompted Pakistan to accelerate its nuclear weapons programme.




In such circumstances, the traditional exchange of sweets between Pakistan Rangers and Indian Border Security Force (BSF) on the Wagah and Kashmir borders during festivities on either side has been playing its role in defusing tensions to some extent.

In 2015, ceasefire violations caused the tradition to witness a halt in July when sweets were not exchanged on Eidul Fitr. The forces also did not exchange sweets on the independence days in August. Nonetheless, on September 25, soldiers exchanged sweets and dry fruits on the occasion of Eidul Azha at the Line of Control (LoC) in Jammu and Kashmir.

But it was Diwali on November 11 that proved to be the icebreaker, with the two sides getting along and Pakistan offering a basket full of sweets on the Attari-Wagah border to congratulate its neighbour. Analysts term exchange of sweets as a major way to dismantle tensions but also call for halting exchange of bullets once and for all to materialise the dream of durable peace and stability.

Still not game

Cricket matches between Pakistan and India are not taken lightly by fans but sports diplomacy has always been vital in bringing the two countries closer.

The green-shirts went on a successful tour to India between December 2012 and January 2013, but a year later, Pakistan faced a difficult situation relating to the Big Three in 2014, which essentially gave India, England and Australia the power to dominate world cricket.




Subsequently, the Pakistan Cricket Board (PCB) roped in six series against India over the next eight years, with Pakistan hosting four of them in the UAE or at home with mutual consent, subject to approval by the two governments. However, a meeting between officials of PCB and Board of Control for Cricket in India (BCCI) on October 19 at the latter's headquarters in Mumbai to discuss modalities of the first series in December this year was interrupted by the hardline Hindu organisation Shiv Sena.

On November 30, in an informal meeting on the sidelines of the Paris climate summit, Nawaz and Modi reportedly agreed to the tours. However, New Delhi's refusal to play in the UAE in December complicated matters further. Fans were kept waiting for the bosses to give their nod to the series, which is bound to ease the tense situation both in the ground and the border.

In the bag

Pakistan and India, difficult neighbours and atomic powers, with both accusing the other of insurgency in their territories, have ever been eyeing opportunities to gain more power than the other. In these circumstances, the visit of Nuclear Suppliers Group (NSG) chairperson Rafael Grossi to India on October 30 and his meeting with Swaraj had once again brought the issue in spotlight.




On November 27, China reportedly launched an assurance that if India was allowed to get the membership of the Nuclear Suppliers Group (NSG) it would ensure Pakistan also joins the group. The NSG is a multinational body concerned with reducing nuclear proliferation by controlling the export and re-transfer of materials that may be applicable to nuclear weapon development and by improving safeguards and protection on existing materials.

Experts say inclusion in the group can help Pakistan procure more fuel and nuclear components, as well as an opportunity for industries to aggressively tap the global market. Aspirations of the two countries to join the group are high but the objectives of the masses on either side urge for an end to the arms race and demand more attention to improving the economic conditions.