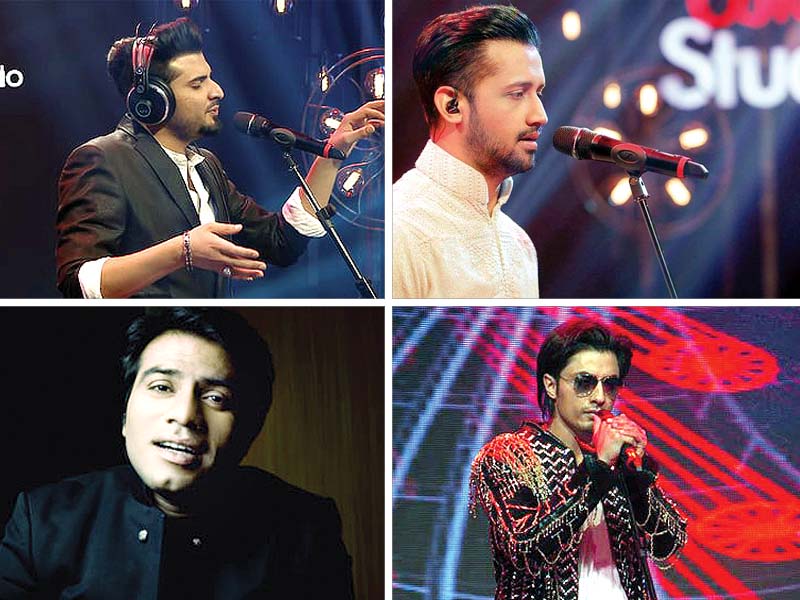 ---


The year 2015 was quite an eventful year for Pakistani music. Several albums were released; celebrated acts like Noori, Call and Mizmar made comebacks while Coke Studio completed another season. Upcoming acts like Khumariyaan, Malang Party also gained a foothold and most importantly, the dream of artists making a living out of their recorded music saw the light of the day with the emergence of online streaming platforms like Patari and Taazi. These 12 months were perhaps the busiest for the industry in hindsight.




Here is a list of the top 10 tracks that made it big this year, with Khumariyaan's Tamasha topping The Express Tribune's list. We ran a poll on our website and our readers declared Atif Aslam's Tajdar-e-Haram from Coke Studio as the song of 2015.

Breath of fresh air: Enjoying the khumar of 'Tamasha'

10. Mast Hua – Asrar




Asrar has rightfully cemented his identity as the most promising musician to come out of Pakistan in the recent past. Mast Hua is a refreshing track with extremely pleasant lyrics and melody. The video is filmed through a selfie stick while Asrar and his band mates are en route to a concert location.

9. Bewajah – Nabeel Shaukat Ali (Coke Studio)




An opus of Nabeel Shaukat Ali's artistic prowess, Bewajah is one for the crowds to hum to. While Nabeel's voice quality and Sajid's soulful reciprocation on the flute warm the heart, the string section's riffs provide the long overdue goosebumps. The music is not only reminiscent of String's coming-of-age record Koi Aanay Wala Hai (2008), but also belts out nostalgia of popular Pakistan music in days of yore, when the playing was crisp, the Urdu was right and the product was honest.

8. Ghar Nari – Fareed Ayaz and Abu Muhammad (Ho Mann Jahaan)




The product of Fareed Ayaz and Co is authentic and draws from the specifications of high art. It gives you little time to ease into the composition and plunges straight into the Khusruvian classic. Ghar Nari is brilliant and exceptionally uplifting. It is one song in the upcoming Ho Mann Jahaan's soundtrack that will make many look for a working download link.

That time of year: Fans flock to Sufi music extravaganza

7. Rockstar – Ali Zafar (Coke Studio)




It is safe to say Ali Zafar saved Coke Studio 8 for Strings. With a plethora of covers and revisits already on the assembly line, Ali's Axl Rose produced sheer magic with an original that leaves little room for scrutiny. It has been long since the last time we heard such cleverly-crafted lyrics coupled with an on-point arrangement that do justice to their hype.

6. Aik Tha Badshah – Noori




No one, us the least, expected the electronica-infused, dub-step sound of Aik Tha Badshah, which comes as a sonic surprise. It is a strange diversion from the live, earthy sound of their earlier records. However, the single's Begum Gul Bakaoli Sarfarosh version is a little more Noori than the version released separately with a video that may be Noori's most ambitious project yet. Replete with the clap-along-sing-along chorus break, the number found favour both live and in the car.

5. Tajdar e Haram – Atif Aslam (Coke Studio)




Atif opened Coke Studio 8's first episode with the qawwali that went on to become the highlight of the season. While a comparison with the original and an evaluation based on the aesthetics of qawwali are both unfair and unyielding, the attempt certainly does not make the mighty Sabris turn in their graves.

Coke Studio: Pulling the strings tight

4. Talabgaar – Javed Bashir (Moor)




"There is one track that whenever I listen to I start crying. Although I have made the track myself, written it with Abba [Anwar Maqsood] and mixed it in the studio for almost a month, even now when I hear the song in the car I feel emotional. And that song is Talabgaar." These were Bilal Maqsood's words when he spoke about the song during Moor's press launch.  And his self-praise is not an overstatement as Javed Bashir's raw vocals mixed with a composition that gets more dynamic with time leave a lasting impact on the listener.

3. Kadi Aao Ni – Atif Aslam, Mai Dhai (Coke Studio)




In this one-of-the-most-well-thought-out products of Coke Studio 8, Atif seems at peace with rediscovering his older self that sang because his calling forced him to. Had it not been for Mai Dhai's simplicity, Atif would not have been able to shun the commercial element in his works for the seven minutes.

2. Makki Madni – Chand Taara Orchestra




Makki Madni is neither a naat nor a qawwali – it is a magical spell which for a good six minutes keeps you enchanted and takes you on a 'secret journey', as Sting would put it. Sherry's hard-hitting vocals and the simplicity of the arrangement together reflect on the turbulence this soil has witnessed in recent times. The song features Sherry, known for his stints on Aamir Liaquat's shows, Babar Sheikh on bass, Omran Shafique (Momo) on guitars, Sikandar Mufti on the djembe and Rizwanullah Khan on slide guitar and banjo.

1. Tamasha – Khumariyaan




Now in their fifth year, Khumariyaan is a four-member band that stands strong with Sparlay Rawail on lead guitars, Aamer Shafiq on rhythm guitars, Farhan Bogra on rubab and Shiraz Khan on percussions. Tamasha features the mighty rubab reappear on the scene, this time clasped by long-haired, jeans-clad youth whose urban sensibilities help rebrand the traditional instrument for the newer audience.




Readers' Choice




1. Tajdar e Haram by Atif Aslam (Coke Studio) with 36% votes

2. Rockstar by Ali Zafar (Coke Studio) with 22% votes

3. Tamasha by Khumariyaan with 20% votes

4. Bewajah by Nabeel Shaukat Ali (Coke Studio) with 8% votes

5. Kadi Aao Ni by Atif Aslam, Mai Dhai (Coke Studio) with 5% votes

6. Aik Tha Badshah by Noori with 3% votes

7. Talabgaar by Javed Bashir (Moor) with 2% votes

8. Mast Hua by Asrar with 2% votes

9. Makki Madni by Chand Taara Orchestra with 1% votes

10. Ghar Nari by Fareed Ayaz and Abu Muhammad (Ho Mann Jahaan) with 1% votes

Published in The Express Tribune, December 31st, 2015.

Like Life & Style on Facebook, follow @ETLifeandStyle on Twitter for the latest in fashion, gossip and entertainment.