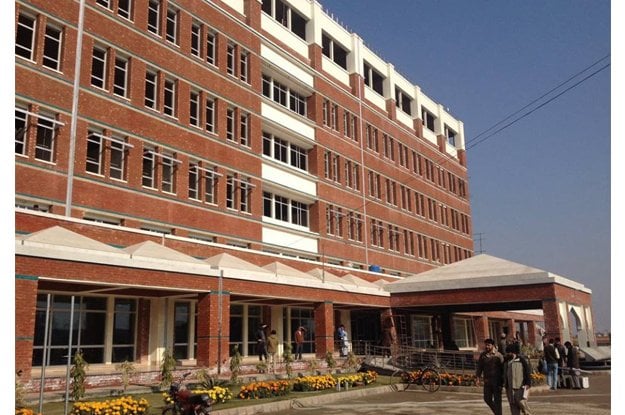 ---
PESHAWAR: The first phase of the Shaukat Khanum Memorial Cancer Hospital and Research Centre in Peshawar is scheduled for completion on December 29 at a cost of Rs4 billion.

Ajmal Khan, the facility's fundraising manager, told The Express Tribune Rs3.2 billion has been spent on the construction of the eight-storey building.

Eight months on: Feasibility study for capital's first cancer hospital yet to complete

He added the chemotherapy faculty was set up in the first phase to treat patients in the initial stages of cancer.

According to Ajmal, cancer radiation therapy would be set up in the second phase and surgery facilities will be established in the third phase. He said another Rs4 billion would be needed to complete the second and third phases.

For the moment, the facility in Peshawar will treat initial stages of cancer, while those requiring radiation or surgery would be referred to Lahore.

Ajmal shared 150,000 new patients registered at Shaukat Khanum Memorial Cancer Hospital and Research Centre in Lahore every year. He said the cost of treatment in just the initial stages was between Rs1.2 and Rs1.5 million for each patient. The manager added the total expenditure on a patient could be as high as Rs7 million.

Administrative issues: BoD to be nominated for Shaikh Zayed Hospital

He said the facility would raise 75% of the treatment expenses, while the patient would have to provide the rest. He said in 2015, the Lahore hospital's budget is Rs7.4 billion—the majority of which has been provided through zakat given by wealthy people.

Ajmal said offices had been constructed in the basement, while machinery was kept on the first and second floors.

He said the upper floor had parking for 600 vehicles at a single time. He recalled that land was purchased for the facility in 2011 and work started in 2013.

The manager urged people to give their zakat to the Shaukat Khanum Memorial Cancer Hospital and Research Centre in Peshawar. He assured remaining work would be completed soon and the centre would provide better facilities to cancer patients who cannot afford treatment.

Published in The Express Tribune, December 25th, 2015.
COMMENTS (4)
Comments are moderated and generally will be posted if they are on-topic and not abusive.
For more information, please see our Comments FAQ