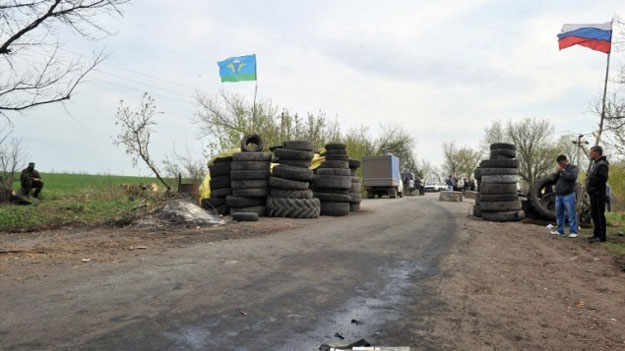 ---
ZAYTSEVE, UKRAINE: For Oksana Boiko's children, the trip to school used to be a short walk to the other side of their tiny village of Zaytseve in east Ukraine.

But the frontline in the 20-month conflict between government forces and pro-Russian rebels cuts through their village and has divided the youngsters from their teachers.

That means mother-of-three Boiko has to run a weekly gauntlet through the checkpoint dividing the Ukrainian-held zone from the separatist-controlled territory to drop off and collect her children's homework.

Mental scars of war leave Ukraine troops battling suicide threat

"The school stopped working a long time ago," the single mother tells AFP. "I cross over the checkpoint to go to the teachers to pick up their tasks and then do it at home with the kids."

Zaytseve, a small village of just 300 inhabitants that is now studded with burnt out buildings, has been one of the hotspots in a conflict that has cost over 9,000 lives. It no longer has local authorities nor public transport.

"We do not live, we survive," Boiko tells AFP.

Boiko lives in the grey zone between the two sides, a no-man's land that leaves her ineligible for any social assistance. She also has no money to buy medicine for her children.

"Soldiers give us firewood and food, but there is no medication," she explains.

"My daughter can stand the shellings only with sedatives. And one of my sons recently had an operation and now needs vitamins that we don't have", she says, pointing to the boy as he bicycles around their yard.

Civilian physicians in the village are long gone, so the local residents turn to a military doctor assigned there who receives visitors in a half-destroyed house.

A table and a bench covered with bed sheets are used in place of an examination table and and there is almost no proper equipment.

The physician, a soldier in the Ukrainian army named Sergiy, was drafted from his home in the west of the country where he used to work as a family doctor.

Ukraine lawmaker manhandles PM Yatseniuk in rowdy parliament scenes

He refused to give his surname as preferred that his family does not find out where he is.

"It is mainly pensioners with blood pressure problems who come to me," he says.

"I usually give them medication from my stocks because they have nowhere to buy them. But there are serious cases of injuries, when we have to take patients to hospital in Artemivsk," a town some five kilometres (three miles) away, he adds.

Sergiy also has to provide emergency assistance to the Ukrainian soldiers who are periodically injured in shellings, despite an official truce in place for some four months now.

"As recently as November we had one soldier killed and two wounded. Rebels fire every night. There are only 150 metres (about 500 feet) between us, we can see each other even without binoculars," says Mykola, 55, a Ukrainian soldier nicknamed "Batya", which means daddy, by his fellow troops.

While control over the village is divided between the opposing forces, civilians have no hope that the shelling will stop.

On the demarcation line, soldier Mykola pats a big German shepherd.
"This dog is a peacemaker. She barks and jumps when you pick up a machine gun," Mykola says.

"No one wants this war to continue: neither military, nor civilians, nor even animals. But it doesn't depend on us."
COMMENTS
Comments are moderated and generally will be posted if they are on-topic and not abusive.
For more information, please see our Comments FAQ