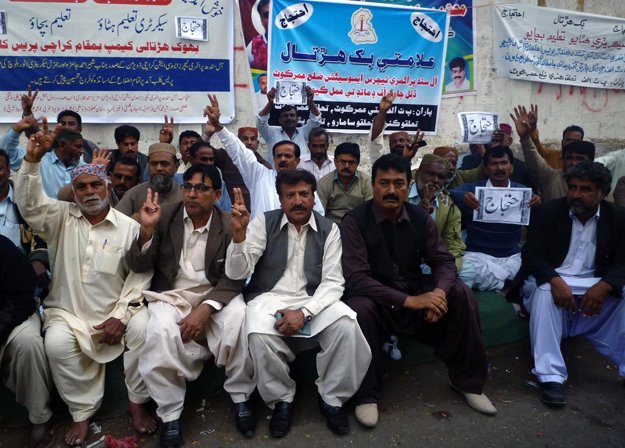 ---
KARACHI: More than 100 teachers protested and blocked the court road near Sindh Secretariat on Tuesday morning demanding the release of their salaries, due for a year.

"I was appointed along with 750 teachers after we cleared our tests in 2012," said a protesting teacher, who, along with other demonstrators, claims they received their appointment letters in October 2014 and joined as Junior School Teachers (JST) in various schools across the city afterwards.

"I joined Ibrahim Ali Bhai School in Orangi Town in December 2014," said Khizar Saleem, who is yet to receive a pay cheque.

Teachers from across Sindh have been paid their salaries, while only those from Karachi are yet to receive their dues.

A JST from Korangi, Ali Hasan, said after a protest on November 5 this year, the chief programme manager of the education department's Reform Support Unit, Faisal Ahmed Uqaili, promised to resolve the issue in 21 days but is yet to do so.

After Tuesday's protest, the list was signed by director of school education, Mushtaq Shiekh, confirmed a JST.

Explaining the delay, Sheikh told The Express Tribune "There were almost 700 teachers and we have to verify each of them, which takes time."

However, teachers will have to wait more as now the list needs the RSU chief's signature, who is out of city. Following his approval, the list will be sent for secretary education Fazlullah Pechuho's signature, informed the JST.

Meanwhile, special secretary for education, Alia Shahid, asked [the 680] teachers to wait until next Friday for their dues.

RSU chief Uqaili said he will sign the when he rejoins the office on December 29.

Published in The Express Tribune, December 23rd, 2015.