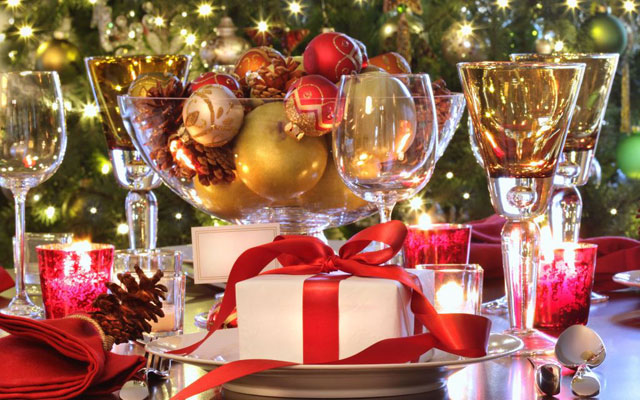 ---
Tis' the season for some sweet indulgence! This year, give your guests a special Christmas treat by serving these deliciously warm holiday desserts. They're easy to make and ideal for cosy Christmas parties with family.

Ingredients

•  Butter (unsalted) 800 grammes

•  Sugar 1000 grammes

•  Flour 1000 grammes

•  Eggs 18

•  Baking powder 4 tbsp

•  Mixed fruits and nuts (dates, orange peel, almonds, walnuts, etc)

•  Cake masala 2 tsp

•  Caramelised sugar (for colour)

•   Vanilla essence 1 tsp

Method 

•  Combine the butter, sugar, egg yolks and vanilla essence in a large container, making sure they mix thoroughly.

•  In a separate bowl, mix together all the dry ingredients.

•  Begin preparing the cake batter by adding small quantities of the dry mix to the other, stirring slowly throughout.

•  Caramelise about two cups of sugar until it becomes a liquid, dark brown or blackish in colour. This will add colour to the cake. Once the desired consistency has been achieved, add the sugar to the batter slow. Be mindful that that the sugar solidifies very quickly and must be folded in immediately lest it become lumpy.

•  Beat the egg whites until they are fluffy and add them to the batter.

•  Fold in mixed fruits and nuts of your choice.

•  Pour the batter into a cake pan and bake at 180° Celsius for about an hour or so.

Sweet Puffs

By Arooj Waqar




Ingredients

•  Flour 4 cups

•  Butter 1 cup (divide into 4 portions and keep it chilled)

•  Water as needed

Method

For the dough:

Mix flour and water to make a hard dough. Roll and give it a round shape. Apply one portion of chilled butter on it and fold the dough to make a square shape. Freeze it for 15 minutes. Roll the square-shaped dough , now apply second portion of butter on it. And fold again into a thick square. Freeze for 15 minutes. Repeat these steps two more times until you utilise all four portions of butter.

You can freeze this dough and use whenever you like.

For sweet puffs:

Take some dough and roll it in a rectangular shape that is half inch thick. Lift and fold it from the right side and repeat the same step from the left side to make it a thick rectangle. Sprinkle some granulated sugar on it. Now lift from the right side and double it. Sprinkle granulated sugar on top and press sugar a bit so it sticks well with the dough. Cut rectangle into 10 equal pieces and place in an ovenproof tray.

In a preheated oven place the tray and bake on 70o Celsius for 25-40 minutes until its golden brown from the base.

Published in The Express Tribune, Ms T, December 20th, 2015.
COMMENTS (1)
Comments are moderated and generally will be posted if they are on-topic and not abusive.
For more information, please see our Comments FAQ