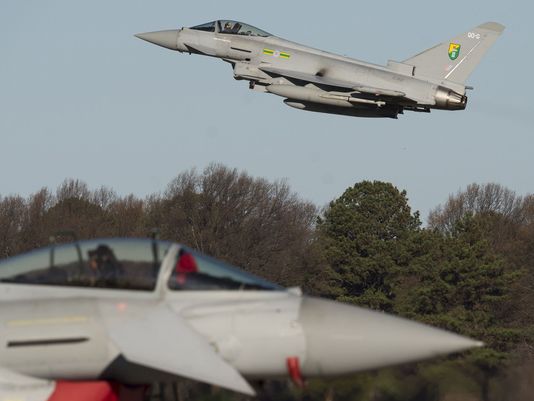 ---
HAMPTON, US: American F-22s, British Typhoons and French Rafales -- three of the world's most sophisticated fighter jets -- roar through the skies over Virginia in the eastern United States in a show of aerial might.

They are a world away from the deserts of northern Syria and Iraq, where all three militaries are part of a US-led coalition bombing the Islamic State group.

Cameron says offered France use of British airbase in Cyprus

But it is not the fight against the militants, who have no air capabilities, that prompted this trilateral training mission.

Instead, the Western allies are focusing on more traditional aerial threats, as well as air-defense systems that are being increasingly deployed around the world.

"Today there are roughly 10 integrated air-defense systems in the world that you would have a difficult time operating in or around," said General Mark Welsh, the chief of staff of the US Air Force.

"By 10 years from now, they will be 25 or so."

For about two weeks this month, the planes are training together against a mock enemy, represented by fleets of US F-15s and T-38 training jets.

"It's fabulous," said Marco, a Rafale pilot who is not allowed to provide his full name. The Rafale -- the name means gust of wind -- is the French military's signature fighter.

"For us French, it's the first time we've really worked in integration with the F-22 Raptor," Marco added.

UK boosts military spending as pressure to strike Islamic State grows

The F-22 is a feat of US technology. The sleek, stealthy craft bristles with sensors and advanced weapons systems, and the US military closely guards its secrets.

Each air force takes turns commanding the mission.

Even among these three allied nations, the air forces are careful not to reveal too much about the capabilities of their flagship planes.

General Frank Gorenc, the commander of US Air Forces Europe, said there is considerable proliferation of air-defense systems on the continent.

He was referring to Russia's air-defense systems that could restrict access to the skies over the Baltic or the Black Sea.

Washington last month expressed concerns after Russia deployed advanced S-400 anti-aircraft missiles to Latakia in northwestern Syria, in a move that came after Turkey shot down a Russian fighter jet in the increasingly crowded air space along the Syrian border.

And China, too, has made steady investments in anti-aircraft defense systems, again raising eyebrows in Washington.

Russia, China sign contract worth over $2b for Su-35 fighter jets

"You have to have the ability to dismantle those things," Welsh said, "so that you can operate fully across the spectrum of air power operation. If you can't do that, you can't do land or maritime operations."

The training exercise, which was launched in 2010, comprises six F-22 Raptors, eight Typhoons and six Rafales, as well as two Awacs surveillance planes and two air tankers. The training mission wraps up on December 18.

Sir Andrew Pulford, the Royal Air Force chief of staff, said it represented an important opportunity for pilots to regain their air-defense skills after long periods spent fighting enemies, such as the Taliban or Islamic State militants, who have no air forces.

"After 10 years of Afghanistan and Iraq, some of those high-end skills have actually drifted away from us. This exercise is an important part of that journey of recovering our high-end capabilities," he said.
COMMENTS
Comments are moderated and generally will be posted if they are on-topic and not abusive.
For more information, please see our Comments FAQ