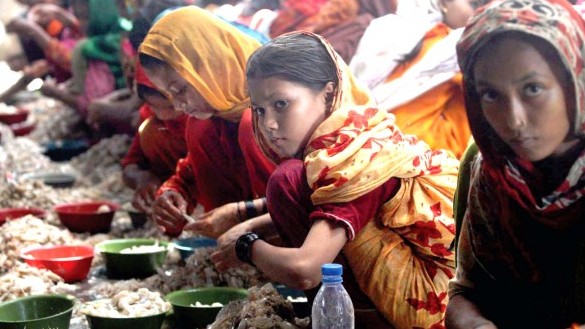 ---
KARACHI: The day for the shrimp peelers starts when it is still night for most of the city.

They wake up before dawn and report for duty around 5 am in the wara, the factory, where they work. Sixteenyear- old Maryam is one of the many shrimp and prawn peelers who live in Karachi's coastal areas. The fingers on both her hands are bruised and cut but that does not seem to slow her down as she works on a pale pink coloured shrimp in a factory at Rehri, Ibrahim Hyderi, which is one of the bigger fishing villages in the city. The word factory seems a little fancy for Maryam's workplace, which does not constitute a building but a large shed under which lines of women sit and work at buckets of shrimps. The teenager's fear is not of getting hurt while working but of losing her job.

"My father has been jailed in India for the last five years. I have five siblings and my mother is constantly ill," she explained in an interview with The Express Tribune, adding that she had to work so that her family could eat. Peeling has to be finished by midday, which is why the work starts so early. Working conditions are hard and most of the peelers are not given any gloves or other equipment to make their task easier. They peel the icy shrimps with their bare hands, which turns the colour of their hands white and can also cause infections.

According to a Pakistan Fisherfolk Forum worker, Tahira Syed, the fear of losing their jobs makes these women hide their injuries from their employer. "They apply some ointment or soak their hands in salt water," she said. The PFF is a nongovernment organisation that works for the rights of fishermen. There are around eight waras in Rehri and each has around 100 female employees. There are no proper working hours and the women can be called in any time the catch arrives.

"Even if it is in the middle of the night," said Ms Syed. Another young peeler at the wara, Aisha, 12, said that she usually peels five bowls of shrimps in a day, which is around three kilogrammes. She earns Rs20 for each bowl and so her day's earnings amount to just Rs100. The average money made by a peeler working in waras is around Rs90 per day. The abysmally low compensation forces women to borrow money from their contractors and if they fail to return the money on time, they are charged an extra amount per day.

"What can I do? Where can we get help from when our children become ill?" lamented Shahul, 42, who has been working ever since her husband was arrested for illegal fishing seven years ago. The shrimp peeling industry is one of the many in the country that do not follow most of the labour laws. Shuja Qureshi, who works at the Pakistan Institute of Labour Education and Research, said that the Sindh labour department has to implement these rules. However, the department officials are too busy minting money from factory owners to do so, he said.
COMMENTS (3)
Comments are moderated and generally will be posted if they are on-topic and not abusive.
For more information, please see our Comments FAQ