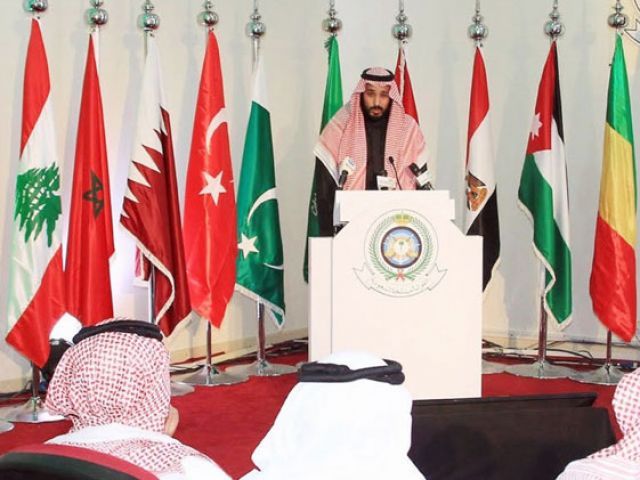 ---
ISLAMABAD:



Saudi Arabia's inclusion of Pakistan in a 34-nation military alliance against terrorism sparked much confusion on Tuesday after officials in Islamabad said they were unaware of any such development.




In a rare news conference in Riyadh, Saudi Crown Prince and Defence Minister Mohammed bin Salman announced the formation of new military alliance of Islamic countries, including Pakistan. He said the alliance will coordinate efforts against terrorism in Iraq, Syria, Libya, Egypt and Afghanistan, but offered few concrete indications of how the military efforts might proceed.

Pakistan included in Saudi Arabia's 34-state Islamic military alliance against terrorism

The announcement cited "a duty to protect the Islamic nation from the evils of all terrorist groups and organisations whatever their sect and name which wreak death and corruption on earth and aim to terrorise the innocent."

Asked if the new alliance would focus just on the Islamic State, the Saudi minister said it will confront "any terrorist organisation that appears in front of us."

The Saudi state new agency, SPA, mentioned Egypt, Qatar, the United Arab Emirates, Turkey, Malaysia and Pakistan among the 34 Islamic countries which are part of the military alliance – Iran, Syria and Iraq are not part of it. It added the coalition will have a joint operations centre in Riyadh to coordinate and support military operations.

When contacted, a senior official of Pakistan's Foreign Office said they were gathering details about the newly formed alliance. "We came to know about it (the alliance) through news reports. We have asked our ambassador in Saudi Arabia to get details on it," he said, suggesting that Pakistan has been caught off guard by the Saudi announcement.

Pakistan stands with Turkey in fight against terrorism: army chief

Separately, a senior government functionary told The Express Tribune that he could not confirm whether Pakistan had joined the Saudi alliance.

"We have been cooperating with Saudi Arabia on counter-terrorism efforts but I am not sure we are going to be part of any military alliance," insisted the official, who asked to remain anonymous because of the sensitivity of the issue.

He said Pakistan in principle had never joined any military alliance without UN backing. "That was the reason we stayed away from the Yemen conflict," he said.

The official said Pakistan would not send its troops on foreign soil even if "we become part of this new coalition." "But we have not yet officially articulated our position on this so wait and see," he maintained.

Saudi Arabia also mentioned Pakistan among the list of countries which were part of its alliance against the Houthi rebels in Yemen earlier this year. But Islamabad distanced itself from the Saudi alliance and instead called for a political solution to the conflict. The National Assembly also passed a unanimous resolution urging the government not to send its troops on the foreign soil.

Christian female fighters take on Islamic State in Syria

Pakistan's reluctance to become part of the Saudi-led alliance is attributed to both domestic and regional compulsions. The new Saudi alliance potentially can put it at odds with Iran, as well as Russia, something that makes the situation difficult for Pakistan.

Islamabad, according to officials here, wants to tread a careful path as it can neither afford any strain in ties with Iran nor undermine efforts to improve ties with Russia by joining the Saudi alliance.

However, at the same time it cannot turn down a Saudi request. Insiders said Saudi leadership discussed the formation of new alliance with army chief General Raheel Sharif during his visit to Riyadh in November.

Sources said the army chief backed Saudi efforts to deal with terror threats but it was not clear whether he had given any commitment for joining the military alliance.

Washington has welcomed the creation the new Saudi-led alliance against terrorism.

Saudi Arabia and its Gulf Arab neighbours have been locked in nine months of warfare with Iran-allied rebels in neighboring Yemen, launching hundreds of air strikes there. Especially after a rash of attacks on Western targets claimed by Islamic State in recent months, the United States has increasingly said it thinks that firepower would better be used against IS.


Published in The Express Tribune, December 16th, 2015.
COMMENTS (29)
Comments are moderated and generally will be posted if they are on-topic and not abusive.
For more information, please see our Comments FAQ