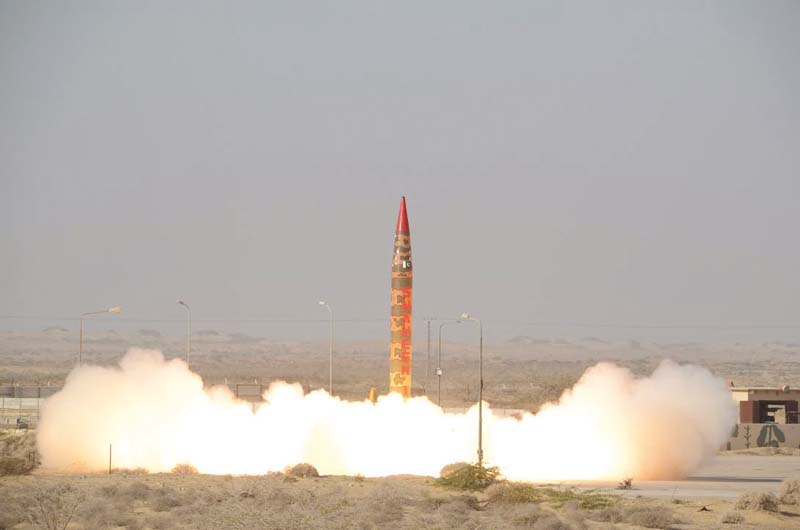 ---
ISLAMABAD: Pakistan test-fired on Tuesday its ballistic missile Shaheen 1A which is capable of carrying nuclear warheads within a range of 900 kilometres.

This is Pakistan's second test in three days and barely a week after the government confirmed it would resume high-level peace talks with arch-rival India.

The military said it had fired a Shaheen 1A surface-to-surface ballistic missile which can carry nuclear and conventional warheads within a range of 900 kilometres.

"The flight test was aimed at revalidating several design and technical parameters of the weapon system," the Inter-Services Public Relations (ISPR), the military's media arm, said in a statement.

The launch was witnessed by senior officers from the Strategic Plans Division (SPD) and the strategic forces, as well as scientists and engineers of strategic organisations.




SPD Director General Lieutenant General Mazhar Jamil congratulated the scientists and engineers for their dedication, professionalism and commitment towards yet another display of strengthening Pakistan's defence. He reiterated that Pakistan's strategic capabilities are based on credible minimum deterrence and a desire for peaceful co-existence in the region.

The successful test launch has been warmly appreciated by the president and prime minister of Pakistan who congratulated the scientists and engineers on achieving another outstanding milestone.

Shaheen-1A with its sophisticated and advanced guidance system is a highly accurate missile system.

Last Friday, Pakistan conducted a successful flight test of the medium range Shaheen-III surface to surface ballistic missile, with a maximum range of 2,750 kilometres.

Published in The Express Tribune, December 16th,  2015.
COMMENTS (1)
Comments are moderated and generally will be posted if they are on-topic and not abusive.
For more information, please see our Comments FAQ