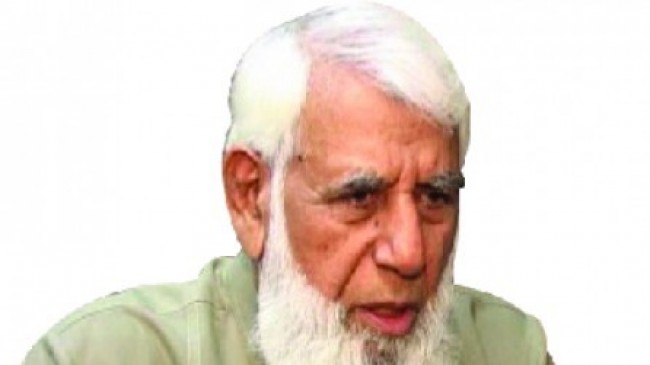 ---
KARACHI: A Karachi doctor who claims to have discovered a herbal cure for Aids says that the health department has yet to take him seriously.

With the help of a Japanese research organisation, Aids and liver specialist Dr Muhammad Rafiq was able to break the Aids genome in 2000 by using a herb. Dr Rafiq claims he was able to "cure" 25 Aids patients in 2008, yet health authorities in Pakistan have failed to give him due credit. "We measure the dose after taking out the essence and we give it accordingly," said Dr Rafiq

. "The drug is non-toxic and has no side effects." Kausar Nadim, one of the 25 patients who says she was "cured" of Aids with this medicine, contracted the disease from her husband in 2004. She underwent Dr Rafiq's treatment and says she was "cured" in one year. "The doctors tested me positive for HIV Aids but after two months of using the medicine they immediately found less viral load," said Mrs Nadim. "After one year, the virus was gone completely." There has been some measure of recognition for Dr Rafiq's work.

According to Dr Srichand Ochani, the former project director for HIV Aids control programme, the specialist has made a phenomenal breakthrough in medical history and deserves a Nobel Prize. As the project director of town and district headquarter hospitals and HIV Aids control, Dr Ochani says he carried out an experiment on some of the patients registered in the Aids control programme and gave them the herbal medicine in 2004.

He claims that "all patients were completely cured". "In terms of importance I would say that this discovery will be a major development in the history of medicine," Dr Ochani said. "There is numerous research going on in the world and no scientist has so far been able to find a complete cure." In 2004 Dr Rafiq presented his research findings and his success with the 25 patients to the director-general health, the national and provincial Aids control programme and health department representatives.

"Initially it seemed that the director-general health would give me a positive response but then he said, 'I just have two minutes for you'," said Dr Rafiq. After facing disappointments at home, Dr Rafiq and his associates presented their research at the World Aids Conference in 2008 when according to him several organisations from the US and Europe offered to sign contracts with them.

"Recently, we signed a contract with Nigeria and we are trying to get the medicine registered," said Dr Asim Awan, an associate of Dr Rafiq. "We have already administered this medicine in Botswana and Kenya," he added. There are several poor countries in the world, including Pakistan, that have taken huge loans to continue with their Aids programmes.