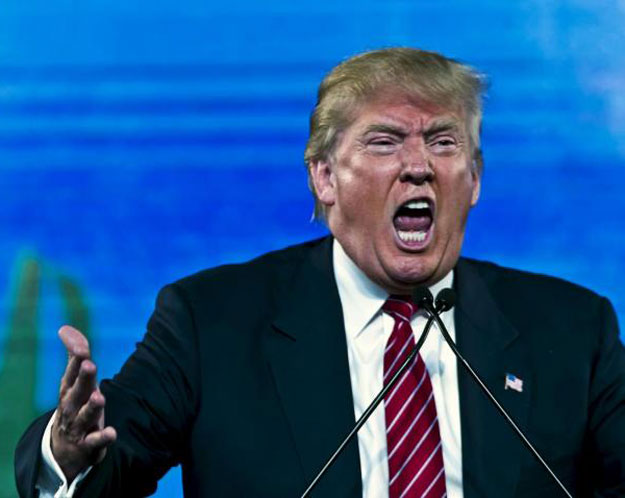 ---
WASHINGTON:



The White House on Tuesday said Republican presidential front-runner Donald Trump's call for the United States to ban Muslims from entering the country disqualified him from becoming president and called on Republicans to reject him immediately.




White House spokesman Josh Earnest said Trump's campaign had a 'dustbin of history' quality to it and said his comments were offensive and toxic. Earnest said other Republican presidential candidates, who have pledged to support the person who eventually wins their party's nomination, should disavow Trump 'right now'.

"Declaring war on Islam or demonising Muslim Americans is not only counter to our values – it plays right into the hands of terrorists," Democratic presidential frontrunner Hillary Clinton said.

The top US security official on Tuesday said Trump's proposal to ban Muslims from entering the US was not only offensive but would undermine national security by thwarting efforts to connect with the Muslim American community.

"It is irresponsible to do this and contrary to our national security efforts," US Homeland Security Secretary Jeh Johnson said in an interview on MSNBC.

"We are renouncing and rejecting his remarks," he told the television network, referring to Trump, who on Monday said if he wins his party's nomination in the 2016 race for the White House and is elected president he would not allow Muslims to enter the county.

Johnson, who has previously declined to comment on the presidential race and earlier had declined to react to Trump's plan, said he had reconsidered and that as head of US security efforts he was obligated to speak out now. He said the Republican front-runner's proposed ban was "irresponsible – probably illegal, unconstitutional and contrary to international law – un-American, and will actually hurt our efforts at homeland security".




Separately, US Secretary of State John Kerry also said Trump's comments were not constructive.

Trump has said such a ban is "common sense" in the wake of last week's shooting in San Bernardino, California, by a couple who authorities say were Muslims who had become more radical, as well as last month's attacks in Paris that were claimed by Islamic State and left 130 dead.

On Tuesday, Trump defended his plan even as a growing chorus of critics, including other Republicans, rejected it.

Security Secretary Johnson said that while US President Barack Obama has acknowledged a new phase in the fight against militant groups like Islamic State, it was critical to build relationships with Muslims, not alienate them.

"I want people in Muslim communities across this country to know that the president and I, members of this administration - and obviously a number of Republicans and Democrats – do not believe this, do not feel the way Mr Trump feels," he told MSNBC.

Published in The Express Tribune, December 9th,  2015.
COMMENTS
Comments are moderated and generally will be posted if they are on-topic and not abusive.
For more information, please see our Comments FAQ