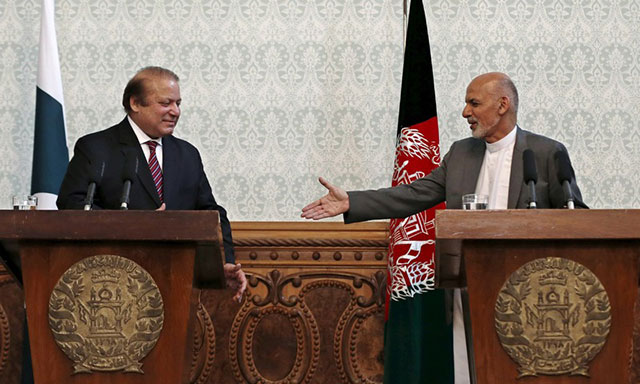 ---
The fifth Heart of Asia ministerial conference commenced in Islamabad on Tuesday where both Indian Foreign Minister Sushma Swaraj and Afghan President Ashraf Ghani have confirmed their attendance.

Adviser to the Prime Minister on Foreign Affairs Sartaj Aziz delivered the opening remarks at the meeting, saying "Enhanced cooperation for countering security threats and promoting connectivity is pertinent to the needs of the region."

Ghani-Sharif Paris huddle to bridge barriers between both nations

"Our region is mired in security challenges which are hampering our socio-economic development," he said further.

Commenting on relations with Afghanistan, he asserted that, "Pakistan wants durable peace and stability in Afghanistan. Instability in Afghanistan in not in our interest," adding that "We will therefore continue to support all endeavours aimed at strengthening peace and security in Afghanistan."

Concluding his opening remarks, the adviser said, "Terrorism continues to be a major threat to global peace and stability. During the last few years, Pakistan has suffered huge human and economic losses due to its menace." He assured however, that, "closer regional cooperation can play an effective role in eliminating  the scourge of terrorism."

Pak-Afghan relations hold key importance: Mosazai

A civil-military huddle on Monday decided to hold meetings with Indian and Afghan representatives on the sidelines of this week's regional conference on Afghanistan to resume dialogue and discuss pressing issues.

Sushma's arrival will mark the first significant engagement between the two nuclear-armed nations since the meeting between Prime Minister Nawaz Sharif and his Indian counterpart Narendra Modi in Ufa, Russia in July this year.

Aziz and Afghan Deputy Foreign Minister Hekmat Khalil Karzai will make opening remarks at the meeting. Meanwhile, Aziz will also chair a meeting between senior officials.

Hopes rise for Ghani's Islamabad visit

High-ranking delegations from 14 Participating States, 17 Supporting Countries and 12 International and Regional Organisations are expected to participate in the conference, a statement by the Foreign Office said, according to Radio Pakistan.

The "Heart of Asia" meeting, an annual gathering of Asian
and other countries to support Afghanistan, will focus on energy
deals, infrastructure and investment.
COMMENTS (3)
Comments are moderated and generally will be posted if they are on-topic and not abusive.
For more information, please see our Comments FAQ