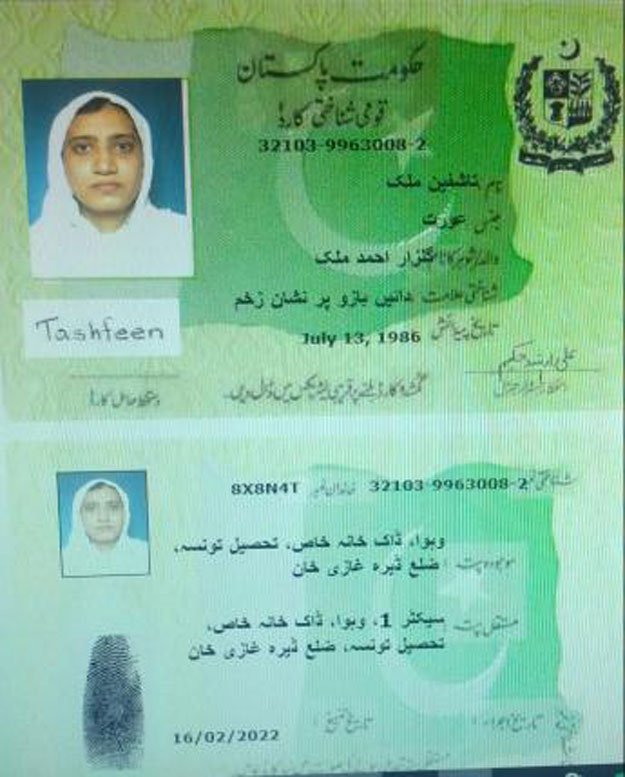 ---
A simple message to the National Database and Registration Authority (NADRA)'s automated SMS-based verification system has ended the debate on social media over whether the ID card of female California shooter Tashfeen Malik is a fake.

CNN was the first news organisation to show an image of the computerised national identification card (CNIC) of Tashfeen Malik, one of the suspects involved in San Bernardino, California, shooting last week.

However, the CNIC was instantly attacked by Pakistanis who questioned its authenticity while comparing it to current ID cards issued by NADRA .


This slide bearing CNIC attributed to #TashfeenMalik, as shown by the @CNN so clearly appears to be photoshopped. pic.twitter.com/SYgwxplYbx

— Marvi Sirmed (@marvisirmed) December 6, 2015
While the CNIC shared by authorities & run by @CNN may be real, the way they've chosen to display it makes it look fake. Why present it so?

— Farieha Aziz (@FariehaAziz) December 6, 2015


https://twitter.com/kursed/status/673219902845530112

https://twitter.com/itsusmans/status/673958225394458624

With most social media users claiming the CNIC was part of a larger conspiracy to defame Muslims and simply irresponsible journalism, some simply decided to use a service that was popularised by NADRA during the 2013 general elections.


Tashfeen Malik's CNIC aired by CNN is not doctored. When record is extracted from NADRA database, it looks like this pic.twitter.com/h97pej3yTc

— Majid Agha (@Majid_Agha) December 7, 2015


[fbpost link="https://www.facebook.com/cnn/videos/vb.5550296508/10154269349441509/?type=2&theater"]




The Express Tribune also messaged NADRA on its official short codes 8300 and 7000, to verify if the ID card belonged to her. The short codes are normally used for getting polling station information against any CNIC and name and father's name of any CNIC card holder.

Here are the replies we got confirming that the NIC is indeed the 29-year-old shooter's.




You can text Malik's ID card number to 8300 and 7000 and verify it yourself as well.

Further, the font of her ID card seems strange as it is a print out of Malik's CNIC.  The result would be the same if you input your CNIC number in a software that's attached with NADRA's database, and give a print command.

#MuslimApartments: Twitter mocks media frenzy at California shooters' home

Malik and her US citizen husband Syed Farook, 28, went on a killing spree killing 14 people at a social services centre in San Bernardino, an act praised by the Islamic State group who hailed the couple as "soldiers" of its self-proclaimed caliphate.

Two days after the incident, media crews were given access by the landlord to the two-story townhouse where they lived with their six-month-old daughter.

Dozens of journalists flooded into the home in Redlands, jostling for space as they rifled through children's toys and family photos for clues to what drove the couple to commit mass murder.

Baby toys, a Quran: California shooters' home thrown open to media

The FBI — which is investigating the shooting as an "act of terrorism" — said it had turned the property back over to its owner and no longer controlled access, as experts voiced consternation that media were allowed to disturb the site.

AFP's photographer Robyn Beck, among those permitted to enter, said it was mayhem inside.

"People were touching everything, some reporters were removing pictures out of photo albums and photographing them," she said.

According to AFP, earlier some outlets, including CNN, said they decided not to broadcast close-up footage of objects that could be considered sensitive or identifiable — such as identity cards.

Female attacker from DG Khan praised Da'ish chief

"I never seen anything like this," CNN's law enforcement analyst Paul Callan had said. "I think it indicates a shocking degree of negligence and really recklessness by law enforcement authorities here.

"You have a contaminated crime scene now." "This is the biggest visible screwup in history," agreed fellow CNN analyst Jonathan Gilliam. "A terrorist incident just happened and the reporters are going through and looking at IDs and pictures… It is all evidentiary."

Pressed to explain why media were given unfettered access, the FBI said it no longer had control over the premises.

"We executed a search warrant on that apartment. And last night we turned that over back to the residents," David Bowdich, the assistant FBI director in charge of the Los Angeles office, told a news conference.

Never been photographed with Tashfeen Malik: Lal Masjid cleric

Both Farook and Malik were killed Wednesday in a wild firefight with police hours after the carnage at an office party attended by Farook's co-workers in nearby San Bernardino.

Relatives have been at a loss to explain how the young couple with a baby girl could have staged the country's deadliest mass shooting since the Newtown school massacre in 2012.

Malik returned to Pakistan and studied pharmacy at Bahauddin Zakaria university in Multan from 2007 to 2012. She lived in a university hostel. An identity card said she was 29 years old at the time of the shootings. She again visited Pakistan in 2013 and 2014, security officials told Reuters, but it's unclear who she met or where she visited.
COMMENTS (10)
Comments are moderated and generally will be posted if they are on-topic and not abusive.
For more information, please see our Comments FAQ