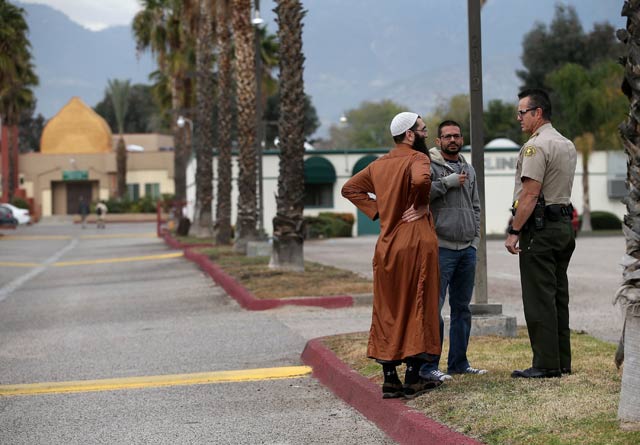 ---
SAN BERNARDINO: Two years ago, Tashfeen Malik was a new bride radiating beauty and happiness at a reception for hundreds at a California mosque to celebrate her marriage to Syed Rizwan Farook.

On Friday, people attending prayers at the same mosque struggled to reconcile their memories of that happy event with news that Farook, 28, and Malik, 29, killed 14 people in a shooting rampage Wednesday in the city of San Bernardino. Both died in a later shootout with police, and the FBI is investigating the massacre as an "act of terrorism."

Baby toys, a Quran: California shooters' home thrown open to media

Malik was brought to Southern California from Saudi Arabia by Farook. A native of Pakistan, she appears to have left a less visible footprint here than her US-born husband, who had a public sector job and family here. They left behind a 6-month-old daughter.

"She was a beautiful lady. She was very happy that night," said Nasima Nila, 31, who attended the reception at the Islamic Center of Riverside. "She was a new bride."




She was also very quiet. Attendees recalled that at the celebration, where women and men were separated, Malik quietly sat on a couch on the women's side of the mosque and said little other than thanking community members for their congratulations and answering simple questions if asked, Nila said.

Female attacker from DG Khan praised Da'ish chief

She was speaking English that night, community members recalled, and mostly interacted with relatives.

Nila said she never saw Malik after the reception, which mosque director Mustafa Kuko said 250 to 300 people attended. Some of the men knew Farook said they had never met his wife.

On Friday, social media network Facebook confirmed that comments praising Islamic State were posted around the time of the mass shooting to a Facebook account established under an alias by Malik. However, it was uncertain whether the comments were posted by Malik herself.




Tashfeen hailed from DG Khan

Malik hailed from Taunsa tehsil in DG Khan district of Punjab but had lived much of her life in Saudi Arabia.

California shooting suspect was devout Muslim: father

Malik was born to Haji Gulzar Ahmed Malik, patron of a prosperous Seraiki-speaking family in Vehoa city, in DG Khan. She has two sisters and two brothers and was related to former provincial minister Ahmed Ali Aulak.

Haji Gulzar had moved from his native city to Layyah for a short while before taking his family to Rawalpindi as he pursued his business. That pursuit took Haji Gulzar to Riyadh in Saudi Arabia almost 25 years ago.

However, with educational opportunities limited for non-residents in Saudi Arabia, Haji Gulzar sent his daughters to Pakistan to complete their higher studies. Following in her older sister's footsteps, Malik arrived in Pakistan to study pharmacy at the Bahauddin Zakaria University.

Her maternal uncle told The Express Tribune that she came back around five to six years ago. Like her sister, she completed her D-Pharm with a 74.88 percentage.

Pakistani-origin couple kept tight lid on plans for San Bernardino shooting

After completing her studies, Malik returned to Saudi Arabia.

Farook was born in an Urdu-speaking household in Illinois to Syed and Rafia Farook. In 2013 Farook visited Saudi Arabia to perform Hajj.




After he met Malik apparently through an online matrimonial service, Rizwan returned to Saudi Arabia to meet her family.

The two married and moved to the US where they had a six-month-old baby.

One of Malik's uncles, Javed Rabbani, said her father, Haji Gulzar, had changed during their time in Saudi Arabia. "When relatives visited him, they would come back and tell us how conservative and hard-line he had become," Rabbani said.

Her maternal uncle disclosed that both Malik and Farook were religiously inclined.

'Radicalised' California shooter had terror ties: reports

No indication California shooters part of larger group: FBI chief

There are no signs that the couple were part of a larger group, FBI Director James Comey said Friday.




"So far we have no indication that these killers are part of an organized larger group or part of a cell. There's no indication that they are part of a network," Comey said, after US officials revealed they were investigating the shooting as an "act of terrorism."

California shooting suspect was devout Muslim: father

Accused California shooter raised no red flags in Saudi -source

Accused California shooter Tashfeen Malik did not come to authorities' attention while living in Saudi Arabia, a source close to the Saudi government told Reuters on Friday.

The source said Malik, 27, was not on any Saudi law enforcement or terrorism watchlist, and authorities had no reason to believe she was involved with extremist groups.

Farook: 'Very quiet person'

Between 2012 and 2014, Farook would come to the mosque twice a day - for the morning prayers, as early as 4:30 am and evening prayers after work – said the mosque's director, Mustafa Kuko, and asked for his blessing before going to Saudi Arabia to marry Malik.




Several men at the mosque who knew Farook said he loved cars and would often perform free oil changes for people in the parking lot.

Amir Abdul-Jalil, 50, said he was good friends with Farook. He said he was one of the "sweetest Muslims I ever met" and that Farook had invited him over for dinner one night a couple years ago, before he was married.

Female suspect of California shooting was Pakistani: CAIR

Abdul-Jalil said he met Malik once, but did not speak with her beyond exchanging pleasantries.

"I loved this brother and I'm so hurt today," Abdul Jalil said. "I can't believe that the guy I knew would do this."

At another area mosque, the Dar al Uloom al Islamiyah, where Farook went more recently about two to three times a week, Gasser Shehata said he knew Farook to be "a very quiet person, more on the shy side."

Shehata also attended the wedding reception, which he described as jovial, and said Farook was delighted with his new daughter.

"When he had the baby, he was extremely happy," Shehata said. "If something happened to him, it happened very recently, in the last 30 to 60 days."

Attendance at Friday prayers at both mosques was thinner than usual and some members said their family and friends had advised them against going for fear of a violent backlash.

Afarin Rahmani, 44, said she felt "guilty" that someone from her community was responsible for the shootings.

"People blame us with everything going on. You start to feel guilty," she said. "I would have taken the bullet. We are all afraid of the same things."