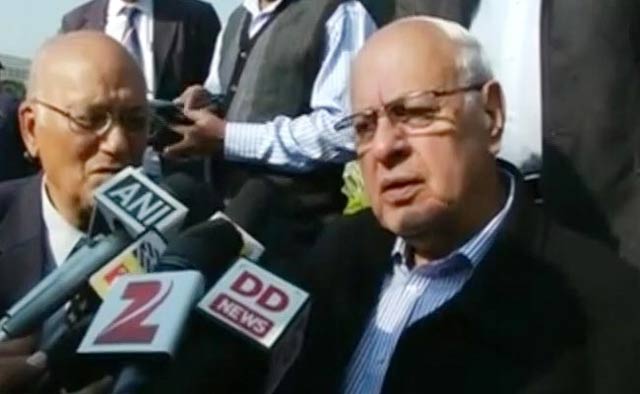 ---
Reaffirming his assertion that Azad Jammu and Kashmir (AJK) is a part of Pakistan and will remain with it, former chief minister of Indian-administered Kashmir Dr Farooq Abdullah said neither New Delhi nor Pakistan has the power to retrieve either sides of the divided line.

"After doing politics all these years, I do not see that we have the power to retrieve that (AJK) or they [Pakistan] can retrieve this (Indian-held Kashmir)," Abdullah, who is also the president of opposition National Conference (NC), told reporters in Srinagar on Wednesday.

AJK will remain with Pakistan, says former Indian-occupied Kashmir CM

He said that by formula AJK will "become Pakistan's region with the similar autonomy that we have" and the borders will become easy to access.

"So, we can trade, our boys can marry girls from there and their boys can marry girls from here. It will be, you know, like a joint family. That will settle many of problems of India and Pakistan," he said.

The former minister added, "Once this is acceptable, then we will not need all the troops here and they will not need to put all the troops there. And we will have a happy situation."

Abdullah claimed that the only "trouble" with the current solution is that the "shops of those who want the situation in Indian-held Kashmir to remain as such will close down."

Pakistan building pressure on India to resolve Kashmir dispute: Maleeha Lodhi

"They are surviving because of the division and their shops will close once there is a solution," he said, referring to those who criticised his remarks.

In response to Bharatiya Janata Party (BJP)'s criticism, the former union minister said the suggestion had been put forth by former Indian Prime Minister Atal Bihari Vajpayee.

"Vajpayee went to Pakistan via bus and he spoke to Prime Minister Nawaz Sharif. He suggested to keep AJK and we will keep Indian-held Kashmir," he upheld.

BJP lawmaker and former home secretary RK Singh had denounced Abdullah's statements, claiming, "This is a bogus statement, it is AJK which is illegally occupied by Pakistan."

Peace in South Asia linked to solution of Kashmir dispute'

"He was BJP PM, was he not? When he gave this suggestion then, why are they [BJP] enraged now? If they have any other solution and they think they can occupy that [AJK] by military might, why are they not doing that then?" Abdullah asked.

Further, Abdullah said his party would support any other solution which could help in creating good relations between India and Pakistan.

"I believe if there is any other solution which can create good relations among India and Pakistan and resolve the Kashmir issue, National Conference has no problem in accepting that. I have said this earlier several years ago and I will continue saying this," he said.

Nawaz, Modi shake hands during climate summit in Paris

During his address last week, Abdullah said that war is not the solution and only lives are lost as a result of it. "Dialogue is the only solution. There is no other solution. We have had so many wars, did that solve our problems? Is there any other way by which you think there will be a solution. I do not see it," he said.

This article originally appeared on NDTV.