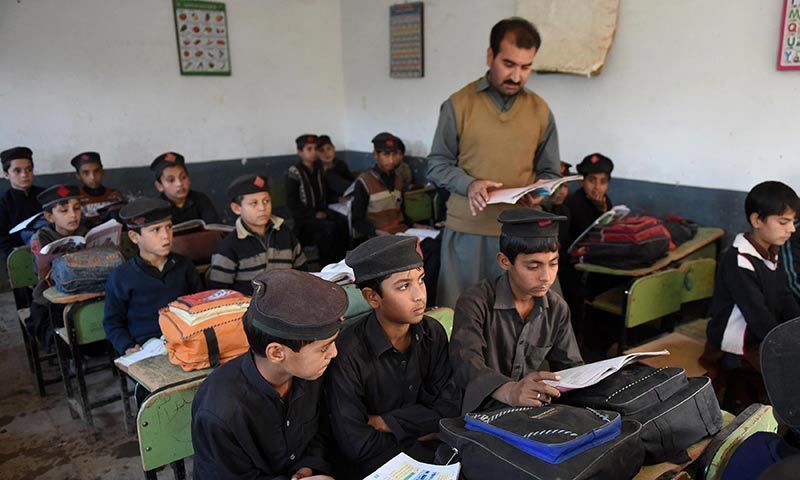 ---
PESHAWAR: A series of textbooks taught at government schools across the province have been reviewed by Peace Education and Development Foundation (PEAD) Pakistan to eliminate hate material.

A news conference was held on Thursday in the city to share the organisation's findings. Minority representatives and education experts were present on the occasion.

Curriculum change: 'It's time to eliminate hate, conflict material from textbooks'

Teaching hate

During the conference, PEAD Programme Manager Shagufta Khaliq drew attention to passages in textbooks which could incite hatred against various sects and other religions.




"There is some material against Hindus in Pakistan Studies textbooks which are taught to students of class nine," she said. "Such material should be excluded from textbooks."

According to Khaliq, the government should take all religious communities into confidence to revise the curriculum.

"We should think about serving humanity and not people from a specific sect or religion," she said.

Removal of hate material from school curricula stressed

Speaking on the occasion, All Pakistan Hindu Rights Movement Chairman Haroon Sarbdiyal said there are some paragraphs in Pakistan Studies textbooks at the intermediate level which are against Hindus. "As a result, Hindu students are being taught things at schools that are against their beliefs,"
he added.

Recommendations

PEAD has also proposed recommendations to the media to introduce suitable content to educate children.

Post APS attack: Stakeholders demand removal of hate material from schoolbooks

As per these recommendations, news organisations should provide good-quality programmes for children on radio, television and social media which do not contain hate speech. PEAD wants the media to highlight child protection, children's rights and emphasise the importance of educating girls. In addition, the media was urged to remove negatives stereotypes and inaccurate portrayals of women, religious and sectarian groups, and people suffering from disabilities.

Published in The Express Tribune, December 4th,  2015.
COMMENTS (1)
Comments are moderated and generally will be posted if they are on-topic and not abusive.
For more information, please see our Comments FAQ