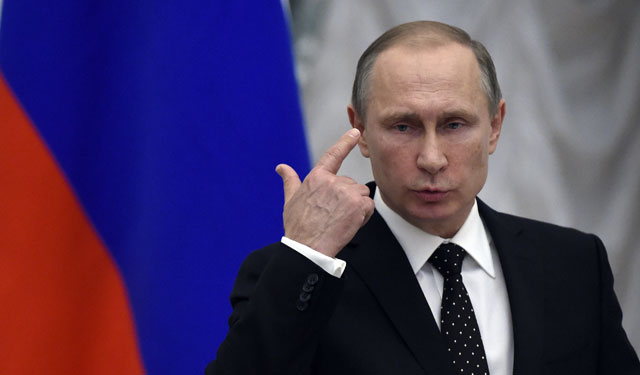 ---
MOSCOW: Russian President Vladimir Putin on Thursday said Allah punished the Turkish leadership when they shot down a Russian warplane.

"Only Allah, most likely, knows why they did this. And evidently Allah decided to punish the ruling clique in Turkey by depriving them of their intelligence and reason," he said.

Putin vowed that Turkey's leadership would be made to regret the downing of the warplane as Moscow announced a halt to talks on a major gas pipeline project.


As Russian president fired another salvo in his mounting war of words with NATO member Turkey his Turkish counterpart Recep Tayyip Erdogan declared he had "proof" that Russia was involved in illegal oil trading with the Islamic State (IS) group in Syria.




Turkey has become Moscow's prime international sparring partner after it shot down a Russian jet on its border with Syria on November 24 -- sparking fury in Russia and economic sanctions from the Kremlin.


Turkey, Russia ministers set for first meet since plane downed


Erdogan's allegations of Russian complicity with IS echo allegations made by Putin against Turkey and its leader in recent days.




"We will not forget this complicity with terrorists. We always considered and will always consider treachery to be the ultimate and lowest act. Let those in Turkey who shot our pilots in the back know this," Putin told lawmakers in his annual state of the nation speech, which also focused on Russia's airstrikes in Syria.




Russia has accused Erdogan and his family of personally profiting from the oil trade with Islamic State, which controls a large chunk of Syrian territory, including a number of oil fields.




"We know for example who in Turkey fills their pockets and allows terrorists to make money from the stolen oil in Syria," Putin said.




"It is precisely with this money that the bandits recruit mercenaries, buy arms and organise inhuman terrorist acts aimed against our citizens, the citizens of France, Lebanon, Mali and other countries."




Erdogan has furiously denied the allegations against him and his family and said Turkey had proof that Russia was, in fact, involved in trading oil with IS.


Putin snubs Erdogan meet at Paris climate conference


"We have the proof in our hands. We will reveal it to the world," the Turkish leader said in a televised speech in Ankara.




Putin, whose administration has already announced sanctions against Ankara, including a ban on the import of some Turkish foods and reintroducing visas for visitors from the country, insisted Turkey would be made to regret its actions.




"We will not rattle our sabres. But if someone thinks that after committing heinous war crimes, the murder of our people, it will end with (an embargo on) tomatoes and limitations in construction and other fields then they are deeply mistaken," Putin said.




"We will not stop reminding them of what they did and they will not stop regretting their actions."




Pipeline talks halted




Immediately after the speech Russia's energy minister Alexander Novak announced the suspension of talks between Ankara and Moscow over the major TurkStream pipeline project.




Negotiations over the project to pipe Russian gas to Turkey under the Black Sea have been floundering since Moscow launched air strikes in Syria in late September in support of the regime of President Bashar al-Assad, which Ankara fiercely opposes.




But the official announcement of the break-off in the talks dealt another blow to floundering Russian-Turkish ties, as Putin lamented the damage to a relationship that he has spent years nurturing.
COMMENTS (54)
Comments are moderated and generally will be posted if they are on-topic and not abusive.
For more information, please see our Comments FAQ