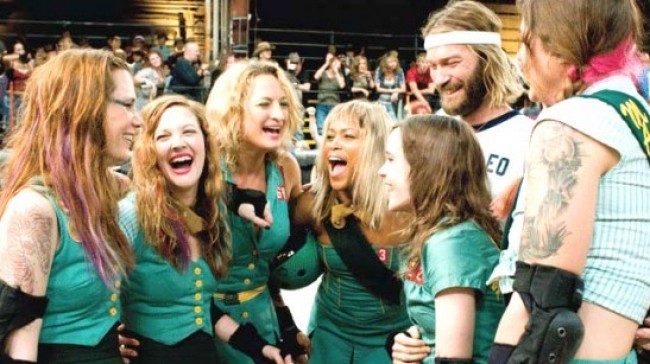 ---
The beauty of America is that for every self-loathing, conflicted dissident, a community of like-minded cohorts is always at hand. So when Whip It's dissatisfied heroine turns her back on the beauty pageants, her caring if pushy mother urges her towards and joins a community of roller-derbying chicks, there are plenty of people who understand. This coming-of-age movie packaged as a sports flick stars Ellen Page as Bliss Cavendar, a Texas teen who yearns to escape from dead-end small town Bodeen, and chooses to do this, mysteriously, by engaging in an unknown, unrewarding contact sport: roller derby.

Surrounded by clear-headed well-wishers, Bliss is never really able to make a convincing case for her choice. As her best friend Pash (Alia Shawkat), a smarter character, points out, their only hope of escaping small-town oblivion is by getting into college. With logic left by the wayside, debutant director Drew Barrymore's ode to girl power banks on the instant likeability of its characters and a promise of fun that is never truly fulfilled. Page's protagonist is a toned-down Juno – the role which catapulted the actress to fame – in ways other than the uninspiring love interest.

Bliss' unflagging obtuseness, lack of articulation, unending negativity and redemptive spunk all bring to mind Page's previous turn as a pregnant teen. The roller derby girls are more sporty than steamy. Thier fishnets and make up are contrasted with threatening aliases like Maggie Mayhem and Eva Destruction. Barrymore aims to convey a goofy camaraderie among the Hurl Scouts – the roller derby team that Bliss plays for – but isn't altogether successful and the result is a contrived silliness.

Their sassy sisterhood is reminiscent of Charlie's Angels and, like the Angels, the girls have more fun – dissolving in laughter at thier displays of girl power – than the viewer. Barrymore has her hands full directing and gives a grating performance as the terminally klutzy Hurl Scout Ashlee Simpson.

But she does a laudable job of coaxing good performances from her cast. Andrew Wilson is funny and believable in his desperation as the girls' coach and Juliette Lewis, playing the tough blond Iron Maven from the opposing team, once again shows her versatility. Marcia Gay Harden gives a fine, nuanced performance as the mother who finds it hard to let go as her daughter makes her own choices. Page's Bliss fails to enlist our admiration or even sympathy but exerts a contrarian charm.

Her character development is limited to losing her dorky glasses once she transforms from outside geek to roller-skating champ but her petite frame makes for a wonderful visual contradiction among a crowd of brawny women on the derby tracks.

Making matters more complicated is the fact that roller derby is probably not the best sport to base a movie on. There little is visual excitement and it can be hard to keep up with the action. The movie good-naturedly admits this when the emcee says, "If you're still having trouble following the game folks, don't worry – you're not the only one.

We'll keep track of the score for you; you keep track of the fishnets." Though the sporting finale is not accompanied by the mandatory adrenalin rush like you can't help but like this zany movie which gives an edge to its sweet spirit with sporting mouth-offs and mock violence. The real winner, in the end, is Barrymore who succeeds in her first venture behind the camera.