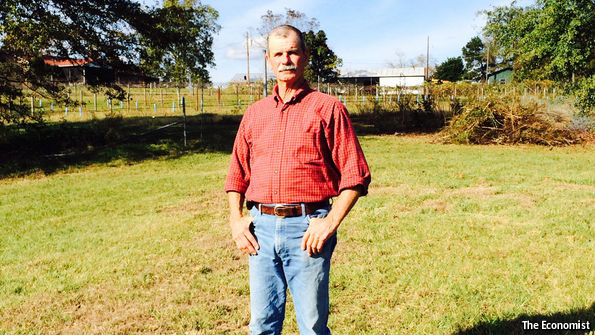 ---
ALABAMA: A farmer in America's south has been catering halal meat to Muslims in the area where most people consume pork.

Frank Randle has been catering to the Muslim market for 30 years, selling sheep in southern Alabama and Atlanta. The 64-year-old has installed a modest slaughtering facility allowing his Muslim clients to slaughter the animals as per their culture.

Commuter defends young Muslim girl from attack on London tube

Speaking to The Economist, Randle said that although, he is not allowed by state law to slaughter the animal himself, he admires the solemnity and reverence with which his Muslim clients do so for personal consumption.

Randle explained his slaughtering facility aims at providing Muslims with a "judgment-free zone to do what their culture asks them to" and upholds that the halal technique is "the most humane way" to slaughter an animal.

The famer recalled his first interaction with a Muslim was 30 years ago, when a liaison officer at Fort Benning, an army base about 40 miles from his farm, called him and informed that he should be expecting a customer soon. The costumer was a Saudi man, who visited his farm in a limousine to buy lamb. Since then Randle became a supplier of meat to generations of Muslim officers seconded to Fort Benning and Maxwell Air Force Base.

Seven-year-old donates $20 in savings to vandalised mosque in Texas

Randle said his clientele expanded to include Muslims throughout southern Alabama and up to Atlanta. The customers were mainly professionals and university graduates from across the Arab world, Africa and South-East Asia.

He noted that demand for his meat would greatly increase at the births of children and on Eidul Azha. Describing most of his clients as his 'friends', the farmer-philosopher said he shares a good relationship with all his clients.

America's only Muslim-majority city welcomes Syrian refugees

However, Randle pointed out that hospitable attitudes are not universal in the region. In the aftermath of the Paris attacks, Alabama was among two US states to declare that they would not accept Syrian refugees. The state is also among the ten to have passed laws banning the application of sharia.

Randle said that he has been warned by xenophobes that he is "consorting with the enemy". But he said his response to them is, "It's a free country."

Explaining his efforts for the Muslim population in Alabama to feel included and be able to freely practice their religion, he said his broad outlook and open-mindedness in today's world, where many stand against Muslims, stems from his upbringing in a mixed marriage of his Baptist mother and Methodist father. He shared that he attended segregated schools in northern Alabama, where there weren't many Muslims around.

However, he said even after 40 years at the farm, some neighbours still consider him an outsider making him understand the importance of feeling included.

This article originally appeared on The Economist.