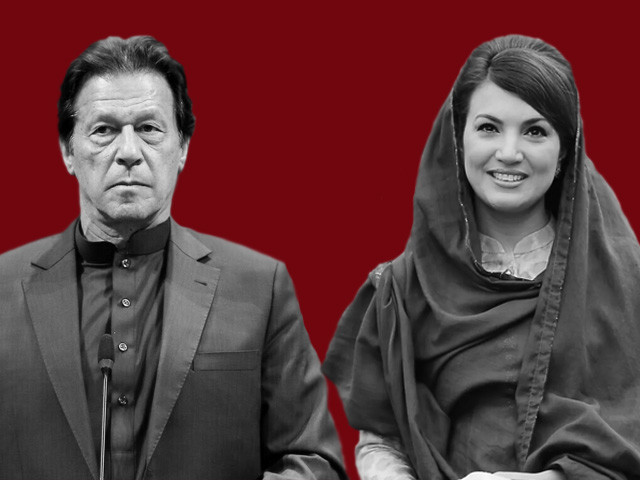 ---
Imran Khan vs Reham Khan: Hypocrisy at its best
Imran also married three times and had an age gap of over 20 years. Yet he is praised for it while Reham receives flak
---
A few days ago, journalist and author Reham Khan got married to model Mirza Bilal. Given that Reham was previously married to former prime minister Imran Khan, the news of her third marriage was bound to make some waves. However, regrettably, it ended up gaining much more negative attention and controversy than it deserved.
One must understand the context here. Reham's marriage to Imran ended only after a mere 10 months, and following the divorce, she wrote a controversial and explosive book about Imran's philandering lifestyle. During her marriage to Imran, while she was a darling to many impressionable Pakistan Tehreek-e-Insaf (PTI) supporters, her subsequent tell-all book made her extremely unpopular amongst them. Ever since the publication of her book, she has been under constant abusive attacks from PTI supporters on social media.
Her recent marriage has led to renewed and more vigorous attacks on her from the same quarters. Twitter is ablaze with crass tweets mocking her decision to get married for the third time and particularly for marrying a younger man. She is being called a man-hungry, characterless woman who would subsequently "ruin" her third husband by writing another "sleazy" book.
Most are criticising her because she is marrying for the third time and due to the 13-year age difference with her husband. In my opinion, these attacks are completely nonsensical as there is absolutely nothing wrong with a woman marrying for the third time. In our society, marriage is the only religiously as well as socially acceptable relationship between a willing man and woman as society does not approve relations outside wedlock. For that reason, the need to get married is perhaps stronger for a well-known woman as she is constantly under the spotlight. Many men remarry after divorce, so if Reham has done the same, what's the big deal? There is absolutely nothing wrong with it.
Moreover, what PTI supporters are forgetting is that their leader Imran has also married three times besides having countless affairs both before and after marriage. In fact, right now his latest audio leaks reveal that in reality he is a womanising hypocrite who merely uses religion to enhance his political capital. Given the glaring contradictions in Imran's persona, the diatribe against Reham is nothing but a reflection of the deep misogyny and glaring double standards of our society when it comes to gender.
In Reham's case, general misogyny has blended with extreme hatred of the uncouth PTI supporters towards her. Ironically, the same supporters love Imran because of his playboy image and philandering lifestyle but have an extremely different moral yardstick for judging Reham. Imran is often called an alpha male, a stud, and lavished with praise, whereas Reham, who is legally marrying Bilal, is receiving all the flak.
Likewise, her age difference with her husband is needlessly made controversial. While in general husbands are older than their wives, there is no rule that a woman cannot be older than the man she is marrying. In our society, where there are multiple cases of forced and child marriages on a daily basis, we don't see many people blinking an eye nor making a conscious effort to raise a voice against such draconian anti-women practices. Yet there is so much hue and cry about Reham even though her husband has absolutely no problem with their age difference.
Moreover, the age difference between Imran and his first wife, Jemima Khan, was of 21 years, with Reham, his second wife, it was of 21 years, and with his third and current wife, Bushra Bibi, it is of more than 20 years. The massive age differences in Imran's case are completely glossed over by his supporters and yet Reham is getting rebuked for the 13-year age gap between her and her husband. This selective outrage is nothing but sheer hypocrisy. In my opinion, Reham is, in fact, playing a progressive role by marrying a younger guy and deconstructing the social convention that women must be younger than their husbands.
Besides general misogyny, Reham also draws a lot of flak from PTI supporters due to her book on Imran. According to them, she is a liar and a classless woman as she did not accept her divorce with "grace" and decided to go public about her personal experience of being married to Imran, which in their opinion she should not have. Given the fact that Imran has gained a lot of support by successfully projecting himself as a religiously and morally upright man, there was nothing wrong on the part of Reham to reveal details of the glaring contradictions between his real personal life and the projected image.
In my opinion, the veracity of Reham's allegations needs to be judged against the subsequent evidence which has emerged. The recent audio leaks are proving that she was not incorrect to allege that Imran is a philandering hypocrite who is very different from his public image of a morally upright politician. One cannot agree with every little detail she wrote, but she is not entirely wrong. I think the time has come for the PTI supporters to start questioning their own leader and his double-faced life, instead of needlessly abusing Reham for her third marriage, just because she is a woman and one who decided to speak her truth.