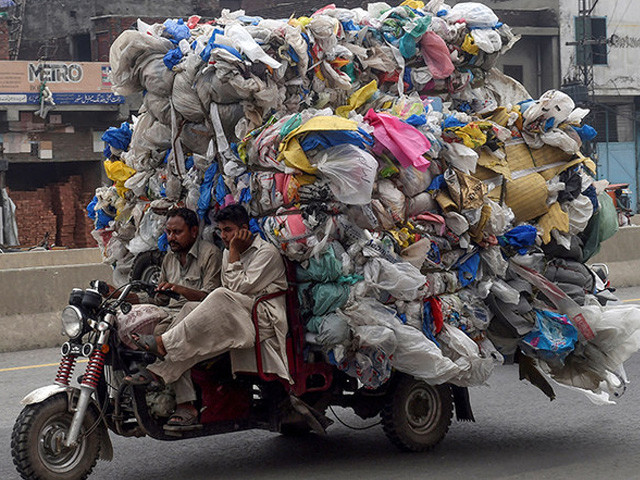 ---
Plastic, plastic everywhere
Consequently, and unsurprisingly, Pakistan has the highest percentage of mismanaged plastic in South Asia.
---
When I breathe, I feel suffocated. The air around me is polluted, and the wind doesn't bring tranquillity anymore. Whether it's the smoke or smog, my sight is now blurry. My favourite orange Nemo now complains; she too feels suffocated in the gigantic blue sea. With every passing day, our environment is becoming worse, concerns are rising but our profound ignorance remains intact. "Collective responsibility" is a term we never hear growing up, neither is it taught in schools nor brought up in workplaces.
There is a plethora of environmental problems Pakistan is currently facing. However, one problem that the masses urgently needs to be made aware of is the country's alarmingly high plastic usage and waste. In Pakistan, 3.3 million tons of plastic is produced per year, which is equal to two times the size of Mount K2, the second largest mountain in the world. Consequently, and indeed regrettably, 65 per cent of the total waste in Pakistan is plastic waste. According to United Nations Development Program Pakistan (UNDP), one of the paramount contributors to plastic waste is plastic bags, as 55 billion plastic bags are being used in the country, a number which is expected to increase annually by 15 per cent. By 2050, it is expected that there will be more plastic in oceans than fish.
Amongst other factors, there is excessive and unregulated use of plastic bags, due to which this problem is growing exponentially. An unprecedented increase is seen, owing to the growing population, which lacks awareness regarding this issue. Making the matter worse is that the waste produced is either dumped around mindlessly, thrown in seas, and/or ends up in landfill. The plastic waste that remains on land is burnt, producing toxic gases, which ultimately have an adverse environmental effect. Whereas, the plastic waste that is thrown in water bodies, unsympathetically impacts marine life. Consequently, and unsurprisingly, Pakistan has the highest percentage of mismanaged plastic in South Asia.
Policies are required at both governmental and organisational levels to combat this pressing issue. These policies should primarily focus on public awareness and regulating businesses distributing plastic bags, especially for mega-retailers. For public awareness, the Ministry of Education must ensure that the curriculum covers the causes and effects of using and wasting plastic bags and they must also conduct seminars at educational institutes. Moreover, public service messages must be circulated and advertised through mass and print media avenues.
With regard to regulating plastic waste, inspiration should be taken from other countries to formulate effective policies. For instance, in the United Kingdom (UK), plastic bags are charged at stores in order to encourage people to reuse their plastic bags. This is an effective way of reducing plastic waste as people carry their old carrier bags, resulting in less plastic waste. According to the UK government, usage of plastic bags by the UK's main retailers has dropped by 97 per cent. Singapore's Minister for Sustainability and Environment has also announced that plastic bags will be charged from mid-2023.
Another way to reduce plastic waste is to produce alternatives to plastic carrier bags, such as paper and fabric bags. Whilst paper bags are a good alternative, they are not as strong to bear heavy weight and would require cutting more trees. On the other hand, a more sustainable alternative is fabric bags. Accordingly, policies are required to encourage stores and outlets to produce their own fabric bags. In addition to this, companies should be encouraged to distribute fabric bags for marketing purposes. After all, what could be better marketing for brands than people of Pakistan seeing big bags with brands' names and logos on the roads, in the markets, and at homes? These measures will lead to the desired outcomes without any substantial funding from the government.
Furthermore, the Pakistan Environmental Protection Agency should be formulating policies in relation to recycling. Realising their corporate social responsibility, multinational firms such as Unilever and PepsiCo, to name a few, have been taking initiatives for recycling; however, this needs to be enforced on a governmental level. Much work is needed in this respect, and massive public awareness and regulation by Pakistan Environmental Protection Agency is required.
Pakistan is a signatory to the Basel Convention on the Control of Transboundary Movements of Hazardous Wastes and their Disposal, as well as the Stockholm Convention on Persistent Organic pollutants. To start with, taking these basic measures to protect our environment would reinforce Pakistan's intention to implement these conventions and perhaps bring us in a position to blame others for the environmental disasters we face and to ask for international funding.