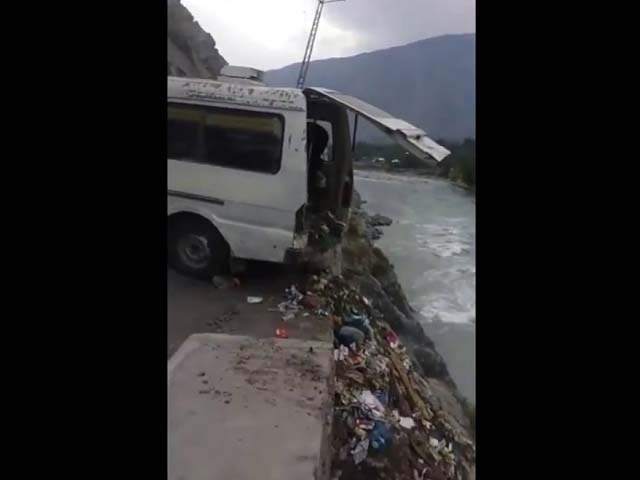 ---
When hospital waste is disposed off in the Chitral River – because who cares, right?
Drugs or toxins are passed along food chains in the river; from fish in the river to humans who eat tainted seafood
---
A video recently became viral in which an official from the Chitral Health Department is seen disposing off a van full of hospital waste in the already ecologically threatened Chitral River.

At a time when pollution and global warming is already causing environmental disasters, this video is yet another example to what extent humans are responsible for causing these disasters. Anyone in their right mind would know how lethal healthcare waste is, considering used medical instruments, especially needles, contain various types of bacteria and viruses. The healthcare waste generated from healthcare facilities is not only hazardous for the environment, but poses a serious threat to the public. Toxins from healthcare units include chemicals, pathological wastes, bio hazardous waste, pharmaceutical wastes, radioactive substances, and genotoxic wastes, which can have different kinds of hostile effects on human beings and the environment.

In recent years, there has been an increase in the amount of harmful waste produced, and hence a higher demand for increased awareness and fear about the environment. Especially in developing countries, special attention needs to be paid towards how to manage this type of waste. According to the World Health Organisation (WHO), 15% of the medical waste is considered hazardous that is most likely infectious, toxic or radioactive. Furthermore, statistics show that every year, an estimated 16 billion injections are administered worldwide, but not all of the needles and syringes are properly disposed off afterwards. This means that hospital patients, health workers and the general public who come in contact with this waste are at a high risk of catching serious infections. Keeping in mind that health care waste can produce toxic air pollutants as emissions, it shouldn't be difficult to imagine what kind of damage has been caused by discarding all that material in the river. The river itself is a beautiful sight which also has hydro power potential which could be yoked to generate affordable hydroelectricity. There are numerous construction workers around that area working on the Golen Gol Power Project who are now at a risk because of the fact that the medical waste was not disposed off properly.

Chitral is also known for its fish farming potential, which has remained largely untapped because of the lack of attention from the state. Fish like Trout is popular throughout the area. What these insensitive and selfish officials did not consider is that toxins from the medical waste dumped in the river, will not only affect the river life but the organisms that eat plants as well as fish that have ingested or absorbed such wastes. Medical wastes like drugs or toxins are passed along food chains in the river, which means that not only is the fish in the river at danger of being severely sick, humans who eat tainted seafood or plants may also ingest harmful toxins that affect human growth, development and health.

The decision to dump infectious and non-infectious medical waste by the river is a direct breach of human and animal rights as well. The perpetrators of this act are putting human and sea life at danger. This act also enables illicit use of used sharp needles to be picked up by drug users, which open them up to attract more serious diseases like HIV/AIDS. Other potential targets of diseases include waste pickers, animals and children. It is also possible that landfills contaminate drinking water if they are not properly constructed, concluding that these officials have directly hindered people's access to clean drinking water, another basic human right.

Let's not overlook the fact that there are more safe and durable ways for medical waste. Many scholars have suggested that planning and implementation of waste management can reduce health and environmental risks. In addition, good healthcare waste management in hospitals depend on a dedicated waste management team, good administration, careful planning, sound organisation, underpinning legislation, adequate financing and full participation by trained staff. Training staff, I believe, is one of the most challenging stages in this regard, simply because the masses in Pakistan are not sensitised enough about the importance of maintaining a clean environment and about the well-being of everyone else around them, fellow humans and animals alike.

Healthcare waste management is important to ensure appropriate hygiene in health institutions and safety of healthcare workers and communities. Other methods recommended are adoption of required guidelines and disciplinary compulsion and increased government responsibility for improving management of healthcare wastes. Judging from this incident in Chitral, one can safely say that in developing countries, healthcare solid wastes have not received sufficient attention, because very often, health issues compete with other sectors of the economy for the very limited resources. Hence, management of healthcare waste end up not getting the priority it deserves.

For me, this incident is an indication of lack of awareness about the health hazards related to healthcare waste, absence of waste management and disposal systems, inadequate training in proper waste management, and insufficient financial and human resources are problems connected with healthcare waste. It is also obvious that in our country, we do not have appropriate regulations or do not enforce them. Even though I am glad to know that the three officials involved in this act have been suspended, it is still not enough action to change perceptions of healthcare workers so that this does not happen in the future.
Facebook Conversations
COMMENTS (2)
Comments are moderated and generally will be posted if they are on-topic and not abusive.
For more information, please see our Comments FAQ