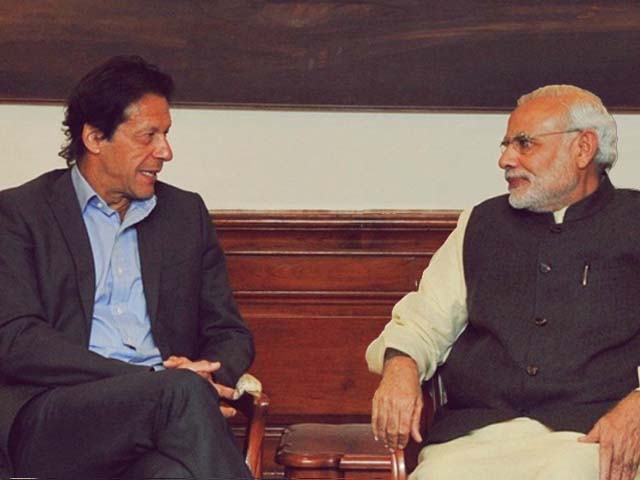 ---
Is a Pakistan-India détente on the cards?
The recent trajectory of Indo-Pak relations could be a welcome development for both countries and also the region
---
In the soft underbelly of Asia, two countries have been locked in a classic zero-sum game for the past 74 years. A remnant of the British Empire's follies, the conflict between Pakistan and India has frequently defined the geostrategic dimensions of South Asia and its extended region. If one forgets the three wars fought over territorial disputes, it is unlikely that one can forget the scuffle between both sides that happened in February 2019. And of course, not to mention the Indian revocation of Article 370 and 35-A, which subsequently reignited the Kashmir conflict and initiated a new set of diplomatic bouts.
While one might not be held liable for thinking that the situation is quite dismal, there have been some recent developments that provide a ray of hope regarding an improvement of the situation. The first among them was Pakistani National Security Advisor Dr. Moeed Yusuf's interview with veteran Indian journalist Karan Thapar in which he hinted at receiving backchannel messages from India to restart dialogue. Furthermore, Pakistan Army Chief General Qamar Javed Bajwa's speech at Risalpur marked a shift in Pakistan's stance towards India, where he held that: "It is time to extend hand of peace in all directions." During the recent visit of Prime Minister Imran Khan to Sri Lanka, the Indian media claimed that India had granted his aircraft permission to use Indian airspace – a positive and meaningful gesture in the current context. Most recently, on 25th February, Pakistan and India recommitted themselves to the 2003 ceasefire agreement at the line of control and agreed to address core issues that could undermine peace and stability in the future.
Collectively, these developments potentially indicate a new phase of relations between Pakistan and India. While some elements attribute this thaw to pressure from external actors, there is reason to believe that it is part of a natural cycle of dialogue between the countries – a cycle that has also manifested itself in the past. This has been further aided by recent events on the domestic front within both countries – the opposition rallies in Pakistan and the farmers protests in India; whereby both governments want to tone down external hostility in order to deal with their internal situations.
Regardless of the reasons for the growth of this potential détente, it provides an opportunity to explore areas of common interest between the neighbours. These overlapping interests can prove to be effective confidence building measures and also function as a foundation for an amicable resolution of more complicated disputes.
The first overlap of interests is in terms of security. For decades, the idea of security collaboration between India and Pakistan had been an oxymoron, as their threat perceptions are centered on each other; however, the past two decades have given rise to numerous non-state actors in the region which pose a threat to both India and Pakistan. Since 2001, Pakistan has lost over 83,000 lives in its efforts to defeat terrorist outfits as a part of the War on Terror. More recently, India too has been suffering from radicalisation of its nationals by terrorist outfits like ISIS which have recruited Indian nationals to conduct their attacks. If Pakistan's example is to be a lesson, it won't be long before these outfits start establishing a stronger foothold within India. Pakistan has had reasonable success in countering such elements on its own territory and could offer assistance to India against ISIS in particular.
The second overlap pertains to trade and economic integration. Despite high economic aspirations of both Pakistan and India, the intraregional trade within South Asia is barely 5% of its total trade volume. In contrast, intraregional trade among European Union countries stands at 25%. Trade between Pakistan and India currently stands at a little over $2 billion; however, the World Bank estimates that it could grow as high as $37 billion if provided with right conditions. The first step towards establishing these conditions could be reduction in non-tariff barriers. Another step could be creating and implementing jointly-agreed dispute resolution mechanisms. Developing infrastructure for transport of goods and easing restrictions for trade in services can also go a long way in improving trade relations between both countries.
The third overlap of interests exists on social level. The inauguration of Kartarpur Corridor in 2019 is a noteworthy step towards a potential Indo-Pak détente. It paves way for the promotion of religious tourism between the countries and improves people-people contact. India also has been a top destination for medical visitors from Pakistan. Indian hospitals are a cheaper treatment option for Pakistani patients as compared to those in the Middle East and Europe. Sports tourism is another point of convergence as both nations share an undying love for cricket. While previous efforts towards establishing people-people linkages are commendable, the potential for establishing such connections is immense and can be used to tone down hostilities of the recent past.
The fourth and perhaps the most critical overlap of interests between Pakistan and India is combatting climate change. It has been frequently said that any future conflict between the countries will have water scarcity as its point of origin. While there is much truth to it, this is perhaps the wrong way of looking at it. This reactive approach ignores the fact that both neighbouring countries face water scarcity and environmental degradation not because of each other but because of the common threat of climate change. India and Pakistan are respectively the seventh and eighth most vulnerable countries due to climate change according to Global Climate Risk Index 2021. The February 2021 flood in the Indian state of Uttarakhand which left over 70 people dead is the most recent reminder of the devastation both countries might face if they do not collaborate on the issue. While both countries bicker over the metaphorical bucket of water currently available, there is a need to evaluate ways through which the size of the bucket can be increased.
The recent trajectory of Indo-Pak relations could be a welcome development not only for both countries but also the region. While one must acknowledge that this development does not end the decades of insecurity they have felt due to each other, it does encourage cooperation on issues of common interest. Even though this limited cooperation does not guarantee peace, it does increase the likelihood of establishing it. Pakistan and India must realise that there is no other sustainable option for them. It is as former Indian Prime Minister Atal Bihari Vajpayee said it is: "You can change friends but not neighbours."