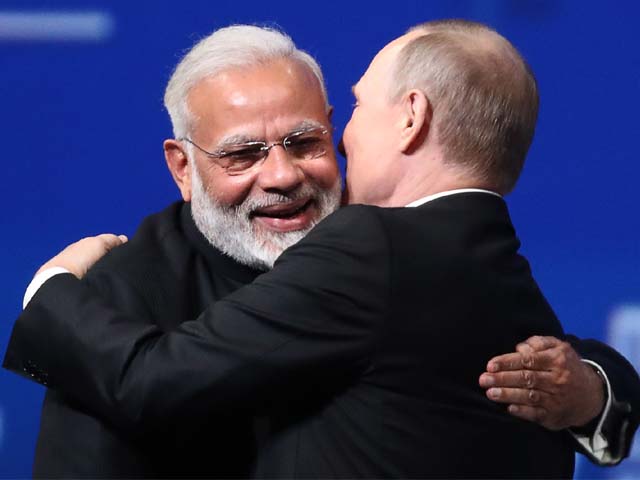 ---
India's "energy diplomacy" with Russia will reap strategic dividends
It must be cautioned, however, that this scenario would risk complicating India's recent rapprochement with China
---
The opening of the "Indian Energy Centre" in Moscow on Tuesday will reap strategic dividends for both sides. One of the world's largest energy importers is showing its keen interest in expanding cooperation with one of the world's largest energy exporters. It's a perfect match between natural partners, but there's more to it than just business. This development represents the long-overdue decision by New Delhi to more eagerly engage in "energy diplomacy" with Moscow, which will assist the recalibration of both of their delicate "balancing" acts between Great Powers, especially China. India simultaneously wants to reduce its dependence on West Asian energy imports in parallel with expanding its strategic presence in the Russia's Far East and Arctic regions, while Moscow wants to reduce its growing dependence on Chinese energy exports in parallel with "balancing" Beijing's strategic presence in those two aforementioned regions as well.
The Times Of India reported more about how this development came to be. An anonymous senior diplomatic source informed the outlet that the idea originated during Prime Minister Narendra Modi's attendance at Russia's Eastern Economic Forum in Vladivostok in September 2019 as President Putin's guest of honour, during which time they agreed to establish what's described as the "Far Eastern Energy Corridor" to complement the proposed Vladivostok-Chennai Maritime Corridor (VCMC). On the topic of the VCMC, India's Shipping Minister told Russia's publicly financed international media outlet Sputnik in an exclusive interview earlier this week that it should be operational soon. As can be seen, all the pieces are quickly falling into place, which is evidenced by the opening of the Indian Energy Centre and recent reports that they plan to jointly cooperate in the economically dynamic ASEAN region that's strategically positioned in the middle of their proposed corridor.
These developments represent the rapid progress that's being made on India's plans to bring Russia into the Indo-Pacific, just like I wrote about last month in my earlier article for The Express Tribune about the purpose of Indian Foreign Secretary Shringla's visit to Moscow at the time. In my respectful response to Professor John Mearsheimer's hour-long interview with Pakistani journalist Ejaz Haidar that same week, I explained "Why Structural Realists Are Wrong To Predict That Russia Will Help The US Against China" but clarified that Moscow is already actively seeking to "balance" Beijing through the Eurasian Great Power's comprehensive improvement of strategic relations with New Delhi. India's "energy diplomacy" with Russia is a "friendly" way to accomplish this shared goal since it reduces the risk of China viewing their recently enhanced cooperation through a security perspective and thus inadvertently provoking a mutually disadvantageous security dilemma.
If the VCMC's Far Eastern Energy Corridor is successfully established, and there's no credible reason to doubt that it will be, then India will eventually become a more strategic player in Russia's Far East and Arctic regions, the route to which passes through the South China and East China Seas. Although Russia seems to envision that only energy tankers and commercial vessels will regularly transit through these bodies of water instead of warships, there's a chance that India will seek to exploit this dynamic for the purpose of dispatching its navy there from time to time to either escort these ships for prestige's sake and/or participate in US-led so-called "freedom of navigation operations" (FONOP) under the pretext of ensuring "energy security". That could create security concerns for China, especially if this becomes increasingly commonplace in the coming future. To be clear, Russia wouldn't intend for this outcome to materialise, but India might exploit the situation regardless.
It must be cautioned, however, that this scenario would risk complicating India's recent rapprochement with China following their synchronised disengagement along the Line of Actual Control (LAC), as well as possibly create challenges for Russia's very delicate "balancing" act between them both. India might be tempted by some of the Modi Administration's anti-Chinese hawks to push the envelope under the cover of "plausible deniability", hoping that China wouldn't publicly protest FONOPs through the South China and East China Seas along the VCMC's Far Eastern Energy Corridor out of fear of rattling Russia, but Beijing adamantly opposes all violations of its territorial sovereignty regardless of the pretext. It might not publicly share its concerns since the Chinese arguably prefer handling sensitive issues behind the scenes if possible, but there's little doubt that it'll somehow or other convey its displeasure if India engages in such a provocation.
With this in mind, it's strongly suggested that India resists the temptation to exploit the VCMC's Far Eastern Energy Corridor as a pretext to increase its military presence in the South China and East China Seas. Russia would do well to politely resist any Indian moves in this direction by making New Delhi aware that such a reckless decision would endanger the viability of their complementary "balancing" acts vis-a-vis their fellow BRICS and SCO Chinese partner. Under no circumstances must the VCMC have any military dimension associated with it otherwise this initiative's strategic dividends will transform into strategic risks. In and of itself, commercial and energy cooperation along this route are "friendly" ways for Russia and India to "balance" China's influence in the Far East and Arctic regions, but the moment that this takes on a military purpose per what in that case would likely be India's unilateral decision in this respect is the moment that this policy fails.