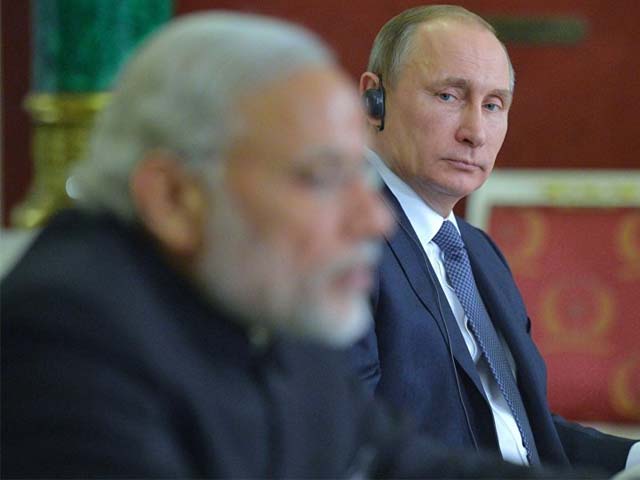 ---
Why the Indian Foreign Secretary will seek to bring Russia into the Indo-Pacific
Russia is becoming a relevant Indo-Pacific power contrary to the US' recently expressed expectations
---
Indian Foreign Secretary Harsh Vardhan Shringla will travel to Russia next week on a multi-day visit aimed at discussing multiple topics of shared interest. The most important is to prepare for President Putin's planned trip to India later this year after both sides claimed that last year's annual summit was postponed because of Covid-19. The Indian diplomat's visit will take place against the recent backdrop of Russia and India opening up an air travel bubble between their countries, New Delhi reaching an agreement with Beijing for the "synchronised disengagement" of their forces all along the Line of Actual Control (LAC), and America threatening to sanction India for its decision to go through with its purchase of Russia's S-400 air defense systems.
The Tribune India also reported that Mr. Shringla "will seek to put the India-Japan-Russia trilateral on a firmer footing with the unstated purpose of reducing the need for Moscow to seek China's participation in the development of the vast Russian Far East rich in minerals and hydrocarbons." They also wrote that "A trial run of the Vladivostok-Chennai sea corridor will be followed up by more substantial programs. India will also be looking to activate its $1 billion line-of-credit for the development of the Russian Far East." In other words, his visit will seek to bring Russia into the Indo-Pacific, something that Moscow has wanted to do for a while already but has been hesitant about due to concerns that it might be negatively interpreted by China.
The recently changed international context might alleviate some of those concerns, however. The latest Sino-Indo deal along the LAC will reduce tension between Russia's BRICS and SCO partners. In parallel with this, the US' likely sanctioning of India will worsen relations between those two. These dynamics combine to create the opportunity for Russian-Indian ties to strengthen in the Indo-Pacific direction without drawing China's suspicions as much as they might have done had they occurred earlier. The Japanese dimension of Mr. Shrinla's visit shouldn't be surprising for astute observers who may have taken notice of Track II trilateral talks between the island nation, the Eurasian one, and their South Asian partner late last month.
India's Mint reported at the time that "The first round of the India-Japan-Russia was hosted by the Indian government backed Indian Council of World Affairs (ICWA) think tank with Japan's Economic Research Institute for Northeast Asia (ERINA) and Russia's Far East Investment and Export Agency (FEIEA) attending as co-partners." According to the outlet, their joint statement announced that "India, Japan and Russia have identified energy, coal mining, transport and logistics, maritime connectivity, diamond processing, pharmaceuticals and healthcare among areas of potential cooperation in the Russian Far East." This adds credibility to The Tribune India's report about Mr. Shringla's Indo-Pacific agenda in Moscow.
The Indian Ministry of Defense-funded Institute for Defense Studies and Analyses (IDSA) think tank released a detailed reportedly shortly thereafter earlier this month about "India, Russia and the Indo-Pacific: A Search for Congruence" where it was proposed that both sides focus on trilateral cooperation with Japan in the Russian Far East. Although IDSA's disclaimer reads that "Views expressed are of the author and do not necessarily reflect the views of the Manohar Parrikar IDSA or of the Government of India", the think tank's prestige and professional affiliation with the Indian government strongly suggest that this proposal will be taken seriously by decision makers, as it should because it's sensible from the perspective of all three nations' interests.
This is far from an original vision and was one that I've also written about in the past too. I presented a short speech about this in September 2018 at a Russian Duma roundtable event on the country's "Turn to Asia" (as its post-2014 foreign policy reprioritisation is called by many in Moscow) that was republished at the time by one of my partner sites under the title "Russia Must Bring The 'Asia-Africa Growth Corridor' To The Far East". I incorporated some of my insight into a jointly authored academic article that I released at the official journal of the Moscow State Institute of International Relations (MGIMO, which is run by the Russian Foreign Ministry) last year about "The Prospects Of Russia And India Leading A New Non-Aligned Movement".
The idea is that trilateral Russian-Indian-Japanese cooperation can prevent Moscow's potential overdependence on Beijing, though this framework should focus solely on friendly forms of cooperation such as trade, energy, and infrastructure and not military ones in order to not be seen suspiciously by China. Last year's drastic worsening of relations between China and India along the LAC made it politically impossible for Russia to make progress on this policy, hence the importance of those two Asian Great Powers' recent "synchronised disengagement" agreement and Washington's S-400 sanctions threats against New Delhi. Those two developments are likely interpreted real positively by Moscow as signs of New Delhi's goodwill towards it.
Although Russian-Indian relations became more complicated over the past few months after many in New Delhi overreacted to Foreign Minister Lavrov's criticisms last December about the US' rising influence over the South Asian state, there's powerful political will on both sides not to let that "misunderstanding" jeopardise the promising future of their strategic partnership. Mr. Shringla's visit is therefore expected to rectify their recent problems and get everything back on track, exactly as Russia wanted before last summer's Sino-Indo clashes along the LAC threw a wrench in its plans. India's close ties with Japan could even be put to positive use in helping Tokyo and Moscow make progress on resolving their disagreement over the Kuril Islands.
Slowly but surely, Russia is becoming a relevant Indo-Pacific power contrary to the US' expectations expressed in its recently declassified 2017 "Strategic Framework for the Indo-Pacific" which described Moscow only as a "marginal player". India is its primary anchor in this trans-oceanic space, but New Delhi hopes to create the conditions whereby Tokyo could play a supportive role alongside Moscow's traditional partners in Hanoi. The grand strategic vision that's starting to take shape is that Russia's mainland influence in Asia is concentrated in China while its maritime counterpart is spread between India, Japan, and Vietnam. Mr. Shringla's upcoming trip will thus reveal how fast Russia feels comfortable moving along that second-mentioned geostrategic track.