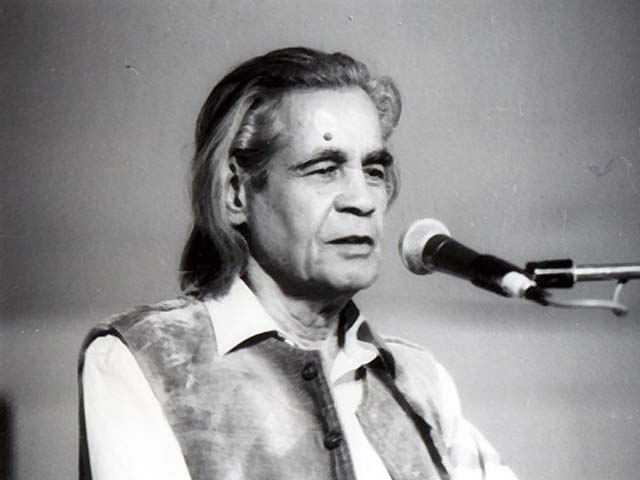 ---
Remembering Ali Sardar Jafri, the Sardar of Progressive poetry, 20 years on
Jafri began his career as a fiction writer, but later moved to poetry
---
"Har cheez bhula di jaayegi
Yadon ke haseen butkhane se
Har cheez utha di jaayegi
Phir koi nahin yah poochhega
Sardar kahan hai mehfil mein"
(Every memory will be erased from the beautiful temple of memories
Every single thing will have gone
Then, no one will ask:
Where is Sardar in the soiree?)
For some reason, Ali Sardar Jafri, who passed away in Mumbai twenty years ago today never received his due as a poet, perhaps due to his programmatic verses and his overt association with the Communist Party of India. In his later years, he experienced some recognition as a poet who wrote optimistically about Indo-Pak relations. When Indian Prime Minister Atal Bihari Vajpayee took a bus journey to Pakistan in 1999, the following four-liner by Jafri was played on its PA system, and became quite the rage for a while:
"Tum aao Gulshan-e-Lahore se chaman bardosh
Hum aayen subh-e-Banaras ki raushni le kar
Himalaya ki havaaon ki taazgi le kar
Aur us ke baad yeh poochenge kaun dushman hai?"
(Come bearing the fragrant garden of Lahore
And we will bring the light of a Banaras morning
And the fresh breeze from the Himalayas
And then let us ask: who is the enemy?)
Jafri began his career as a fiction writer, but later moved to poetry. He also wrote a few plays for the Indian People's Theatre Association. He was subjected to periodic incarceration twice: first, by the British in 1939. And then – in a moment that reminds us of Frantz Fanon's account of the betrayal of the moment of decolonization by local elites – Jafri was arrested by the government of independent India in 1949 for espousing the cause of socialism, joining his colleagues like Faiz and Sajjad Zaheer who had suffered similar incarceration in Pakistan. Like a good communist, he also aroused the ire of religious fundamentalists, and was subjected to death threats in the 1980s when he came out against the treatment of divorced women under the Muslim Personal Law.
His opposition to the infamous Muslim Women's Protection Act in 1986 earned him the ire of Muslim communalists; college students of that period still remember watching him being shouted at, slapped and garlanded with chappals by goons – a moment that further politicized some of those young witnesses against the atmosphere of rapidly increasing communalism in India. However, in the end, we must remember that Jafri led a celebrated life, having had the Jnanpith award bestowed on him in 1993. In 2013, on the occasion of his birth centenary, a website was inaugurated in his honour.
Jafri's long poem Karbala – recited by him – is available in the public domain. I have chosen to translate one of his poems called Guftagu Band Na Ho (Let Not the Conversation Cease), speaking of the possibilities of more harmonious Indo-Pak relations.
Before sharing my translation of this poem, just to give readers a taste of the Urdu idiom, I want to share the opening stanza of the poem, which is also how the poem closes:
"Guftagu band na ho
Baat se baat chale
Subh tak shaam-e-mulaaqaat chale
Hum pe hansti hui ye taaron bhari raat chale"
Let Not the Conversation Cease by Ali Sardar Jafri
"Let not the conversation cease
Let one word lead to another
And let our evening tryst go on till dawn
While the starry night-sky smiles down on us
Though we have hurled the stones of bitter words at each other
We have swirled poison in our goblets in the form of sarcastic jibes
Our brows furrowed, our gazes venomous
But be that as it may, let hearts awaken in chests
Let not despair imprison our words
Whoever the murderers are, let them not kill dialogue
If that is done, a word of faith may escape at dawn
Love will arrive on trembling legs
Eyes downcast, hearts aflutter, lips atremble
Silence will then be fragrant like a kiss on the lips
And the only sound left will be that of buds flowering
And then there will be need for neither word nor talk
In the movement of the gaze, an emotion will sprout
Tenderness will be our guest, hate will be asked to leave
Hand in hand, accompanied by the whole world
Bearing the gift of pain, and the bounty of fondness
We will cross the deserts of animus
And find ourselves on the other side of oceans of blood
Let not the conversation cease
Let one word lead to another
And let our evening tryst go on till dawn
While the starry night-sky smiles down on us."