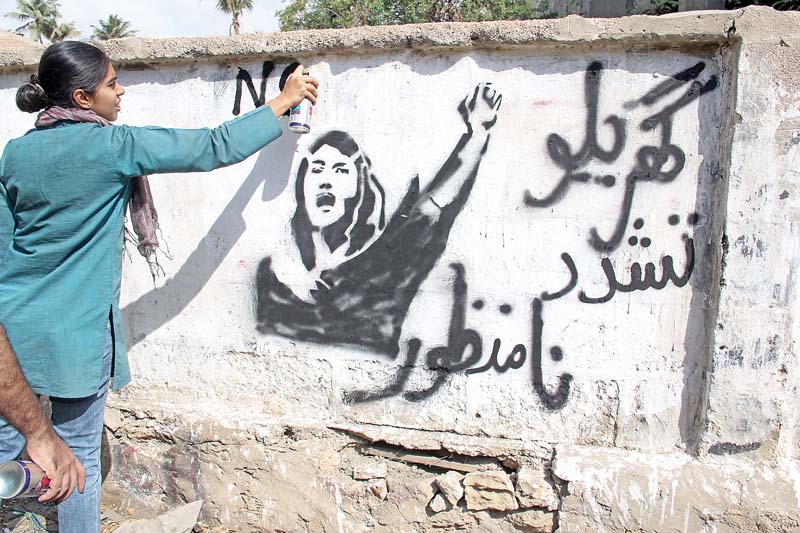 ---
Inescapable violence: The vicious cycle of domestic abuse – Part 2
The law relating to custody, governed primarily by the Guardians and Wards Act of 1890 is archaic, however
---
This is part two in a two part series. Read part one here.
~
The ill-perception of seeking legal rights is also one of the many reasons, which stand in the way of women. From what I have seen, many women, who have had enough and speak to their families and acquaintances, are only driven back into their corner using the fear of being "dragged around" in courts for years, losing the custody of their children and the fear of their reputation being torn to shreds in the court, amongst others. I need to state that khula proceedings do not carry on for a long period of time, with a case concluding in six months and only lasting maybe nine months if there are unexpected delays nor does it require an oral testimony during which a woman is cross examined or has her reputation scorned in any manner. Furthermore case files are not even available on online platforms and to the best of my knowledge the general public does not frequent the court to read other people's case files – in order for anyone's reputation to be shoved down the drain.
This does not go to say that the legal system does not entail any problems – just different ones from those generally perceived. However, the general problems that litigants face in courts are usually not present in at least matters of khula, owing to the fact that the court cannot deny the right to the same, and the procedure is far less lengthy and cumbersome. The law relating to custody, governed primarily by the Guardians and Wards Act of 1890 is, however, archaic, out of touch with present realities and inadequate in the forms of relief it can provide. At the same time, the sufferance this causes is mostly felt by whichever parent does not have the physical custody of the child, as courts are rarely willing to disrupt existing custody and interim arrangements are inadequate.
Moreover, the law does not specifically cater to visitation rights and in practice any parent even seeking just visitation files a custody case instead and seeks visitation through an interim application, which generally speaking, comes to not more than two visits in the court premises every month. More often than not, women who have separated have the children with them. In this situation, they do not need to file any claim for custody as Section 25 of the said Act only provides for the recovery of custody, and is filed by the non-custodian parent. So to reiterate, the suffering of a woman who has the children physically in her custody will not be of the kind that a parent without custody will face.
However, another legal myth often touted by family members of women especially, is telling them that they will definitely have to file a custody case or else lose their children, and this fear once instilled, successfully serves as a common deterrent for women who may be considering leaving an abusive partner. At the other end of the spectrum, some women end up leaving the marital house – to either flee abuse or having been turned out – but are unable to take their children with them. In such situations, too, there is often a lack of familial support to initiate legal proceedings right away, immense pressure to "settle things without going to court". Too many times this ends up damaging their case for custody in the future, as delay in seeking redress may be perceived as a voluntary abandonment of the children. This stigma regarding women approaching courts, therefore, often has disastrous consequences which impact them the rest of their lives – forcing them to either stay in a bad situation, or depriving them of relief once the situation is out of their hands.
Many women also do not have the financial means to flee abuse along with their children. While the law makes it the absolute bounden duty of a father to maintain his children, as settled through legal precedent enunciated by the Supreme Court and the provincial high courts across the country, in reality, where a mother has absolutely no means of her own, or a family to support her, any relief she attains from a family court will not be immediate enough or sufficient enough to ensure reasonable accommodation, food and clothing. A final determination of maintenance due from the father can only be made after a trial, i.e., both parties having led their respective evidence and the case having been argued in its entirety. An interim maintenance amount can be fixed by the court, however, as per the law this amount is only meant to prevent children being left completely destitute or without means and is subject to the final determination at trial.
The legal position is not flawed, however, there being no set formula for how such amount is to be determined, can often render interim maintenance amounts quite inadequate. Hence, in case of no family support for shelter and financial needs, staying with an abuser may be the only immediate choice. There definitely appears a need for changes in our legislation. This does not, however, mean that asking for a maintenance claim is always pointless (another common myth) and hardly justifies the cases where families who have the means to support their women, return them to their abusers.
There is the additional issue that legal remedies available for women victims of violence should not just be restricted to being able to seek a separation and keeping and feeding their children. Violence, especially where injuries are caused, is punishable both through the Pakistan Penal Code as well as the Sindh Domestic Violence Act 2013. However, seeking punitive action for the criminal offence of assault in a domestic abuse situation remains, in reality, elusive. It still surprises me that in this day and age I receive calls either from women or their families asking what they can do because after approaching the police station with visible injuries, the police officials either would not provide the requisite documentation to obtain a medico – legal examination (MLE), or after such an examination have refused to lodge an FIR, saying they are not empowered to "interfere" in a family dispute.
While routes to ensure the compliance of the police are available, by the time those are effective, some victims have already healed from the abuse, and medical examinations cannot be carried out or the more commonplace case, where the abuser is well connected and has either absconded or has used the time to exert such immense pressure on the family of the complainant that going through with a criminal proceeding no longer seems an option.
It is now common knowledge that despite the prejudices and stigma, domestic abuse and violence is far too rampant. Each of us know someone personally, a family member, friend, co-worker or acquaintance, who has suffered through or is still suffering through it. Domestic violence and oppression of women especially at home is unacceptable, criminal and needs to be treated as such. Despite a special law to address the same, the Domestic Violence Act of 2013, there is a lack of awareness even about its existence, which is so common that even police officials do not know it is there, which clearly affects its implementation. Some women protection officers have been appointed as required under the Act, and presently even a Constitutional Petition is pending before the Sindh High Court seeking redress as to the lack of its enforcement.
Legislation alone will not be enough though. The state needs to step up for its women and robustly equip its apparatuses to respond to this oppression and denial of the Fundamental Right to "Security of Person" (Article 9 of the Constitution, 1973), which has been held repeatedly by the Supreme Court and the provincial high courts. This law does not only ensure basic living and breathing but exists to ensure women get a certain quality of life. To not recognise the widespread domestic abuse and oppression of women is a denial of such rights. The state needs to equip its first responders, including the police, by sensitising the same to the issues of domestic abuse in addition to enhancing the services women require in these situations in terms of shelter and legal aid.
Financial assistance to provide immediate relief for women who have fled abuse and have no family to support them or income of their own is an absolute must, coupled with rehabilitation options. If we want legislation that criminalises violence is to serve as more than just a piece of paper, we need to provide these avenues or the victims will just remain dependent on the abuser.
Society, too, needs to step up for its women. There is a dire need to stop asking women to face violence for "the sake of their children". There is no such thing. Abuse is abuse. It traumatises not only the victims but also the children who witness such situations. Also, there is no peace at the cost of one person being at the receiving end of injustice. There is a dire need to stop hindering women from seeking their rights. Going to court does not damage a woman's reputation, and even if it does, it will only cease to do so after more women receive the support they need. I know our legal system has many hurdles, but there is also relief and no matter what the outcome, if you have at least fought for your own right, not all is lost.