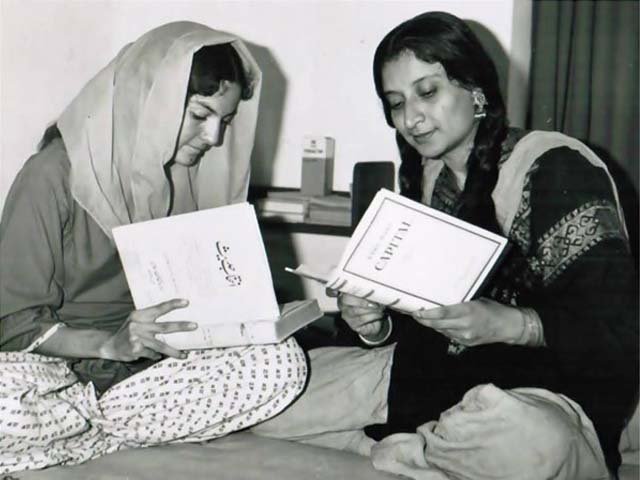 ---
"What a man was born": Reading Fahmida Riaz's heartfelt tribute to Karl Marx on his 202nd birthday
Fahmida Riaz was one of the rare Pakistani intellectuals who publicly identified as a Marxist
---
Karl Marx was born on May 5th, 1818 – 202 years ago today – in the German city of Trier located along the bank of the Moselle stream, a tributary of the river Rhine. In 1883, a crowd gathered for Marx's funeral in a London cemetery – a crowd of eleven, counting the undertaker. His great friend Friedrich Engels had been quite right while speaking at Marx's funeral,
"Marx was above all else a revolutionist. His real mission in life was to contribute, in one way or another, to the overthrow of capitalist society and of the state institutions which it had brought into being … Fighting was his element."

This prophet of global change spent his life fleeing the police and his creditors. Furthermore, at the time when Marx passed away, his sole possession was the two-yard long piece of land where he was buried. Yet, soon afterwards, one third of the world attempted to put his revolutionary principles into practice. These movements engaged themselves in constructing a new world and a new human – a world in which nobody was a slave to another, nor partook of the labour of someone else; a world where workers ruled and capitalists and landlords became extinct. Today, too, there is hardly a country where thousands, nay millions of Marx's followers are not engaged in a struggle for freedom, peace, and social justice. Marx himself said about his masterwork Das Kapital,

"No one ever wrote so much about money while having so little. Capital will not even pay for the cigars I smoked writing it."

Like many writers and poets around the world, Urdu writers have also been inspired by Marx, both artistically and politically. The great Pakistani Urdu poet and activist Fahmida Riaz was one of the rare Pakistani intellectuals who publicly identified as a Marxist right until she passed away in 2018.




She wrote two poems on Marx, one of which, simply titled Karl Marx, forms part of her collection of poems written during the period 1973-77 titled "Aadmi ki Zindagi" (The Life of Man), and is being presented here in its original English translation to mark Marx's birth anniversary. Her second poem is a testament of her continued admiration and engagement with Marx even in her final days and forms part of her last collection of poetry. The great hallmark of the poem in translation here is that it seeks to humanise Marx, as is evident from the opening stanza, so that devotion is not uncritical, something that Marx would have approved of.


~




"Karl Marx" by Fahmida Riaz




"Neither a messenger's avatar, nor the guardian of the world




A human like me, with an agitated beard




He too was alive on the Earth, it is an ancient tale




He died since long, long time passed, that aged Christian




The cycle of fate remains, pieces of permanent birth




Are dancing in the circle, their faces changing




Everyone is busy, everyone has a life of their own




Every pauper is thinking in the world in his own way




The seeing eyes see what is going to happen




The fire is beating from east to west




He too stands at some turn of the path




Perhaps he sees how much dust has time spread




I saw this photo a hundred times, but now I stand still




I tremble after biting my lip, when I think for a moment




What a man was born…




So much have you left behind!




Wherever the sun rose tearing the black earth




Men took your name, restless




Time never stopped for anyone as it is, but this too has happened




The flying century stopped for a brief moment to turn, look at you




A human generation has thought about you often




A century has raised its hand to salute you."