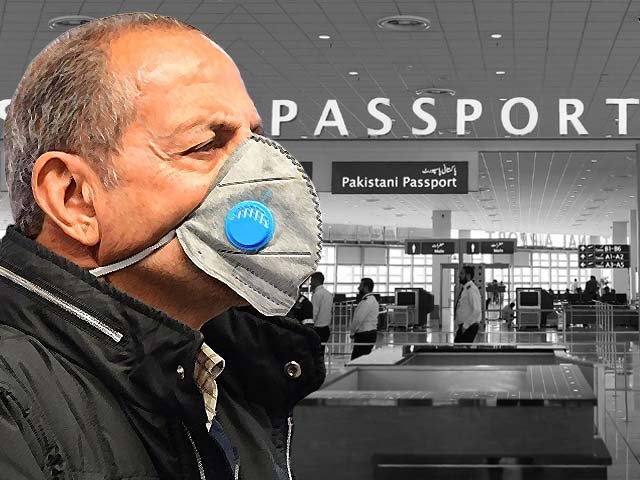 ---
A tale from a state of COVID-19 emergency
It was supposed to be my third trip in three years to Pakistan, a country with which I have quickly fallen in love
---
It was the day before our departure from Boston, Massachusetts to Islamabad. Local, regional and national concerns about international travel and COVID-19 had been increased for a few weeks but we were doing our due diligence. Our travel group leader had checked with his contact at the Unites States (US) Department of State and we received the go-ahead. Next, he checked with the US Embassy Islamabad and got the "green light" for our arrival. Lastly, all of our travellers' immediate family members, while having predictable reservations about long distance travel to what they considered an 'unstable region', approved of our travel.

It was to be my third trip in three years to Pakistan, a country with which I have quickly fallen in love. Indeed, we were all excited about returning to a country that had previously welcomed us so warmly. I first visited in 2017 after meeting dozens of Pakistani college professors and students in the US through my job at a university. They were all so warm and friendly but I wasn't sure if that would be true of the rest of Pakistan. That first trip and my second one in 2019 were both so overwhelming positive and fascinating. I've since devoured dozens of books about Pakistan and South Asia. I regularly text my friends in Balochistan, Khyber Pakhtunkhwa (K-P), Sindh, Gilgit-Baltistan, and Punjab with questions about culture, language, music and food. Ever since that first trip, I've felt incredibly lucky to have the chance to return.

We had been anticipating the upcoming trip for two months because it had been originally scheduled for January 2020. However, because of the drone strike which killed Iran's General Qasem Soleimani, the resulting protests, and the downing of the Ukrainian jetliner in Tehran, our first try of "Pakistan 2020" was postponed just one week before our departure. I had felt so helpless then, caught up in the fierce and swirling winds of geopolitics. Although I've been to over two dozen countries, I had never made a travel decision based on such a factor. We were all severely disappointed in the cancellation, but we quickly rescheduled our trip for March 2020. However, our second attempt to visit Pakistan actually ended up involving much more drama right here in the US.

On March 10th , the governor of Massachusetts, where I live, declared a "state of emergency" due to COVID-19 (coronavirus). In the past, such declarations were usually related to extreme weather conditions. An emergency declaration allows the state government to release funds to address the emergency while also gaining powers to restrict the movement of its citizens. For example, the March 10th declaration directed that government employees, including me, were forbidden from all travel regardless of their destination. Thus, our second attempt at our "Pakistan 2020" was cancelled, only one day before our departure!

Since the cancellation, my world has become more complicated and more restricted. Three colleges, all located in my town, have prohibited their students' return to campuses from their annual spring vacations. Although classes will resume, they will now occur online and not on campus. Thus, my small town of only 14,000 permanent residents but with a commercial infrastructure to support an additional 40,000 college students, will experience a serious blow to its economy. For my family, my two kids are still attending school but I fear it's only a matter of time before their school closes completely as a precaution. My workplace, which hosts over 30 people and has visitors everyday, is likely not far behind in instituting similar precautions. Lastly, I've had several major work events cancelled in the last 24 hours, including an annual meeting of the statewide science community that we have run for 15 years.

In the meantime, our information-based culture continuously throws loads of information at us to read, watch, listen to, and process. Public health officials at the US Centres for Disease Control (CDC) tell us to wash our hands vigorously for at least 20 seconds, use a hand sanitiser, don't touch our faces and to quarantine ourselves if we feel sick or have been exposed to someone we feel is sick. My family's doctors have reached out to us to share their protocols in handling this pandemic and to remind us about personal health habits to prevent the spread of the virus. But, on social media and mainstream media, there is too much health-related information from numerous sources of questionable veracity.

Believe me, I understand some people would gladly trade their realities for mine. Although I do not know first-hand anyone directly or indirectly affected by COVID-19, my heart goes out to those whose health or those of loved ones has been affected. So far, my troubles are only inconveniences in comparison.

Yesterday, the day our travel party should've left the US for Islamabad, we had lunch at a local Indian restaurant. Over delicious chai, chicken masala and roti we talked somberly about Pakistan and missing our friends there. As sad as we continue to be, we are not giving up on returning to Pakistan. Don't give up on us, Pakistan, we still love you. We'll be back for our "Pakistan 2020" trip. In the meantime, please take care of yourselves and your loved ones.