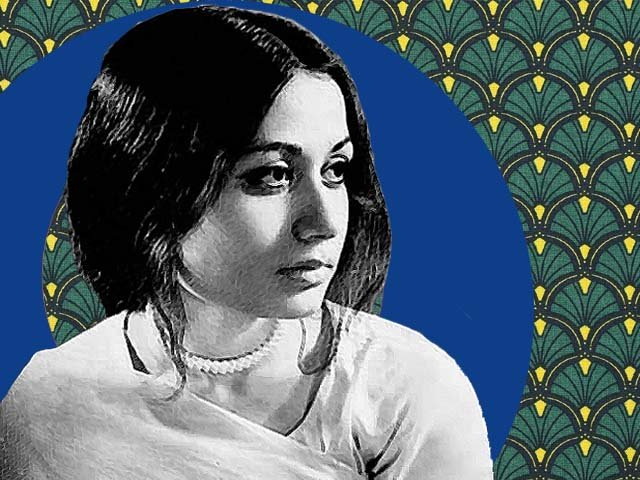 ---
The enduring legacy of Parveen Shakir's poetry
'Departmental Store Mein' marked a break with the tradition of free verse by including pop cultural references
---
Parveen Shakir (1952-94) was a poet and a civil servant in Pakistan who enjoyed immense fame before her untimely death in an automobile accident, 25 years ago today. Her first book of poems, 'Khushboo' (Fragrance), was published when she was just 24. Yet it seems that her early death has only added to her mystique. Her use of feminine tropes in the ghazal tradition marked her as an innovator in the form; for example, she is considered t o be a pioneer for her usage of the term 'khushboo', and for referring to the protagonist of the ghazal as 'larki' (girl). Her poetry is often seen as an act of rebellion against the patriarchy.

Here I have chosen to translate one of her lesser-known, but certainly not one of her best poems, 'Departmental Store Mein' (Inside the Departmental Store), from her last collection of poetry 'Kaf-e-Aaina' (Mirror's Edge), published after her untimely death. I first came across this poem in November 2016, the month during which Shakir was born. It was also the same week as the Thanksgiving holiday in North America, where most of the departmental stores turn into commercial and consumerist paradises, offering discounts by way of 'Black Friday'; which now appears to have found its way to Pakistan too.




This poem not only marked a break with the tradition of free verse by including a usage of English and pop cultural references; but it also compels the reader to think beyond the consumerist excesses characteristic of the holiday season. As Shakir notes, often we are forced to show love for our near and dear ones by ceaselessly buying goods for them; but sometimes a moment's pause, just like the one experienced by the excited protagonist of the poem towards the end of the poem, can reveal to us the senselessness of such unnecessary expenditures. As a result, I can now no longer enter a departmental store anywhere in the world without this poem haunting me, stopping me in my tracks. It also changed my image of Shakir as merely the poetess of the rose and nightingale since it shows a rare side of Shakir. Here I offer this original translation of the poem, not only by way of tribute but in the hope that as you head to 'shop till you drop' during the Christmas and New Year vacation, this poem will give you something to think and be compassionate about.


"Pearl natural pink




Revlon hand lotion




And Elizabeth Arden blush-on too




Is there yet a new nail-polish shade in Medora?




Would a Rimmel lipstick matching




With this violet scarf of mine be available?




And yes, give me that Tulip shampoo too




I remembered




The tweezer I bought a few days back




Was absolutely useless




Give me another one!




Do make the bill!"




Arre! That scent kept in the corner




Just show me




Let me test it




(God! God!




This scent had been his favourite




It always burst from his clothes!)




Just tell me its price




So much!




Okay, do one thing




I will buy the other things another time




Just pack this scent for now!"
Facebook Conversations
COMMENTS
Comments are moderated and generally will be posted if they are on-topic and not abusive.
For more information, please see our Comments FAQ