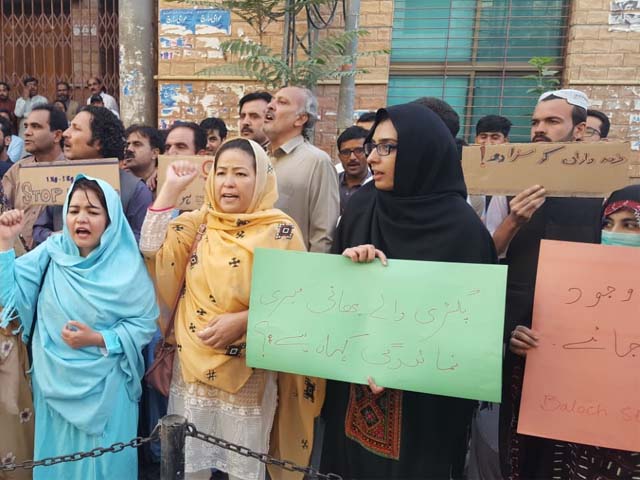 ---
Will the victims of the Balochistan University scandal get justice?
All incidents of harassment must be tackled, regardless of whether or not they capture the attention of the masses
---
A month ago, the Balochistan High Court directed the Federal Investigation Agency (FIA) to look into the sexual harassment reports which had emerged from Balochistan University. According to FIA findings, both female and male students "were being blackmailed by some staff members through 'objectionable' videos of them, recorded through CCTV cameras hidden at various places on the campus including its washrooms." These reports are bound to have repercussions not just for the educational institution under question but also on women's education in Pakistan as a whole. Whether or not those responsible for blackmailing, harassment and an evident breach of privacy will be brought to justice still remains to be seen, but it is undeniable that this scandal will have wider implications. 

Firstly, while the particulars of this incident may appear to be unique, the concept of harassment is by no means a new one when it comes to educational institutions in the country. Part of a collective national failure to address the root causes of harassment in Pakistan stems from an inability to often recognise such behaviour, a failure to hold harassers responsible for their actions, and to instead blame the victims for somehow being responsible for being harassed.

Such incidents do not occur in isolation, and there are various other examples of students being harassed at universities. In 2014, an instructor at the Lahore University of Management Sciences (LUMS) was found guilty of sexual harassment and subsequently removed from the university's faculty. Similarly, Karachi University was ordered to remove a lecturer from his post when he was found guilty of sexual harassment last year, while in another case at the university, claims of sexual harassment were dismissed for being fraudulent.

This makes two things evident. This particular instance of harassment is not an isolated incident and is emblematic of a larger national issue, and that simply reporting cases of sexual harassment or ordering an investigation into the matter does not necessarily result in lasting, or even immediate, change. Even though the FIA has been probing into this matter for a month and three officials from the university have been questioned, there have thus far been no arrests and no formal charges levied against any individual or group who may be complicit in this entire affair.

What further compounds the matter is the fact that not only will this cause irreparable damage to the reputation of Balochistan University, it will also put a severe dent in the trust students across Pakistan have in their educational institutions and in the people chosen to run them.  Furthermore, in a country which is trying desperately to ensure that more and more women gain higher education, such incidents will reinforce the notion that many institutes in the country are still unfit places for women. However, these concerns in no shape or form mean that the scandal should be brushed under the carpet.

Therefore, it is not only important to effectively tackle the moral depravity which led to this scandal, it is also imperative that the Higher Education Commission (HEC) uses this incident to set a precedent and to ensure that educational institutions in the country are no longer considered to be unsafe spaces for women. It is also crucial that the HEC, along with provincial education boards, implements measures which not only try to curb harassment but also help facilitate students in their complaint procedure if such untoward incidents take place. If the complaint process is more streamlined and responsive it may prevent many other cases like this one from slipping through the cracks. However, we as a nation still have a long way to go before we can eradicate the social stigma attached with lodging a complaint when it comes to issues pertaining to harassment. It is also vital that the psychological impacts of harassment are recognised and confronted so as to protect the mental well-being of these students.

Additionally, when it comes to addressing such matters and ensuring that the perpetrators are punished for their crimes, the fear often is that the committees assigned to tackle the issue could fall prey to certain agendas being pushed by those who are concerned about the negative impact such an investigation could have on the institute's image. Given that the Balochistan University case has garnered wide-spread condemnation, one would hope that the guilty parties are dealt with in accordance with the law of the country, and that too in a timely manner. However, it is also important for us to realise that the sole reason for addressing this issue should not be because it has found its way into the media spotlight. All incidents of harassment must be tackled with equal rigour and speed, regardless of whether or not they capture the attention of the masses.

Perhaps the only sliver of a silver lining which has emerged thus far is that students from Balochistan University and many from across the country are staging protests and clamouring for immediate action to take place. If anything, this incident could help bury the seed in public consciousness that harassment is an issue which must be wrestled with head on and not confined to the sidelines out of fear of the shame which we so readily attach to the victims of harassment. One hopes that this incident will serve as much needed turning point for the manner in which we as a nation view and tackle such incidents.