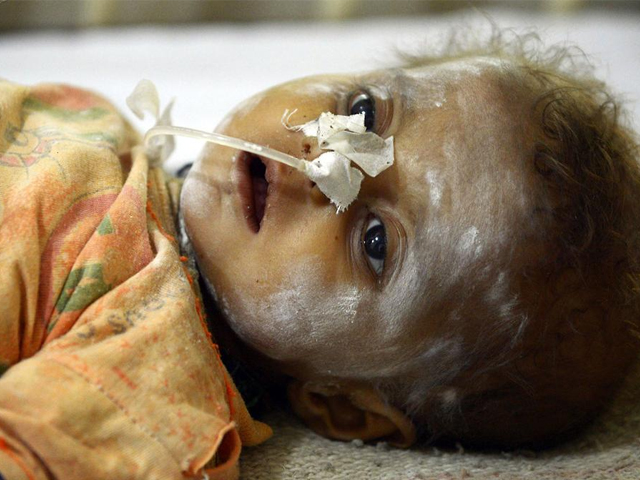 ---
People of Thar have no food or water, but thanks for the free WiFi, PPP
PPP has been ruling over Sindh since the 1970s, yet rural Sindh is still miserably poor and underdeveloped.
---
Recently, the Sindh Engro Coal Mining Company (SECMC) inaugurated the first free WiFi villages in Tharparkar. The project, which will cost $2 billion and is projected to be completed in 2019, involves the production of 660 megawatts of electricity through the process of coal mining.

An investigative article published in The National Geographic in 2014 states:

"Coal provides 40% of the world's electricity. It produces 39% of global carbon dioxide emissions. It kills thousands a year in mines, many more with polluted air."

Even though WiFi has become such a necessity in today's world, the question that arises is: do the people living in the villages of Thar even have enough money to spend on these devices? More importantly: Is their basic necessity Wifi or food and water?

According to a recent report by the United Nation Observation Mission on Tharparkar, the districts of Umerkot and Sanghar fall under humanitarian crisis and the situation in these areas has not changed since the last Sindh Drought Needs Assessment report.

For many years, Thar has been making headlines for different reasons. In May 2016, a report released by the National Commission for Human Rights (NCHR) stated that 1,380 children died of malnutrition related issues in Tharparkar. An estimate of 329 children died in 2016, 670 in 2015 and 381 died of malnutrition, famine and poor nutrition in 2014. The report further stated that the root of the crisis is food scarcity and 76% of the population has no food supplies at home. Due to droughts, hundreds of thousands of livestock perished during the crisis as well.

In Thar, people depend on livestock agriculture of millet for their livelihood, but due to low rainfall in 2016, the livestock and the production of cereal grass are at risk. Since 2012, the lack of rains has become worse; the wells have dried up and there is no grass or green land for the cattle to graze upon.

According to the World Health Organisation (WHO), if the Global Acute Malnutrition (GAM) rate among children and women is more than 15%, it is to be considered as an emergency situation. During the National Nutrition Survey conducted in 2011, the GAM rate of Thar was at 22.7% and chronic malnutrition was 45.9%. The overall Sindh GAM rate was 17.5%. However, the situation went fairly unnoticed until 2016 when Sindh health officials confirmed the deaths of 143 children due to malnutrition in five months in a health department report.

In 2014, then chief minister of Sindh Qaim Ali Shah failed to take the matter seriously and in turn made an insensitive statement about the deaths of children in Tharparkar, which he said were caused largely due to maternity related complications rather than hunger. His failure to address these issues  forced Asif Ali Zardari to replace him. In 2016, Murad Ali Shah stepped in as the chief minister of Sindh – a decision hailed by many in Pakistan; however, we are yet to see any improvement in regards to governance.

The Sehwan blast highlighted the current chief minister's apathy when the victims of the blasts were unable to receive proper treatment at the local hospital and had to travel more than a 100 kilometres towards urban Sindh for the required procedures. Sehwan falls under Shah's constituency, which is depriving its people of better health infrastructures.

The Pakistan Peoples Party (PPP) government dealt with the matter of poor governance politically instead of making decisions that would help solve Sindh's problems. This is PPP's second consecutive tenure in Sindh, and reports on Thar suggest that they are suffering from the same problems  since 2011. PPP has been ruling over Sindh since the 1970s and the party has remained in total control of Sindh's financial and political resources; yet, rural Sindh is still miserably poor and underdeveloped, lacking even basic civic infrastructure.

In my previous blog, I raised the question of whether the government only remembers Thar when it comes to coal reserves, while conveniently turning a blind eye to those starving to death. The $2 billion project could have brought a change to the area if basic necessities were available to the people. They need clean water, alternate methods to grow agriculture and sustain livestock during the drought. They don't need bags of ration, a few mineral water bottles and free WiFi facilities.

To quote Zulfikar Ali Bhutto from the PPP's official website ,

"If things do not change, there will be nothing left to change. Either power must pass to the people or everything else will perish."
Facebook Conversations
COMMENTS (35)
Comments are moderated and generally will be posted if they are on-topic and not abusive.
For more information, please see our Comments FAQ