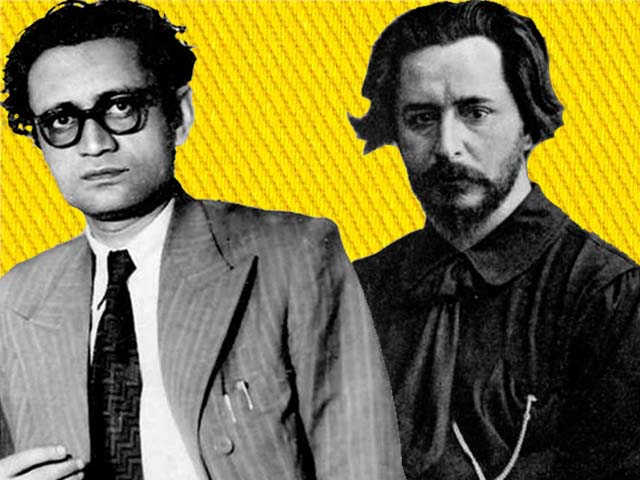 ---
International Translation Day: Manto's tribute to Leonid Andreyev
The parallels between Andreyev and Manto are astounding, but, unlike Manto, Andreyev's work has fallen into obscurity
---
Today marks International Translation Day, a powerful reminder of the importance and vitality of translation in bridging gaps between and among various cultures in a fragmenting world where it is now the exclusive province of politicians to harp on about our differences; as well as educating and informing us about a culture, its language, its cities, people, morals and manners. It is a little known fact that the great Urdu writer Saadat Hasan Manto began his literary journey to stardom as a translator of English, French and Russian classics into Urdu.

One of his little-known literary essays is an introduction to Russian literature for an Urdu-speaking audience. This essay titled Roosi Adab Per Aik Tairaana Nazar (A Bird's Eye View of Russian Literature), was published in the Urdu journal Humayun in Lahore in May 1935. It contains a very interesting but brief sketch of Leonid Andreyev, a Russian writer who was a contemporary of Leo Tolstoy and Maxim Gorky, and, while he lived, was one of the eminent purveyors of Russian literature, but fell into obscurity after his early death on September 12, 1919 – a hundred years ago this month.

The parallels between Andreyev and Manto are astounding. Both writers passed away in their forties, their eventful lives cut short. Both writers achieved meteoric fame in a short while, and both were affected by tragedies in their lives; Andreyev by the loss of his beloved wife and Manto by the death of his firstborn and only son. There was at least one significant event in the lives of both Andreyev and Manto which affected how they saw the world and what they would subsequently write. For Andreyev, that event was the Bolshevik Revolution of 1917, while for Manto it was the Partition of India in 1947. These events forced these writers to migrate to new lands, albeit reluctantly; Andreyev went in exile to Finland, and Manto moved to the newly-created country of Pakistan. Anguish over these events, as well as the aforementioned family tragedies forced both writers to take to alcohol and intoxication, and probably hastened their early deaths. Both writers were idealists and rebels, had little truck with the ruling morality of the time, due to which both passed away with their spirits broken and in poverty.

Yet, Manto achieved literary immortality after his death, resulting in an abiding interest in his writings, translations and books on his work in multiple languages, two films made about him on both sides of the border, and even a government award. Meanwhile, Andreyev fell into obscurity during the Soviet period, perhaps because he opposed the Bolsheviks or because some of the themes he wrote about, as Manto's sketch will make clear, were opposed to the dominant Soviet literary orthodoxy of socialist realism. Be that as it may, perhaps Manto chose to write about Andreyev because he reminded him of himself. To mark the occasion of International Translation Day, as well as the centennial of Andreyev's death this month, I offer a humble but original English translation of Manto's brief sketch on Andreyev's life and works.

"Leonid Andreyev (1871-1919) was born in central Russia in a poor family. His father, who was an ordinary teacher in a local school, passed away while he was a child. Though it was very difficult for Andreyev to obtain education after his father's death, he somehow managed to obtain an education at St Petersburg University. In those days, he used to provide money for educational expenses by teaching children. Andreyev's life was full of miseries and misfortunes; therefore, tired of these sorrows and sufferings, he once attempted to commit suicide but luckily he escaped death by the skin of his teeth.

In 1897, he passed the law exam from Moscow and began to work as a reporter for legal cases. In 1898 he published his first collection of short stories which resulted in great fame for him. After studying these short-stories, a Russian critic described Andreyev in the following words:

"We see that a new star has dawned on the literary horizon whose light is magical and mysterious. His publications and dramas following these short-stories have made him famous all over."

Undoubtedly, in his initial thoughts, the colour of Gorky and Chekhov is clearly evident.

The heroes of Andreyev's short-stories generally witness the ruins of the old system. They find no place to shelter themselves. They cannot stay alive but at the same time they are also desirous of life. Life pulls them towards itself and the desire for a time of happiness and a wish for a good ending does not die.

Actually, Andreyev's sorrow is the sorrow of the world. If Gorky is the shark of the ocean of literature, then Andreyev is the painter of the internal nihilism and lack of feeling after the failed struggle of the revolution of 1905. In that period, there was a demand for all kinds of literary medicines. Andreyev had learnt this art. Therefore, he soon became a successful apothecary.

He developed a great expertise in describing despair and pessimism, and medical and metaphysical dangers, and taking the ideas of Fyodor Dostoevsky, moulded them into the form of his new thought. His ideas affect the nerves rather than aesthetic life. Among his publications, In the Fog, The Dark, Seven Hanged, and His Excellency The Governor have the status of classics.

Andreyev wrote his first play To the Stars in 1906. Afterwards, he wrote many other plays but they could not stand before his short-stories. The philosophy of those dramas too is centred around nihilism and death. The play titled He Who Gets Slapped, which has also been filmed by some American studio is the more successful and effective drama among all his other dramas.

As the Red cannons were bombarding the Kremlin, Andreyev was taking the last breaths of his life."
Facebook Conversations
COMMENTS
Comments are moderated and generally will be posted if they are on-topic and not abusive.
For more information, please see our Comments FAQ