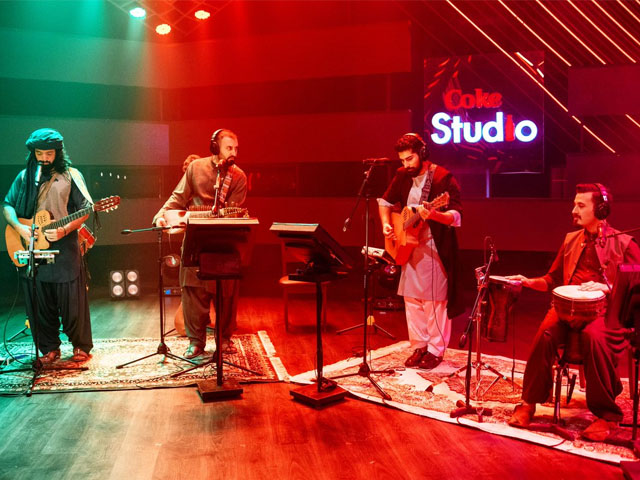 ---
Khumariyaan: the intoxicating quartet
A band with a heart, their music breaks stereotypes and audiences at concerts cannot help but sway to their music.
---
When I sat down to talk to Khumariyaan, one of the most happening bands currently on the local music circuit, one thing was obvious: the quartet possessed energy that was four times higher than what you'd expect. Although they've been around for a while, since 2008 to be precise, it was their gig on Coke Studio and their Lux Style Award winning track, Ya Qurban that garnered quite a lot of attention.

Khumariyaan, literally meaning 'people in a state of intoxication', started like most other bands — some friends from Peshawar were just hanging out, jamming and having fun. Aamer Shafiq, Farhan Bogra and Shiraz Khan were studying at the Institute of Management Sciences in Peshawar and shared the love for music. The trio met Sparlay Rawail when they came to Islamabad to participate in the 2010 Battle of the Bands. They took the competition by storm with their first track, Tamasha, created spontaneously that very day. They called it Tamasha (ruckus) because it was extemporaneous magic. Shafiq explained,

"Each one of us brings our own element to Khumariyaan's sound. Shiraz would play a beat and I would start giving a rhythm to him. Sparlay would lay his leads on it and Farhan would add the rubab. It can start from any one of us."

In 2016, Tamasha got Khumariyaan their first nomination at the 15th Lux Style Awards. However, they lost to Ali Zafar's Rockstar. Shafiq adds,

"Initially, people insisted that we add a vocalist and lyrics to our compositions. Instrumentals had a very limited audience. But there was still opportunity — it was a void that Khumariyaan filled. Now that it has clicked, we have flexibility for experimentation. We can always have a featuring artist, be it a vocalist or some instrument player."


Farhan plays the rubab, Aamer plays the rhythm guitar, Sparlay is on the lead guitar and sometimes the Khattak dhol while Shiraz provides the beats with a djembe. Bogra shares,

"We continue to improvise on stage and our audiences enjoy it. We feed off of their reactions and that brings out the signature Khumariyaan spontaneity in our live acts. Because we don't have vocal-based music, it reaches out to a global audience. Language can be limiting but instrumental music helps you break that barrier. A hundred people relate to an instrumental in a hundred different ways.

We also wanted to highlight our folk instruments, some of which have almost become extinct. We started using a sehtar in our music which is an elongated version of a Chitrali lute. When I picked the instrument up, there was only one maker and one player of it left, Ustad Zainullah. We requested him to jam with us. We are trying to make the sehtar popular again. This is an instrument that has been played for centuries but is now on the verge of extinction. We want to promote such endangered instruments through our music."

Khumariyaan is happy that the rubab has become fashionable and that they contributed to this. Bogra shares,

"Parents bring their children who are interested in learning how to play the rubab to us. Even girls are wanting to learn it. We tell them to make use of technology and learn. Kids today have a lot more exposure — there are instrument shops and online tutorials. I tell them that during the first two months, you will have a love-hate relationship with an instrument where it will annoy you and irritate you to the brink. But once you pass that and it starts to make sense, there is no stopping you two from falling in love with each other.

When we started, the situation in Khyber Pakhtunkhwa (K-P) was not very conducive for art and especially performing arts such as music. We have, in our humble way, tried to build the image of our nation as a whole and, in particular, the society of K-P. Our music breaks stereotypes. We have done tours of the United States (US) twice and also performed across the United Kingdom (UK). People were amazed when they found where we came from. We feel like our music provided us a platform for a multidimensional impact."


Rawail adds,

"Music and dance is part of the eugenics of Pakhtuns. In villages, they play drums and do the attan dance even when someone returns from hajj. They say that the ultimate torture for a khattak would be to tie him to a tree and play music around him."

He is right because the audiences at all their concerts cannot help but sway to Khumariyaan's music.

They are a band with a heart. They are involved with the Shaheed Haroon Academy for Street Children, a primary school in the Hayatabad area of Peshawar. The patron of this school resides in the US and it was difficult for him to keep the school running. When Khumariyaan stepped in, the school had around 30 children. Today, the school has more than 160 students, both boys and girls, getting free education and two meals a day. The Khumariyaan boys are making sure that the facilities and curriculum are of the same standard as that of any good private school.




Earlier this year, they won a Lux Style Award for best song of the year. Shafiq feels that while awards are important, they enjoy their audience's reactions much more. He adds,

"We never imagined that one day we will win the most prestigious industry award. It sure feels good but when we started, such awards were not there to aspire for. If we had this award in mind from the beginning, our approach would have been different. But we just wanted to have fun with our music and let people enjoy it. To date we have tried to keep the raw sound of our music intact. We are still very selective about where we perform. Mostly we perform at venues where we get an audience that takes our music further."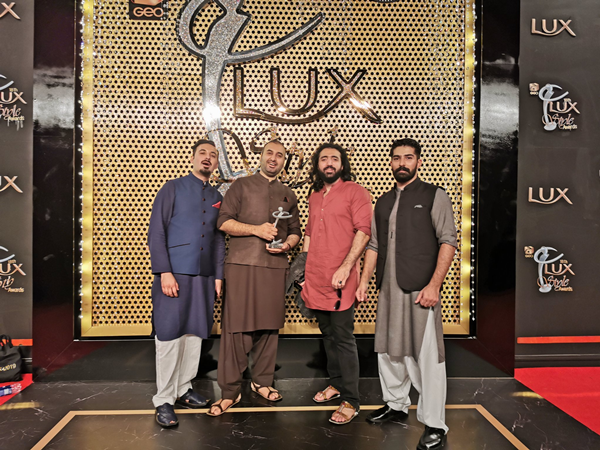 Last year their fans also saw Khumariyaan performing on Coke Studio. Shafiq says,

"Our perception about Coke Studio would have been different if we had not performed there. We shared our sound with them and there was a lot of collaboration. All acts do their own part so you cannot blame the producers if something doesn't work. We are speaking from our experience of working with both Zohaib Kazi and Ali Hamza. Ali is a musician we all look up to and he told us to just do what we do best. They have 20 days to record 70 artists. Every artist comes with his or her own style. You give a few takes and then everything needs to change — the instruments change, the entire dynamics change. You cannot expect 100 hit songs from every season. You would only like two or three songs from an artist's album. You will never equally like every song of an album. Same is the case with Coke Studio."

Currently working with Meekal Hassan on their next digital album, Khumariyaan is also working on a video for their next track that is to be directed by Aoun, who assisted on the recently-released blockbuster Superstar.
Facebook Conversations
COMMENTS
Comments are moderated and generally will be posted if they are on-topic and not abusive.
For more information, please see our Comments FAQ