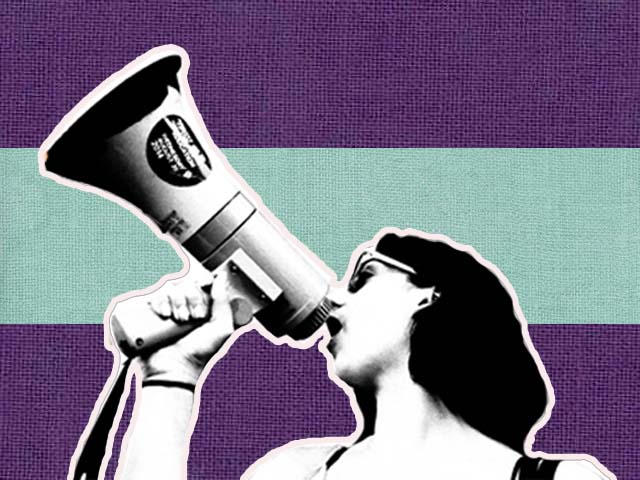 ---
Why are Pakistani men so fearful of female sexuality?
Women are still looked upon in relative terms and are seen as custodians of men's honour
---
It is worth reflecting upon how our society is at a complete loss when it comes to dealing with the so-called 'scandalous side' of the private lives of individuals, especially when the scandal involves women who enjoy a celebrity status, more so if the scandal implicates their agency over their sexuality. In the recent past, with growing frequency, we have seen several leaked videos go viral on social media. Every such instance leads to the public ruthlessly judging the morality of the women involved rather than calling out those responsible for this breach of privacy. 

It is ironic that the same society that ruthlessly condemns women whose videos are leaked refuses to acknowledge that videotaping intimate situations by choice is an individual's free will but making it public without their consent is a violation of someone's privacy and a form of abuse. A male boxing star's sex tape leaked online should be as much of a cause for concern as a female singer's leaked video.

According to the latest figures released by Pakistan Telecommunication Authority, the country has a staggering 163 million cellular subscribers, 73 million 3G/4G subscribers and 75 million broadband subscribers. This is a society where children are raped, often the act is filmed, and the families of the victims prefer to keep silent due to the fear of stigma and shame. This is a society where independent women are looked down upon, marital rape is often accepted, and women who challenge gender stereotypes and assert their sexuality are mocked, trolled, face violence, and even killed in extreme situations. In the first six months of 2019 alone, more than 1,300 cases of child sexual abuse have been recorded in the country. The nation is still reeling from the Kasur child sexual abuse case of 2015 in which a gang made hundreds of video clips showing as many as 300 children performing forced sexual acts. From last month, the case of Sohail Ayaz, a paedophile who confessed to running a child pornography ring is a story still unfolding in all its severity. Since 2011, the government has banned websites containing pornographic material but such measures fail to address the root of the problem. In a classic ostrich mind-set case, the nation has its head dug in the sand, preferring to believe that the existence of such vile acts can be denied if they cannot be seen.

So while widespread cheap technology is making access to digital and social media easier than ever before, it is pertinent to consider these incidents as symptoms of a deeper problem. Whereas religious and social bindings dictate that women in the country must suppress any expression of their sexuality, it appears that men on the other hand can get away with murder. Women's sexual and emotional agency is regularly seen by many as a direct threat to the social and familial structures which stand as the foundations of absolute patriarchal dominance. Women are still looked upon in relative terms and are seen as custodians of men's 'honour'. They are either daughters, mothers, wives or sisters – never individual human beings who have the freedom to express their emotional, physical and sexual identity.

Some of the reactions to the Aurat march earlier this year were also very telling. The country watched as many women marched holding placards across various urban centres in the country. The kind of misogyny and regressive criticism that followed this act was indicative of how vulnerable the traditional power structures felt in light of this unusual assertion of free will by these few women.

Interestingly, unlike in some previous women rights struggles where women advocated for their rights related to economic, political or legal status, the demands this time hit much closer to home. The majority of the slogans at the march were challenging the power dynamics between men and women that exist both in private and public spaces in Pakistan. The participants were demanding agency over their expression, their spaces and their sexuality, and it was these very demands which made several men feel personally threatened, as evidenced by the online response to the march. This was not women only about demanding their rights to education, inheritance, or a share in the political decision making, most of which are already enshrined in the religion and the constitution. This was about hordes of women telling an entire nation that men and women must be treated as equals in both public and private spaces.

Although a lot has changed in the last few decades, with more women getting access to education and occupational opportunities, one worries that this permissiveness is due to their own need for women to be economically productive rather than an actual and meaningful attitudinal change. It is imperative that feminist campaigners continue to advocate for change so that we can create a society which does not discriminate between the actions of women and men.