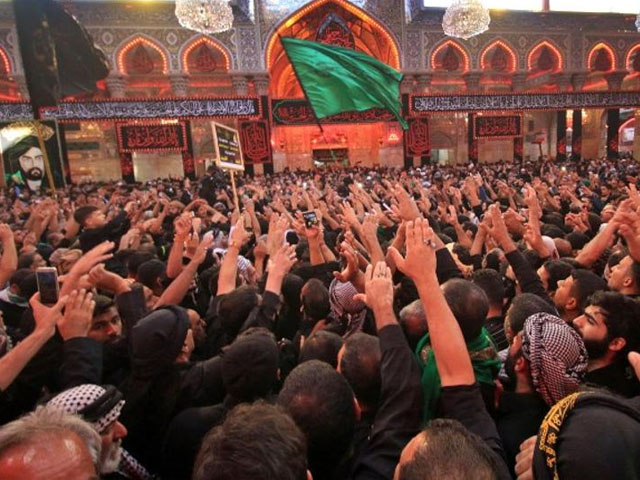 ---
The indivisible relationship of Urdu and Karbala
The homage Urdu literature has paid to Imam Hussain (AS) is quite idiosyncratic.
---
Karbala is an event that carries no parallels and transcends beyond time and space. There have been several incidents where people have lost lives and families have been destroyed. However, Karbala is different; the events of Karbala are categorised as a climax of collective spatial and temporal oppression.

At one time, in one location, all the violence that can possibly take place came together. The tale of this tragedy is never ending. Translated in different languages, it has inspired many people all over the world. However, the relationship of Karbala with Urdu is unique. As soon as Muharram starts, we can vividly hear the story of Karbala and Hazrat Hussain (AS) echoing in the air. A tinge of grief grips the hearts of mourners. It wouldn't be incorrect to say that the homage Urdu literature has paid to Imam Hussain (AS) is quite idiosyncratic. Karbala has become an indivisible part of Urdu literature. I cannot recall any Urdu poet who has not written something about Karbala. Urdu, as a language, has been commemorating Imam Hussain (AS) for years.

Karbala and Urdu have an astute relationship with each other. Just like Urdu has repeatedly remembered Karbala, Karbala has also helped in constructing the language by the introduction of marsiyas, qaseedas and so on. There are innumerable Urdu poets who have written on Imam Hussain (AS).

First let us look at the work of Mirza Ghalib, who showers his praise on Imam Hussain (AS):

Tab-e-sukhan o taqat-e-ghogha nhe humko
Matam ma shah e deen k soda nhe humko
Ghar phonkne me apne muhaba nhe humko
Gar charkh bi chal jaye to parwah nhe humkoh
Yeh kharga nah paya jo muddat sa bapa ha
Kia khaima e shabbir sa rutbe ma siwa ha

(We have neither the ability to write nor the strength to yell out/clamour
We mourn the King of the religion, (and no) we cannot do any compromise on this mourning
We don't fear blowing away our homes
(And) We don't care if the heavenly spheres burn down
This majestic pavilion without pillars (this earth) that has existed since forever
Is nothing in its stature without Shabbir's pavilion)

Here, Ghalib expresses his loyalty to Imam Hussain (AS) and vows that no matter what, he will never stop mourning him, shunning even the bleakest possibility of compromise over his love for Imam Hussain (AS). Ghalib considered Imam Hussain (AS) an ideal king, and loyalty demanded abhorrence towards any enemy of the king.

Another stalwart of Urdu poetry, Mir Taqi Mir, also paid tribute to Imam Hussain (AS):

Karta hoon yon biyan sukhan e raan e Karbala
Ahwaal raaz-e-shah shaheedaan e Karbala
Banka tha furaat pa maidaan e Karbala
Piyasa hoa halaak voh mahmaan e Karbala
Insaaf ki na aik neh chashm e neem baaz
Khole sitam ke hath zabanain ki daraaz
Qatal-e-Imam maqsad o tiyari e namaz
Budtar the kafiro sa musalman e Karbala

(I am going to narrate the story of Karbala like this
These are the secrets of the circumstances of the one who was the king of martyrs
The battleground of Karbala was at the shore of the Euphrates
(Yet) that guest of Karbala was murdered thirsty
None cared even a little for justice
(And) brazen tyranny pulled out a mantra
"Their objective was to kill the Imam (AS) and yet they were getting ready for prayer"
The Muslims of Karbala were much worse than the infidels)

Mir, in this marsiya, deciphers a marvelous irony that was present in Karbala 1400 years ago. Like many others, he is also stunned by the hypocrisy of the Muslims who were killing the grandson of Prophet Muhammad (PBUH). Mir's expression can be associated with the oppression in today's world, where we see people who call themselves Muslims yet don't think twice before killing other Muslims.

The next poet whose poetry we'll look at is none other than Iqbal:

Haqeeqat e Abadi hai maqam e Shabbiri
Badalte rehtay hein andaz e Koofi o Shaami

(The place of Hussain (AS), the martyr great is fact, not bound to space or date,
Though the Syrians and the Kufis may often change their wont and way)

He says that the status of Hussain (AS) is the eternal truth while the hypocrites of Kufa and Syria keep on changing. Disappointed that Muslims are humiliated all over the world, Iqbal idealises Imam Hussain (AS) and adds:

Qafila hijaz ma ek Hussain bhi nahin
Garche ha tabdar abhi wadi ey dajla o furat

(The caravan of Hijaz has not another Hussain amongst it
Although banks of Tigris and the Euphrates are still as bright as ever)

Iqbal laments that there is no Hussain (AS) left to take Muslims out of the distress they are in and that the Muslims of today have forgotten the sacrifice of Imam Hussain (AS).

Karbala certainly goes beyond any religion, culture or sect and that is seen in Urdu literature. While Muslim poets were eulogising Imam Hussain (AS), non-Muslim writers were also showing their love. Kunwar Singh Bedi, a renowned Sikh Urdu poet says,

Lubb pay jab Shah-e-Shaheedaan tera naam aata hai
Saamnay Saqi-e-Kauthar liay jaam ata hai
Mujh ko bhi apni ghulami ka sharaf day dijio
Kota sikka bhi to aaqa kabhi kaam ata hai

(O Prince of Martyrs, when your name comes upon my lips
I can see Imam Ali (AS) offering me the drink of Paradise
Take me into your service as your slave
Surely a fake coin can also be useful)

Bedi grounds himself in front of the grandeur of Hussain's sacrifice, and expresses his desire to be taken as a slave of Imam (AS).

Faiz Ahmed Faiz contributed with his powerful narrative about Imam Hussain's (AS) final moments in Karbala.

Kar khatm sukhan, mehve dua ho ga'ay Shabbir
Phir narae zanaan, mehve vigha ho ga'ay Shabbir
Qurban rahe sidq o safa ho ga'ay Shabbir
Khaimoon main tha khoh'raam, juda ho ga'ay Shabbir
Markab peh tane paak tha aur khaak peh sar tha
Es khaak talay jannat e firdos ka dar tha.

(After his address, for followers Shabbir prayed
With a war-cry, thick fight Shabbir assayed
At truth's altar immolated, Shabbir undismayed
Within tents lamentation was, Shabbir was slayed
On horse back sacred body, forehead upon dust
Heaven's door beyond doubt, lay beneath that dust.)

Faiz's poignant lines are still read in majlis and aired on television screens in Muharram. He narrates the heart-breaking tale of the last few moments of Imam Hussain (AS), when the Yazidi force averred that they killed him and the Hussaini camps were drowned in sorrow. They were aware that the violence wouldn't end here and that the women of the Hussaini camps are the next target.

Imam Hussain (AS) is mourned in different ways all over the world and he will be mourned forever. Urdu is rich in its tradition of the azadari of Imam Hussain (AS). Urdu nohas, marsiyas, rubais and qaseedas are recited all over the world. This language has done a great job in bringing different sects and religions in one place when it has come to extolling Imam Hussain (AS). There are new couplets written everyday in the glory of Hussain and Ali (AS). This relationship of Urdu and Karbala gets stronger with each passing day.