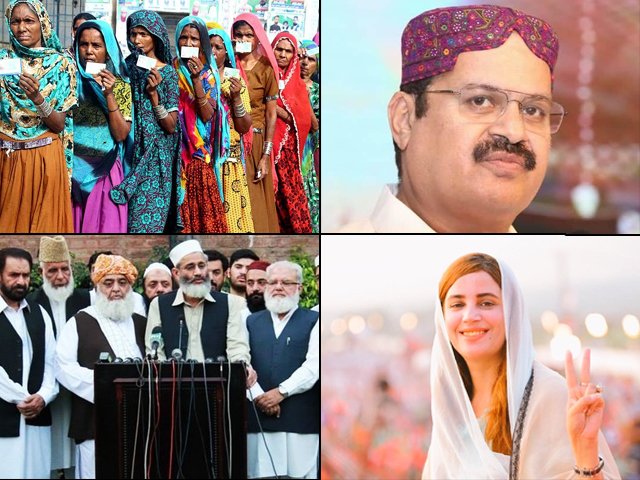 ---
Waking up in Naya Pakistan: 8 commendable things to come out of the 2018 Elections
It was a win for women integration in politics, for progressives, and most importantly, for a democratic Pakistan.
---
I live in the US but I am visiting Pakistan for the 2018 General Elections, and am proud to have witnessed an amazing electoral process, voted myself, and seen the making of a 'Naya Pakistan'. I was in the US in 2016 when the presidential elections were going on, however, the burst of activism and political awareness among the youth, alongside the will to work for the betterment of the country, is rather distinct here in the homeland.

Politics is discussed over cups of 'karak chai' at local dhabas and elite coffee shops alike. Another difference I observed from the US is the generosity in expressing your political opinion and the political party you are going to vote for in Pakistan. Debate is mundane in households, within families, among friends, and in offices as well.

This heightened political awareness in Pakistan was reflected on July 25, 2018. Here are just some of the good things to come out of these elections:

1. The voting experience and turnout  

There were long lines at the polling stations – on a hot and humid day of July no less! Women, young and old, stood in lines in the sweltering heat. People from all walks of life came together with their families to vote, first in the scorching heat and suffocating humidity in the morning, and then during the rain in the afternoon (talking about Lahore).

For me, the voting experience was no less than great. We were in and out of the polling station in 20 minutes at most. Voting itself gives you a strange gratification, it is a sense of belonging, a responsibility, an authority, and consolidates a strong relation to your country. My newsfeed was swamped the whole day with a thunderstorm of thumbs, happy faces with their dark thumbs. Looking at the enthusiasm in voters, I think the turnout was great. I also felt that women in Pakistan were more eager to vote than their male counterparts, which was a pleasing sight.


Women turn out in large numbers in Panjgur, Balochistan.
Brave Balochs defy terrorist threat #NikloPakistanKiKhatir pic.twitter.com/uEOockQ0fw

— Arshad Sharif (@arsched) July 25, 2018
My favorite picture from the elections 2018 by far. Thank @dawn_com for sharing it!!! Women of Pakistan can make the difference. So proud of all the women who have come out to vote despite the hurdles and the difficulties. Thank you for your courage and your fortitude👌👏👏✌️ pic.twitter.com/YxndMRxeRi

— Roshaneh Zafar (@RoshanehZafar) July 25, 2018


2. Imran's road to premiership in a country like Pakistan was not easy

An hour after polling ended, I took to the main roads of Lahore, where the streets were flooded with supporters of the Pakistan Tehreek-e-Insaf (PTI). Once results started pouring out and PTI was gaining the lead, the crowds only grew in number, and the air was filled with the ultrasonic slogans of "Wazeer-e-Azam Imran Khan" (Prime Minister Imran Khan).

After 22 years of a staggering struggle by this iron-willed individual, I repeat, 22 years of fierce struggle, where he had one seat in the National Assembly (NA) representing his entire party and was mocked by the "old players of the game". Multiple attempts later, this man is on the path to becoming the elected leader of this nation.

This is a romantic tale of struggle, resistance and persistence. He may have done many things wrong on his way, but if there is one thing in this man that is extraordinary, it is his unbelievable capacity to persist. Anyone else of his stature would have given up on this idea of politics and premiership (a lofty goal) and would have been living in the UK or Dubai watching cricket in a luxurious home.

The tale of Imran's victory will become a motivational tale for every child in Pakistan, giving them hope that politics and premiership is not only for feudal lords or veteran politicians; rather, it's for those who persist and do not succumb to the pressure.


22 years later, after humiliations, hurdles and sacrifices, my sons' father is Pakistan's next PM. It's an incredible lesson in tenacity, belief & refusal to accept defeat. The challenge now is to remember why he entered politics in the 1st place. Congratulations @ImranKhanPTI

— Jemima Goldsmith (@Jemima_Khan) July 26, 2018


3. Religious clerics rejected outright

Another interesting, or shall I say blissful, event that unfolded in these elections was that all the religious political parties were rejected outright by the people of Pakistan.

- Hafiz Saeed, an internationally blacklisted terrorist, was only seen on posters and flyers.

- Ahmed Ludhianvi, from the banned Ahle Sunnat Wal Jamaat (ASWJ), was pulverised by a woman, Ghulam Bibi Bharwana, by almost 30,000 votes and didn't win a seat anywhere else.


Female candidate of PTI Ghulam Bibi Bharwana has defeated ASWJ leader Ahmad Ludhianvi (at NA 115) #NayaPakistan #ElectionResults pic.twitter.com/Mdpu5ORTw8

— Asfandyar (@BhittaniKhannnn) July 26, 2018


- Khadim Hussain Rizvi and his party were obliterated from the NA before they could step foot in it.

- Muttahida Majlis-e-Amal (MMA) was able to gather very few seats in the NA from Khyber Pakhtunkhwa (K-P).

- Even Maulana Fazlur Rehman did not win any seat in the NA.


When you remember that Maulana Fazlur Rehman wont be in the National Assembly. pic.twitter.com/5VGqNPaeWC

— SIR .. (@SirJohnRoe) July 26, 2018


On the surface, Pakistan seems to be a country full of religious fervour, which is true to some extent as well. However, as a nation we have rejected with our vote all political parties who had nothing but religion to flaunt as their manifesto. I guess Pakistanis decided that no matter what, we aren't bringing these clerics in power.

4. Progressivism in the Federally Administered Tribal Areas (FATA)

One of the most pleasant ironies stemmed from FATA. Traditionally portrayed as conservative and backward, it gave a mandate to Ali Wazir and Mohsin Dawar, both of whom are known for their liberal, left-leaning ideas.


Two of the most significant victories this election are Mohsin Dawar's from NA-48 North Waziristan & Ali Wazir's from NA-50 South Waziristan. #PashtunTahafuzMovement will now have a legitimate voice in the Parliament. We needed this. Mubarak! #PakistanElections2018 💪🏽✊🏽

— Usama Khilji (@UsamaKhilji) July 26, 2018
Mohsin Dawar winning his seat. Ali Wazir winning his. Jibran Nasir bagging more votes than he ever has, while politcizing a number of young leaders and instilling in them the correct political ethic. TLP losing.

Aahista aahista jeetein ge, Inshallah. Aahista, aahista jeetein ge.

— Aimun (@bluemagicboxes) July 25, 2018


5. Jibran Nasir's force to be reckoned with

This election led to the emergence of a phenomenon called Jibran Nasir, who secured more than 6,000 votes in NA-247 while standing in the face of open bigotry and hostility. This was no less than a victory. In our country, where confronting ultra-religious organisations is like playing with fire, Nasir never hesitated to face them. I see an emergence of a new leader in these elections who will go a long way in politics of Pakistan. His success might be slow, but Nasir has left a certain impression of his bravery on Pakistanis. After all, Imran struggled for 22 years before finally coming into power.


Final Official Count from ECP is#PS111 - 6109 (5th Position) #NA247 - 6462 (7th Position)
I salute my team & congratulate my voters. Despite hate speech, false blasphemy accusations, mob attacks and violence we've shown the strength of love and tolerance. Hum Hein #Aik

— M. Jibran Nasir 🇵🇸 (@MJibranNasir) July 26, 2018
Instead of patronising Jibran Nasir, Insafians should actually encourage him. Imran Khan has been urging the youth and middle class to enter mainstream politics for years now and Jibran is doing exactly that.

— - (@omairraslam) July 26, 2018


6. Win for women

Dr Fehmida Mirza, former Speaker of the NA of Pakistan, became the fist female lawmaker in the country to be elected five times.

Another exciting outcome was Zartaj Gul defeating actual feudal lords in Dera Ghazi Khan to become a part of Legislative Assembly of Pakistan – something to be proud of when we talk about the integration of women in national politics.


Congratulations Zartaj Gul Wazir. A dedicated, hardworking female candidate from South Punjab who defeated the regressive feudals in her area to reach the National Assembly! 👏🏼👏🏼 pic.twitter.com/NE5q6u8uG2

— Ali Khan Tareen (@aliktareen) July 26, 2018


7. Small but consequential step for minorities

Another feather in the cap of this election was the victory of not one but three Hindu candidates, including Mahesh Kumar Malani's NA win for the Pakistan Peoples Party (PPP). Malani has become the first non-Muslim to win an NA seat in Pakistan.


BIG RESULT: Only @PPP_Org can do this!! #PPP gave 3 tickets to #Hindu candidates in #Sindh on general seats & all three WON! Gyanchand Esrani-PS81, Hari Ram Kishori Lal-PS47, & DrMahesh Malani-NA222. This shows both #PPP & Sindh are progressive! This is inclusive #PakistanForAll. pic.twitter.com/swMMPDGFqY

— Kapil Dev کپل دیو (@KDSindhi) July 26, 2018
🤗 #PPP "Naya Pakistan" #equality #minority - more imp our three Hindu candidates won & the terrorists that magically escaped scrutiny lost -#PakistanVictory https://t.co/qf0LW6i2O6

— Bakhtawar B-Zardari (@BakhtawarBZ) July 27, 2018


8. Boost to the economy

Imran's powerful and positive speech was welcomed by the stock market with over a 700-point increase. On another positive note, the rupee also stabilised a bit as compared to the dollar.


- Stock market up
- Dollar is stable
- Celebrities of Pak celebrating
- Celebrities of India celebrating
- Overseas Pakistani celebrating

After only 19 hours of #ImranKhanVictory speech ✌

— Taimoor Ul Haq (@Taimoor_UlHaq) July 27, 2018


Overall, I think this may become an unprecedented moment in the history of Pakistan. I see a wave of hope smeared all over Pakistan, as people are feeling confident in their choice. We are entering into 'Naya Pakistan', a purported change! Right?

However, change will mean changing ourselves, our attitudes and behaviours, not just waiting for Imran to sweep a magical wand for tabdeeli. On our part, a few things we can do right away are as follows:

1. For God's sake, follow traffic rules. Stop at lights, stay in your lane. There is a specific lane for bikes on almost all roads which means bike should stay in that.
2. Don't litter. Put trash in dustbins, trash cans, please.
3. Please make queues while submitting bills or waiting at the airport.
4. Stop cutting trees to stop climate change. We have the highest rate of deforestation – take care of the little greenery that is left.
5. Improve our work ethics. If you are holding a public office, you are a public servant, not a lord.
6. Please, facilitate and create an environment conducive for women to work. Pakistan can't prosper without half of our population's contribution to our economy and development.
7. Respect minorities. Believe in whatever you like but don't shove it down other's throats.

PTI supporters have the responsibility to start with these if we want to see real tabdeeli in Pakistan. Currently, we are all high on the narrative of change. Hold on to that motivation and do these few basic things that we need exigently. A new government can't succeed without a new approach of the people.

I congratulate every Pakistani being so actively involved in politics, taking time out from their personal lives on voting day for the greater good, and for believing in democracy. Hopefully, good things will come Pakistan's way.

#NayaPakistanZindabad