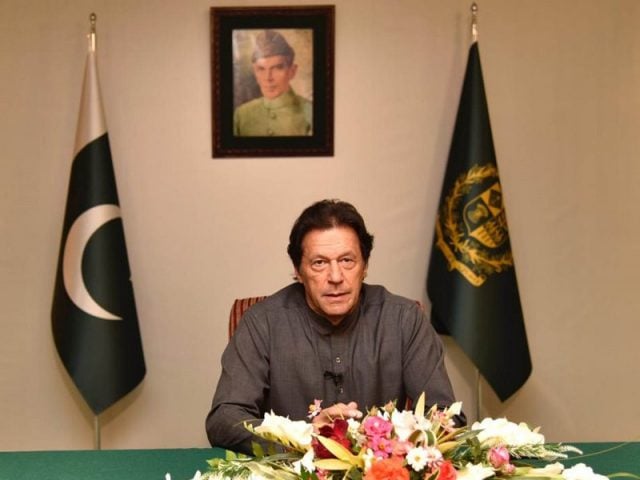 ---
(In)justice and (un)accountability in PTI's 'Madina ki Riyasat'
PTI is providing relief to businesses, dues of Rs208bn have been waived. This is selective accountability as its best.
---
The Pakistan Tehreek-e-Insaf (PTI) government completed one year of its tenure on August 18, 2019. During this year, it struggled a great deal to follow its manifesto due to various hurdles such as the paucity of funds and the lack of right people in office.

Irrespective of all hindrances, Prime Minister Imran Khan displayed a strong commitment for poverty alleviation by launching a massive Ehsaas program. A professional like Dr Sania Nishtar was appointed as special assistant on social protection and poverty alleviation.

PM Imran, in all his public addresses, expressed his resolve to make Pakistan an Islamic welfare state in line with the principles of the state of Madina. He claimed that justice and accountability are the core pillars of the welfare state he intends to establish and quite often quoted Hadiths pertaining to justice. It was because of all these appealing slogans about justice that led to the people of Pakistan giving a mandate to PTI.

PTI, after coming to power, started a drive of ruthless accountability against the leaders of Pakistan Muslim League-Nawaz (PML-N) and Pakistan Peoples Party (PPP). Although a large number of people in political circles were against the accountability of powerful figures of the country's political fraternity, people belonging to the middle and lower class strata were delighted.

However, a few recent steps taken by the government ruined the progress of its accountability drive. In a recent move, it has stripped the National Accountability Bureau (NAB) of its powers to investigate and act against businessmen and companies, a task now given to the Federal Investigation Agency (FIA) and the Federal Board of Revenue (FBR).

Businesses should not fear the NAB if they are fair in their practices, which is rare as we have numerous cases of business outlets charging sales tax from the public but not depositing it in the national exchequer. The NAB should either hold everyone accountable or stop accountability completely. Selective accountability is tantamount to injustice.

Just as I was in a fix about this decision, I came across a news story wherein the government has decided to provide an unprecedented relief of Rs208 billion in dues to industrialists. Our country is in massive debt and I am sure that this debt-ridden government did not take huge foreign loans to facilitate industrialists. In its first budget for the fiscal year 2019-20, the government claimed it aims to bring down the primary (budget) deficit to 0.6% of the gross domestic product (GDP) by focusing on plugging the loopholes in the indirect tax regime. Instead, it is doing the exact opposite by waiving off this unthinkable amount for some business sectors.

Due to scarcity of funds, the government is burdening the public with an increase in petroleum and utility prices, but on the other hand, conforming to the needs of the powerful business mafia who has collected gas infrastructure development Cess (GIDC) from farmers and other stakeholders and are planning to keep 50% of the collected amount. Unfortunately in Pakistan, the concept of might is right is strengthening its roots, and this relief to industrialists which is equivalent to one-fifth of the International Monetary Fund (IMF) loan Pakistan recently acquired is a prime example of this.

I wonder how the government agreed to throw away the opportunity to acquire Rs208 billion in a country where health and education facilities are scarce, over 44% of children between the ages of five and 16 are out of school, and shops are being demolished in the name of encroachment drives.

If this relief is provided to businesses, then what justification does the government have to arrest and convict people involved in petty crimes. If they don't have the courage and mechanism to punish the powerful business community, which is the real looter of this country, then they should disband the judicial and accountability system. This is because it's clear that these institutions can only punish the poor while serving the interest of the country's powerful might. The government showing its weakness today against a group of industrialists could mean that their dream of introducing reforms in the FBR and increasing the tax base of the country will not work as well.

An ardent supporter of PM Imran and his party, I was optimistic that it won't budge on the illegal demands of industrialists but, unfortunately, they are also taking the path of their predecessors. In a document presented in the Senate of Pakistan on June 22

, 

2016, it was revealed that in the three years of PML-N's tenure, from 2013 to 2015, the government waived off loans worth Rs280 billion. It is because of such wrongdoings of PML-N and PPP that people voted for change and gave a chance to PM Imran.

PM Imran should realise that he cannot achieve his task of making Pakistan a welfare state by only announcing it repeatedly. He needs to dig deeper to discover the problems faced by his countrymen and take appropriate actions to fix them. In my view, the state of Madina can only be formed in letter and spirit when all citizens, irrespective of their social status, cast, creed and religious beliefs, are treated equally. At the moment, people across the country, particularly those in urban areas, are fed up of all the political parties, and after PTI's failures on various fronts, we may see a low turnout in the next general elections.