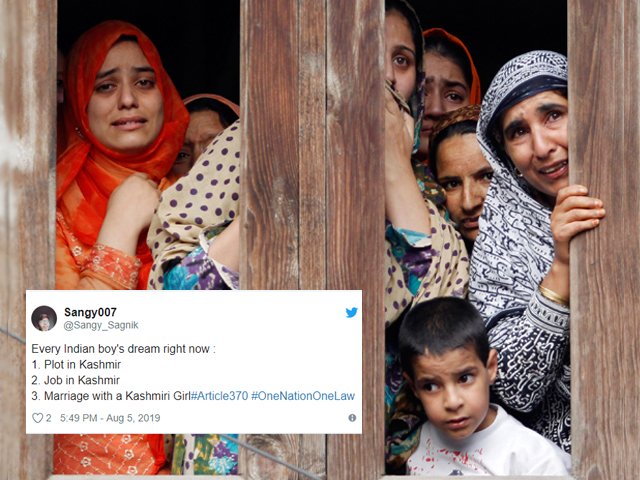 ---
Indians can't wait to 'marry Kashmiri girls', 'buy land in Kashmir' – and therein lies the problem
A sickening sense of entitlement is being promoted by BJP; an entitlement not just over land, but over bodies.
---
A few years ago, I wrote a blog in which I cherished an overarching identity which connected me, a Pakistani, to the inhabitants of neighbouring India. The said article was not a negation of the Two-Nation Theory but rather what I thought was the right way forward. I had written,
"Yes, modern Pakistan and India are a reality, but then so is our great common heritage. Yes, it is important for us to be loyal to our political states, but at the same time not overlook the joint heritage. There is an overarching identity which unites us despite our political differences. I sincerely wish we acknowledge that and move forward as independent but friendly political states. I am a Pakistani-Indian…"

Although my sentiments about peace and caring for a joint heritage are largely still the same, to be honest, with the Indian decision to revoke Article 370, something has broken inside me. As a humanist and as someone who really values good relations with India, I am deeply disappointed.

With this naked aggression, chances of peace between India and Pakistan have been completely eliminated. This move has the potential to completely destabilise the region and make an all-out conflict a real possibility. Moreover, this step, while emboldening the jingoistic crowd in India, will have the same effect in Pakistan too. When hawks gain on both sides, peace literally has no chance.

But the biggest disappointment is not what the Indian state has done.

It's the attitude of his support base which is a real eye-opener. Social media is ablaze with gleeful, supposedly educated Indians cheering this step by calling it an 'integration' and correction of a 'historical injustice'. The irony is that 'integration' was done through a legally dubious step, without taking Kashmiri leadership into confidence (in fact by putting them under house arrest) and is being implemented by increasing the troop presence in an already heavily militarised region, as well as suspending every means of communication.


Revoking #Article370 is Historic correction of a historic mistake.
One Nation, One Flag✊🏽🇮🇳#KashmirHamaraHai pic.twitter.com/YV0Q17UPH7

— Dr. Sandeep Panchakarla (@DrSandeepJSP) August 5, 2019


I have seen countless tweets where teary-eyed Indians are thanking Modi for providing 'development' and even 'freedom' to Kashmiri 'brothers and sisters'. The fact that their 'brothers and sisters' are not even given an opportunity to show the same amount of 'joy' (as the state is virtually cut off due to a media blackout) is somehow not important to them. They are feeling 'joy' on behalf of Kashmiris who are not even in the picture and whose lives will change permanently after this step.


Not a BJP or Modi supporter but what happened today is huge and I totally support it. Hope Kashmir reaches new heights in terms of development and infrastructure.
Scenes in Bengaluru. One India.🇮🇳 #Article370 #KashmirHamaraHai pic.twitter.com/GEyu54BX2O

— Rakshith Kumar (@wazzacristiano) August 5, 2019
Freedom for our Kashmiri brothers and sisters from the parasite politicians Hurriyat/Abdulla/Mufti gang who have blocked development there fpr last 70 years. Before Independence Day. #HindustanZindabad #KashmirTroopBoost #KashmirIsIndian

— 🇮🇳Vikrant Vashishtha🇮🇳 (@vikrantonov) August 3, 2019


Some, however, are more honest and are blatantly admitting that it's Kashmir, and not the Kashmiris that matters. There is an on-going campaign on social media to dehumanise Kashmiri Muslims, indicating what exactly is in store for them. Actor Anupam Kher went to the extent of calling it the "Kashmir Solution" – a sick analogy to Nazi Germany's 'Final Solution'. The fact that his tweet has been liked by over 100,000 individuals says a lot about the prevailing mindset.


Kashmir Solution has begun.🇮🇳

— Anupam Kher (@AnupamPKher) August 4, 2019
When mob lynchings fail to satisfy the hunger to murder, the hunger demands genocides. This punk exemplifies the type of Germans who gleefully cheered Nazi atrocities, calling them 'the final solution.' India's slide into abyss continues. https://t.co/GMy5SOHhRf

— Nadeem Farooq Paracha (@NadeemfParacha) August 5, 2019


But the most repulsive and utterly sickening comments are the ones targeting the women of Kashmir. There are many Indians who think that the revocation of Article 370 has given them some sort of 'right' over Kashmiri women. This is deeply troubling on many different levels. These tweets reek of a misogynistic and patriarchal mindset since the women are essentially being equated to a piece of property that Indian men now have 'access' to. If anything, the tweets only showcase the lecherous desires of some desperate Indian men.

Google Trends reveal that following the revocation of Article 370, there was a drastic increase in Indians searching for 'marry Kashmiri girl' and 'buy land in Kashmir' on Google search, with New Delhi topping the list for the former.


I have started getting marriage alliances from Kashmiri girls in DM, thank you Modi ji ❤️#370gaya pic.twitter.com/pwewXd9Sd0

— good guy (@gooljaar) August 5, 2019


https://twitter.com/utkarshdixit__/status/1158613151811657730?s=20

https://twitter.com/Sangy_Sagnik/status/1158359495090720769?s=20


Planning my marriage with Kashmiri girl

— विशाल (@singhsahaaab) August 5, 2019


What is worse is that this vile attitude is being encouraged by the Bharatiya Janata Party's (BJP) politicians. In one viral video, a BJP lawmaker can be heard saying that his workers are happy because they can now marry Kashmiri women. In another video, a woman who supports the BJP espouses a similar sentiment.

This is an alarming development as a sense of entitlement is being actively promoted by the ruling party; an entitlement not just over the land, but over bodies. Over the past three decades, the Indian army in Indian-occupied Kashmir (IoK) has been accused of severe human rights abuses, including rape. It seems that some leaders of the BJP are promising similar types of 'rewards' to their followers.


BJP MP from UP Vikram Saini says people in India are very happy - especially bachelors - because they can marry 'gori' Kashmiri girls pic.twitter.com/W1i1uhgtLe

— omar r quraishi (@omar_quraishi) August 7, 2019
Sick Supporters of BJP, eyeing on innocent women of Kashmir. A woman advises young unmarried hindu youth to buy lands near Dal Lake and also get a Kashmiri girl to marry.
Human rights ; Women rights?
It's gone so sick, totally unbelievable. #KashmirBleedsUNSleeps #womenrights pic.twitter.com/0yh8yIEVrJ

— Fajer Rabia Pasha (@fajerrabia) August 6, 2019
This Piyush Sharma, a Branch Manager at @LnTFSOnline in Bombay wants to make a porn film on Kashmiri women and upload it on pornhub. Yes, @LnTFSOnline , we are waiting for your response. #Kashmir pic.twitter.com/ld5Tldsw1P

— Saurav Datta (@SauravDatta29) August 8, 2019


I would, however, like to acknowledge that there are dissenting voices both in the political and intellectual arenas. On social media also, I see opposition to this move by liberal Indians. However, right now, such voices are getting drowned under the avalanche of support. Moreover, those who oppose revocation are constantly getting abused and being equated to traitors on social and electronic media. Not only that, even Congress, which officially has opposed the move, is facing backlash from its own ranks.


First time i have seen a street dog has tweeted about it's potential activities!!! India has really progressed a lot under Modi Zee's leadership!!! @judedavid21 @Che_guevara_in

— Rammohan Erturk (@HypocriteBabu) August 6, 2019


So, what does all of this tell us about the state of democracy and secularism in India?

As a political scientist, I have always been fascinated by India and its democracy. Academically, the fact that India is a democracy has always been considered an exceptional case because at the time of independence, it was assumed that given its enormous diversity, rampant poverty and low literacy, the nation would succumb to authoritarianism.

India is still a democracy, but its characteristics have changed. It is now merely an electoral democracy as the liberal characteristic have been stripped away. Its defining elements are now populism, majoritarianism and authoritarianism, all of which are underpinned by a Hindutva ideology.  Over the years, I have heard many arguments that the rise of BJP will not damage the liberal nature of the Indian democracy. Often it was argued that it was just a reaction to the incompetency of Congress, and that an educated middle classes, who was increasingly supporting BJP, would always check its extremist tendencies. Moreover, India's immense diversity itself would prevent BJP from implementing any radical agenda. The standard answer was,

"India is too diverse and complicated."

Even when Modi, a thoroughly controversial character, became a prime ministerial candidate, many argued it was only because of his successful Gujrat model of development and there was nothing to worry about. Modi came into power and soon my worst fears began to be confirmed as fringe elements in the BJP started to become mainstream. Despite what was happening, I saw many educated Indians actually in denial or finding justifications by pointing to some similar incident under the Congress rule.

The manner in which the 2019 elections were fought and won clearly showed that factors other than 'development' were at play. Particularly because despite a faltering economy, Modi was able to successfully use security concerns (as a result of the Pulwama incident) and communal cleavages to his advantage, showing that the Indian electorate is receptive to such tactics.

The manner in which Article 370 was revoked, and the reaction in its aftermath, particularly from the large swathes of Indian educated middle class, has left me with no doubt. Many are completely willing to overlook the fact that Kashmiri Muslims are a minority who already feel alienated. Revoking their special status without even consulting them is not the way a liberal democracy works. However, it does not matter to many BJP supporters as they literally cheer on this step.

As far as Indian secularism is concerned, its days are also numbered. In any case, it had been an elite consensus at the time of Partition rather than something cherished by the masses. The reality is that the Indian population,  just like its Pakistani counterpart, is not secularised and therefore, with the change in political elites (who have risen by taking a position against the Congress version of secularism), I foresee major changes in the constitution. Shashi Taroor was spot on when he delivered a speech in which he feared major changes in the Indian constitution.