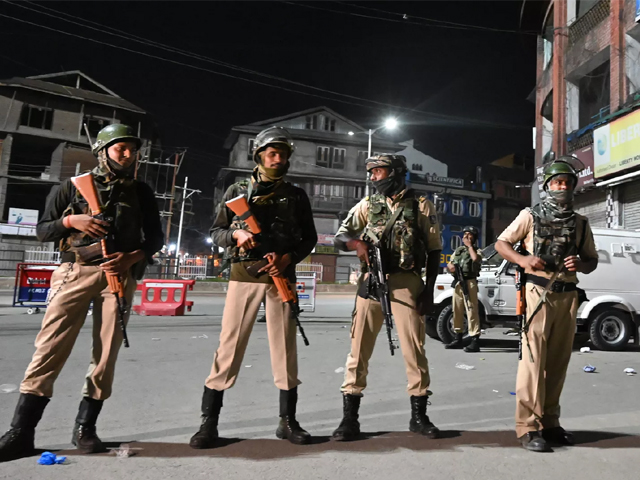 ---
#StandWithKashmir: Why India repealing Articles 370 and 35A is a cause for concern
The reality of a Kashmir constantly under siege and its people deprived of fundamental rights is about to worsen.
---
Even for a region so accustomed to state aggression and the constant violation of civil liberties, the recent Indian actions in Indian-occupied Kashmir (IoK) are unprecedented. In the span of a few days, India sent thousands of new troops to the region, put many parts of IoK under curfew, closed down essential institutions like schools, universities and hospitals, suspended all communication services, put prominent Kashmiri leaders like Omar Abdullah and Mehbooba Mufti under house arrest and asked all tourists to leave the state.

All this, and much more, was done under the pretext of a terror threat to the annual Hindu pilgrimage of Amarnath — the pilgrimage having been cancelled. However, the real reason behind India's highhandedness was revealed today, following Indian Home Minister Amit Shah's statement, as Article 370 and 35A of the Indian constitution, which granted Kashmir a special status and rights, were repealed.


#Breaking 1st on TIMES NOW | Article 35A and Article 370 to be scrapped. Govt pushes for major Kashmir rejig. pic.twitter.com/2gM4vyASR0

— TIMES NOW (@TimesNow) August 5, 2019
The constitution (Application to Jammu and Kashmir) order 2019.#JammuAndKashmir #Article370 pic.twitter.com/quxw6yJxhW

— Pratap Simha (@mepratap) August 5, 2019


Article 370 and Article 35A (which stems from the former), allow the IoK to be recognised as an independent state. The legislature also only allows locals to qualify for permanent residency in IoK and confer on these permanent residents special access to public jobs, scholarships and other public welfare benefits. The most crucial aspect of Articles 370 and 35A are the stipulations that only Kashmiris can buy property and settle permanently in the region. These articles are important to the residents of IoK because the property clause is a safeguard against any moves by New Delhi to alter the demographics of the volatile region. Altering the demographics of IoK will involve relocating Hindus from outside Kashmir to the Muslim majority region — a move similar to Israel's relocation of Jewish settlers to Palestinian lands. This may be viewed by India's ruling Bharatiya Janata Party (BJP) as a 'permanent solution' to Kashmiri resistance against India. Articles 370 and 35A were only put in place to alleviate these very fears, and repealing them is a sign that something worse is yet to come.


Pakistan condemns & rejects announcements made today by Indian Government regarding Indian Occupied Jammu & Kashmir. We intend to firmly highlight our stance in our meetings with the US delegation visiting Pakistan and with the International Community at large. 1/2

— Shah Mahmood Qureshi (@SMQureshiPTI) August 5, 2019
The Indian Occupied Jammu & Kashmir is an internationally recognized disputed territory.

No unilateral step by the Government of India can change this disputed status, as enshrined in the United Nations Security Council (UNSC) resolutions.#StandWithKashmir #Kashmir https://t.co/cfeGLjjPwr

— PTI (@PTIofficial) August 5, 2019
Strongly Condemn abrogation of Article 370 by the BJP Govt. India's unilateral revoking of Kashmir's status as a disputed Territory is an open declaration of war against the United Nations and a test of the international community.

— Shehbaz Sharif (@CMShehbaz) August 5, 2019


Article 370 also granted IoK autonomous status in India's otherwise federalist structure. In its original form, Article 370 had meant a much greater degree of self-governance for Kashmir than India's other states. But even today, a watered down version of Article 370 still protected Kashmir from emergency provisions against 'internal disturbances' without the approval of the Kashmiri legislature while also preventing the redrawing of state boundaries. Repealing Article 370 may mean even more highhandedness from the centre in its crackdown on Kashmiri dissent, especially given the loss in legislative power. More crucially, it may tie in with any effort to alter Kashmir's demographics. India has a long tradition of creating newer, smaller states out of old ones, and splitting up Kashmir may be seen as a viable way to reduce the political cohesiveness of the region and make dissent easier to curtail.


Thank you, PM @narendramodi. I am in tears. I have been stormed with phone calls & messages. Never imagined this would happen in my lifetime. Full integration of Jammu & Kashmir & Ladakh with India is final now. No special status. History written before our eyes. No Article 370.

— Aditya Raj Kaul (@AdityaRajKaul) August 5, 2019
Honestly only @AmitShah ji& @narendramodi ji could. I have in the past been critical but today's decision will go down in the pages of history as bold and courageous, they are enablers of one nation, one constitution. @ShivSena's long standing demand realised today. Jai Hind.

— Priyanka Chaturvedi🇮🇳 (@priyankac19) August 5, 2019


The BJP, whose ideology is rooted in Hindutva — a rejection of religious pluralism in favour of a belief in a Hindu India — is notorious for its anti-Muslim agenda. Narendra Modi has been accused of orchestrating the 2002 Gujarat massacres against Muslims and his tenure as prime minister has seen a large increase in religious violence and discrimination against Muslims across India. For a party so ideologically committed to their belief that India is for Hindus, the opportunity to transform the contested and resistant Muslim majority IoK into a hotbed for Hindu nationalism and 'settle' the Kashmir question may prove too tempting, no matter the sheer scale of the task ahead of them.

What made the scrapping of Articles 370 and 35A possible was not just the BJP's ideology and its known disdain for Muslims, but the fact that it feels it has overwhelming support among India's majority Hindu population. The party feels emboldened after their thumping win in India's recent general election, even with a slowing economy, a more united opposition and the incumbency factor working against them. Clearly, India's Hindu population is, at least for now, firmly in the BJP camp and supportive of their nationalist rhetoric. In support of the Indian government's moves in IoK, the hashtag '#KashmirParFinalFight' is heavily trending on Indian Twitter, for example.

With Articles 35A and 370 repealed by India, the reality of an occupied Kashmir constantly under siege and a population consistently deprived of their fundamental rights and basic dignity is only highlighted further. The Kashmiri population has suffered at the hands of an overbearing state determined to hold onto the region by force, and the BJP's continued grip on power may spell further doom for Kashmiris.