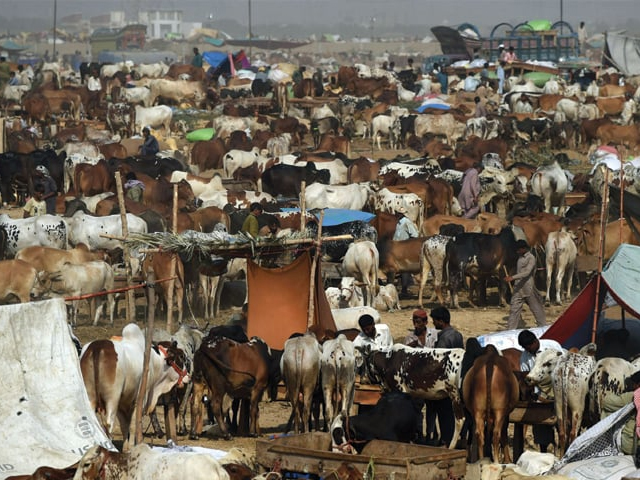 ---
How are we supposed to carry out qurbani considering the rising prices of livestock?
This year, the price of a medium-sized goat is 20-25% higher than last year, whereas a large goat is 35-40% higher.
---
I am an Eidul Azha enthusiast. When I was a child, the moment the Zil Hajj moon would be seen, my excitement for having sacrificial animals in my courtyard would escalate. My father always made sure to buy animals in the first few days of Zil Hajj. He often said,
"I buy animals in advance for Khurram as I cannot see his sad face."

In the year 1989, my father had to leave for the US for his open-heart surgery two weeks before Eidul Azha. A few days before his departure for this life threatening surgery, he took me to the cattle market to buy any four goats of my choice. His words still echo in my ears,

"Yaar mein tum ko janwar dilwadoun phir maloom nahi meray peechay koyi tumhein janwaar dilwaye ya nahin." 

(Let me buy animals for you, because I don't know if, in my absence, anyone will buy them for you)

Hence, when I think about families who, due to the rising prices of cattle, are unable to buy sacrificial animals this Eidul Azha, it breaks my heart.

Even though carrying out this ritual is obligatory only for people who can afford it, every Muslim wants to do so to receive the blessings of Allah(swt). Moreover, people wish to give their children an opportunity to play with the animals. A general belief is that those children who play with sacrificial animals in their childhood carry out the sacrifice with great enthusiasm once they reach adulthood.

As far as I've noticed, Eidul Azha has witnessed a significant transformation from when I recall it during my childhood. Now we have meat shops located in various areas selling sacrificial animals, especially goats. The owners of these shops buy goats in bulk and sell by weighing them. The meat shop located in my area has set a price of Rs750/kg for a live goat. In these shops, the only thing that counts is the weight of the goat and a few other attributes such as its teeth, colour, height and so on. Another relatively new phenomenon is the purchasing of sacrificial animals online which is slowly but surely gaining popularity.

The biggest change I've observed is that, despite the setup of various permanent and temporary cattle markets in the country, it is a matter of great concern that even on the eve of Eidul Azha, the spirit that used to be present at this time of the year is missing. I am yet to hear the sound of goats from my neighbour's house or see children walking their goats on streets.

The rising prices of animals is the main cause behind this rather sad observation which is depriving more and more people from carrying out the sacrifice. To perform this religious obligation, a large segment of the population buys a share in a cow or a goat but, unfortunately, due to the exorbitant prices, even buying a single share has become difficult for people. A general observation is that this year, the price of a medium-sized goat is 20-25% higher as compared to last year, whereas the price of a large goat is approximately 35-40% higher.

To facilitate buyers, a large number of makeshift markets are set up in various cities of Pakistan. The biggest cattle market of Pakistan, which is also the largest market of Asia, is set up in Sohrab Goth in Karachi. To date, more than 7,500 trucks and other vehicles carrying more than 200,000 animals from different cities of the country have reached this market. Traders from around the country bring their animals here with the intent to sell them at the highest prices.

While an increase in price is a market phenomenon, in my view, the price rise is caused by cattle farmers who bring extraordinarily heavy animals to the market and then parade them. In the last 10 years or so, a large number of TV channels have also started visiting and reporting from various cattle markets, and during their visits, they highlight these exceptionally heavy animals. Traders also organise catwalks of their animals and the electronic media airs these catwalks. For instance, this year, a few channels have broadcasted a remarkably huge buffalo at Sohrab Goth named 'Trump' priced at Rs3.5 million. Its owner has kept it in a white-coloured shelter which he has named 'The White House'. Taking cue from the fixed selling prices of these animals, the regular traders also increase their prices.

As slaughtering animals is a religious obligation, I hope that in the coming years, governments at the provincial and federal level set up markets where animals are available at affordable prices so that more people can get the satisfaction of carrying out this religious duty.