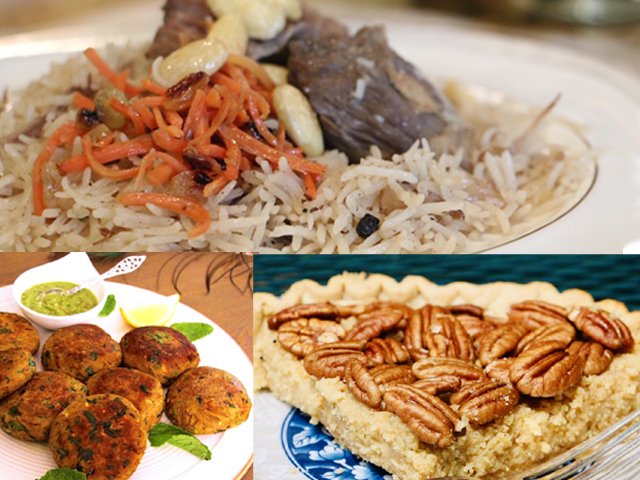 ---
Keep calm and get your meat on with this three-course Eid feast
Comprising of shaami kebabs, Kabuli yakhni pulao and pecan pie, it will surely take your Eid spread to the next level!
---
Pakistanis living abroad celebrate Eidul Adha with the same spirit and fervour as they do back home. This colourful occasion unifies us as we joyously spend time with friends and family and share elaborate meals. Eid has unique significance and symbolism, both culturally and religiously.

I profoundly enjoy Eid as it takes me down memory lane and connects me with my childhood. The joy of going out for shopping on chand raat, buying colourful dresses and bangles, and adorning our hands with henna, are all fond memories. I remember my siblings and I keenly waiting for eidi, enjoying meals together as a family. I recall my mother's scrumptious dishes, and the aroma and flavour of our favourite foods that she prepared with such attention to detail.

Pakistani cuisine has a gripping hold on me. It represents an irreplaceable bond with my culture and my roots. I regularly experience an intense desire to experiment with Pakistani cuisine and share it with my near and dear ones.

Hence, this Eid, I'm going to share a three-course meal that you can enjoy with family and friends while recalling your childhood memories of this blessed occasion.

Shaami kebabs

When it comes to Pakistani cuisine, shaami kebab is its mainstay. The quintessentially traditional shaami kebab is crowd-pleasing comfort food that can be served in a variety of ways: in a sandwich, with flat bread or with rice. I fondly recall my mother and aunts preparing shaami kebabs, and cherish memories of my family enjoying this savoury food.

Like all good things, shaami kebabs require time and careful preparation. However, once made into patties, these can be refrigerated for future use, especially for when the going gets tough. I like how it can be made using a variety of meat such as beef, chicken, goat or lamb. I generally use beef because it gives a great texture and taste to the kebabs. The beef is cooked with fragrant spices and channa daal (split chickpeas), then ground and turned into patties before being pan-fried.

Preparation time: 1.5 hours

Serves: 8-10 people

Ingredients:

For the beef mixture:

Boneless beef chunks – 2.2 pounds or 1 kg (under-cut portion)

Garlic and ginger paste – 2 tsp

Turmeric powder – 1 tsp

Channa daal – 1/2 cup (wash, soak for ½ hour, then drain all the water)

Water – 3 cups

Salt as per taste

For the kebab mixture:

All spice powder or garam masala powder – 1 tsp

Combination of spice powder – 2 tbsp (made with 1 tsp each of roasted and grounded cumin, coriander seeds and crushed red chillies)

Onion – 1 cup, finely chopped

Cilantro/coriander – 1 cup, finely chopped

Mint – 1 cup, finely chopped

Green chillies – 1-2, finely chopped

Eggs – 2, beaten

Yoghurt – 1 tbsp

Oil for frying kebabs – ½ cup 

Method:

To prepare beef mixture:

1. In a pressure cooker, add all the ingredients for the beef mixture. Make sure to add just enough water so that all the ingredients are immersed in it.

2. Bring the mixture to a boil. Now carefully seal the pressure cooker with the lid and set on high heat for 5 minutes.

3. After 5 minutes, reduce the flame to medium heat and continue to cook for 15 more minutes. Remove from heat and set aside to cool.

4. Now shred the tenderised mixture.




To prepare kebab mixture:

1. In a large bowl, combine the shredded beef mixture with the kebab ingredients. Adjust the salt if needed. Mix it well with hands.




2. Take small portions of the mixture and shape them into patties. Set aside for frying.

3. Fry the shaami kebabs in a pan on medium heat on each side until they turn golden brown.


---


Yakhni pulao – Kabuli style

Pulao, inherited from the Indo-Aryan and Mughal Muslim culinary traditions, is very popular in the Pakistani cuisine for its richness and flavour. There are many versions of this rice dish; from meat (chicken, mutton and beef) to seafood, legumes and lentils. The pulao recipe that I'm sharing with you is my take on the traditional dish combined with some elements of the Afghani/Kabuli pulao. Hence, the rice is cooked in beef stock (yakhni) and garnished with fried glazed sweet carrots and dry fruits.

I usually serve this Kabuli-style yakhni pulao on Eidul Adha and other special occasions. This dish has great bonding value as we savour it with family and friends.

Preparation time: 1.5 hours

Serves: 6 people

Ingredients:

For the beef stock:

Beef with bones – 2.2 pounds or 1 kg

Onion –  1 (large)

Garlic cloves –  5-6

Ginger – 1 (1-inch piece)

Coriander seeds – 2 tbsp, minced

Fennel seeds – 1 tbsp

Cumin seeds – 1 tsp

Caraway seeds (kaala zeera) – 1 tsp

Raw black pepper –  1 tsp

Cinnamon sticks – 2

Black cardamom –  3

Cloves – 5-6

Water – 5-6 cups

Salt as per need 

For rice:

Basmati rice – 3 cups

Saffron – 1 tsp

White vinegar – 1 tbsp

Fried onion – 1 tbsp (you can use ready-made to save time) 

For garnishing:

Raisins – 2 tbsp

Roasted almonds – 2 tbsp

Grated carrots – 1 cup

Brown sugar – 1 tbsp

Green cardamom powder – 1 tsp

Butter – 50 grams

Method:

For the beef stock:

1. In a large cooking pot, combine all the ingredients required for the beef stock.

2. Add 5-6 cups of water and cook on medium flame until the meat is tender. It will take around 45 minutes.

3. Using a strainer, strain the cooked beef through it, saving the broth.

4. Separate the beef pieces from the cooked whole spice bit. Set aside the meat and stock, and discard the rest.

Tip: The beef stock should be cooked until it measures up to four cups to cook the rice in. If it is less than 4 cups, add water to adjust the quantity.

For rice:

1. Wash the rice in cold water and soak for 15 minutes.

2. In a separate cooking pot, over high heat, add 4 cups of beef stock.

3. Let the stock boil. Then add soaked rice and cook on high heat until all the water evaporates. Adjust the salt if required.

4. Add fried onion, saffron and white vinegar. Stir gently to mix and let it simmer on low heat, so the rice is evenly cooked.

5. Now cover the pot with a tight lid and place something heavy on the lid so steam is generated on low heat for 5 minutes. Remove the lid slightly to ensure that steam is being produced and then turn the flame off.

Tips:

1. Crush and soak the saffron in warm water. This process releases the maximum amount of flavour from the threads and is strongly recommended.

2. Try not to stir the rice while cooking too much otherwise the rice will fragment.

3. Try your best to use white vinegar as it prevents the rice from sticking together.

For garnishing:

1. Heat a large pan on low to medium heat. Add butter and almonds, and fry till golden brown.

2. Add green cardamom powder, grated carrots, raisins and brown sugar. Stir occasionally for 5 minutes.

3. Serve pulao and the beef together topped with the fried garnishing.


---


Pecan pie with milk halwa filling

Growing up in Pakistan, I watched my mother and grandmother make this delectable dessert that we call 'milk halwa'. One of our family's favourite sweets, I profoundly remember the flavours when I used to savour it with my siblings.

It is a popular dessert that is made on many occasions. It is easy to prepare and tastes divine. My love for fusion cooking inspired me to use milk halwa as a pie filling. It took me several attempts to perfect this milk halwa pecan pie recipe until I got it just right.

This mouthwatering pie can be served as a snack or as an after-meal sweet. As Eid is coming up and you'll be pre-occupied with lots of preparations, I would like to share this recipe using ready-made pie crust shell, easily available at your local grocery store. It is a simple recipe that will get you many compliments from your family and friends.

Preparation time: 1 hour

Serves: 6 people

Ingredients:

For the pie filling:

Milk – 1 gallon or 3.8 litres

Lime juice – 1 tbsp

Cardamom powder – 1 tbsp

Pecan – 1 ½ cup

Raw sugar – 2 cups

Butter – 50 grams or 3.5 tbsp

Ready-made pie crust shell – 1 (standard size, 9-inches in diameter and 1-1/4 inch deep)

Method:

1. Heat the milk on medium heat in a thick-bottomed cooking pot, occasionally stirring it until it is reduced to half with a thick consistency.

2. Once the milk is thickened, add lime juice to it so it curdles. Keep stirring the milk as it splutters for a few minutes.

3. Keep stirring for about 10 more minutes on low heat to avoid any burning, until all the moisture from the milk is evaporated.

4. Add raw sugar and cardamom powder to the milk mixture and stir until combined well.

5. Once the additional moisture from adding sugar is evaporated, add butter while keeping the heat low to prevent burning. Keep stirring until the whole mixture starts thickening and leaves the edges of the pot oozing butter on the sides.

6. Remove the milk mixture from the stove after ensuring that it has a thick yet pourable consistency suitable for a pie filling, and allow it to cool.

7. Pour the milk halwa filling into a ready-made pie crust placed in an aluminium foil shell, that it usually comes in. If not available, follow usual method and place the crust in your pie pan. Make sure the crust is pressed firmly to ensure that the pie gets cooked evenly.

8. Once the pie is baked, take it out of the oven and garnish it with pecans. Serve warm.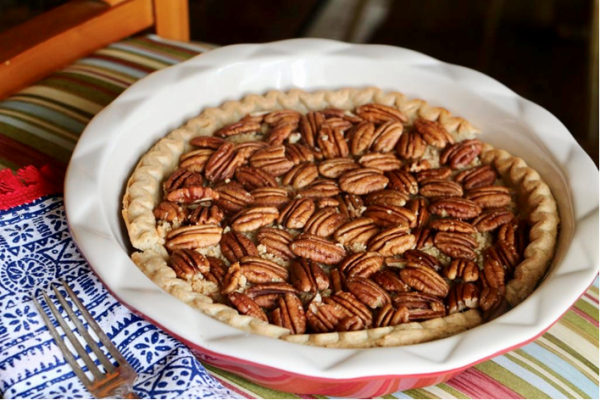 Notes:

1. Milk halwa pecan pie can be stored for up to 4 days in a refrigerator in an airtight container. For reheating, cut out the desired slices of the pie and heat in the microwave.

2. You can substitute pecans with walnuts.

3. You can enhance the taste and texture of the milk halwa by adding 2 tablespoons of almond flour into the filling recipe just before adding butter to the mixture.

Hope you enjoy this three-course meal with your family and friends, while you wow them with your culinary skills!

Eid Mubarak!
Facebook Conversations
COMMENTS
Comments are moderated and generally will be posted if they are on-topic and not abusive.
For more information, please see our Comments FAQ